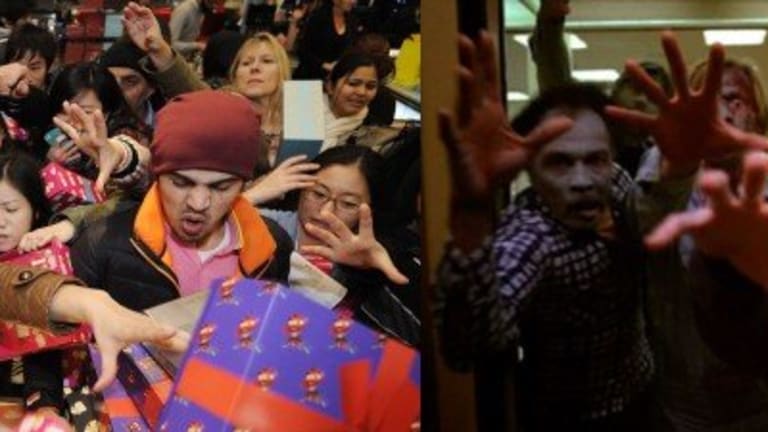 Zombies or Shoppers? You Decide…
Mindless consumers ignore their families in favor of buying more crap
Paul Joseph Watson
Infowars.com
Are these people shopping for discounted goods or are they auditioning for George A Romero's next zombie blockbuster?
Instead of spending time with their families during the "season of goodwill," hordes of people descended on luxury outlets in London to feverishly consume whatever they could get their hands on.
Images posted on the Daily Mail website show shoppers displaying just as much enthusiasm for obtaining designer bags as zombies did for gorging on human brains in Dawn of the Dead.
Catatonic Consumer: This woman looks transfixed with designer bags.
"A spokesman for Selfridges said that the queue for the sales began at 11.30 last night – more than nine hours before the doors opened to customers," states the report.
Whether you are a Christian or not, Christmas is supposed to be a time where we appreciate how lucky we are by understanding that the people around us matter more than the pursuit of physical objects.
But that kind of thinking is obviously alien to these zombies, whose rampant materialism has disconnected them from basic human qualities.
As we have previously highlighted, these kind of hyped up sales are nothing but a complete hoax. Mindless shoppers aren't even getting the great discounts they cherish since retailers artificially inflate prices of goods in the months before the sales in order to make the subsequent discounts look good in comparison. In addition, even if shoppers do manage to grab some genuine discounts, they will invariably buy another product that has a 98 per cent mark up value.
From a wider perspective, it's becoming increasingly difficult to differentiate between Romero's Dawn of the Dead zombies and Black Friday/Boxing Day shoppers. Given their slow movements, the living dead would stand little chance against these rampaging consumer zombies.
Source: Infowars.com