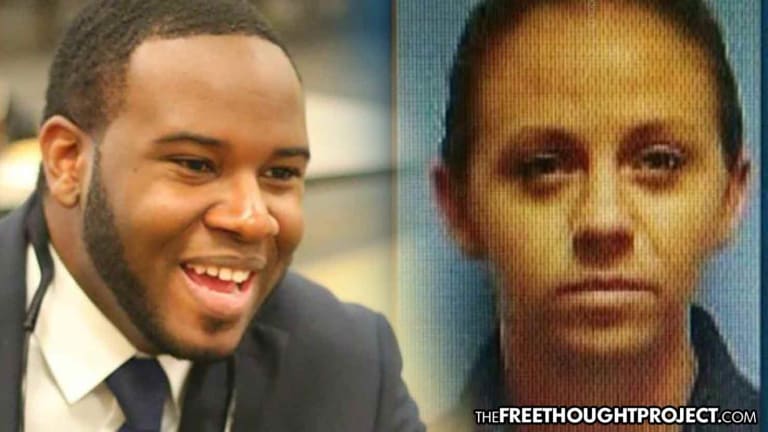 Police "Hold Off' on Charging Cop Who Entered Home She Thought Was Hers, Killed an Innocent Man
Highlighting the despicable nature of blue privilege in the U.S., a Dallas cop has admitted to going into a home and killing an innocent man and no arrests have been made.
Update: Sunday night, officer Amber Guyger was arrested on charges of manslaughter. 
Dallas, TX — Highlighting the sheer insane state of law enforcement in America today and how they are shown a different version of the justice system is a tragic story out of Dallas this week in which. An off-duty police officer walked into the wrong home after getting off shift, thought the homeowner was an intruder, and killed him. And, she has not yet been arrested. 
The victim was 26-year-old Bothan Shem Jean who was most likely startled by someone coming into his home at 10:00 pm when the officer opened his door. While the details surrounding how Jean was killed are unclear, according to police, the officer admitted to killing him.
Jean was listed on LinkedIn as a risk assurance experienced associate at PricewaterhouseCoopers. He earned a bachelor's degree at Harding University in Arkansas. This successful young man had his entire life in front of him and it was stolen in an instant.
On Saturday, police chief U. Renee Hall addressed the shooting and made a shocking remark in regards to the cop admitting to killing an innocent man.
According to the chief, Amber Guyger, the officer who shot and killed 26-year-old Botham Shem Jean, is not being sought for arrest at this time.
According to NBC 5, after Texas Rangers were called in to investigate the shooting, they were able to make contact and interview Guyger, who Dallas police identified late Saturday, after which Rangers told police to "hold off" issuing a warrant for her arrest.
The Rangers and chief Hall refused to go into detail as to why officer Guyger has yet to be arrested.
"We are totally committed to getting to the bottom of this situation. This is a tragedy. Regardless of the circumstances, this is a tragedy on both sides. So we want to get to the bottom," Hall said. "It is extremely important to me that you as a community, as community leaders, trust me and trust my police officers. That is imperative to me."
"Don't make your decisions about who the Dallas Police Department is, who the Chief of Police is, based on what you see across this country. Give me an opportunity to show you who I am and show you who the Dallas Police Department is in this leadership and then make a decision," she said. "There's so much rhetoric surrounding this incident, we have a lot of questions that are unanswered. Allow us to get to the bottom of those answers that we can get to you and then let's have a discussion."
One of those questions is answered, however, and it is that Guyger shot and killed an innocent man, and admitted to it.
In a statement released on Friday, Dallas police said their officer called them after shooting Jean and told responding officers that "she entered the victim's apartment believing that it was her own."
On September 6, 2018 at about 9:59 p.m., an off duty Dallas Police officer called police dispatch and said she was involved in a shooting at the apartments located at 1210 S. Lamar.

Preliminary information suggests that the officer arrived home in full uniform after working a full shift. The officer reported to the responding officers that she entered the victim's apartment believing that it was her own. At some point, the officer fired her weapon striking the victim. Responding officers administered aid to the victim, a 26-year-old male, at the scene. The victim was then transported to the hospital and pronounced deceased. Next of kin notification has not been made at this time.

The officer was not injured and will be placed on administrative leave pending the outcome of the investigation.

The Dallas Police Department is conducting a joint investigation with the District Attorney's Office. This investigation is ongoing and we will release additional details as they become available and it is appropriate to do so.
If an average citizen walked into the wrong home and shot and killed an innocent homeowner, rest assured that they would be in jail—right now. However, instead of immediately arresting the officer for trespassing and murder, she was simply placed on administrative leave—a glaring function of blue privilege indeed.
"Super scary because the police are supposed to protect you and then they come home and, you know, you're just hanging out in your own house and then they come home thinking they're home or whatever. I don't know if she was tired but that's pretty scary," Richard Healy Nelson, who lives in the complex, said to reporters.
NBC news spoke with Jean's mother in a phone interview from her home in Brooklyn, New York who was stunned to hear of his death.
"He did no one any wrong," she said. "She took away my heart, she took away my soul, she took away everything. He didn't deserve to die like that."
Adding to the ominous nature of this case is the fact that last year, officer Guyger shot someone else.
Guyger, 30, who has been with the department for five years, also faced a grand jury in 2017 after shooting a suspect in Dallas. The jury declined to indict.
"She is devastated," said a Dallas police officer close to Guyger who spoke on condition of anonymity because he was not authorized to speak publicly, according to Dallas News. "She is so, so sorry for this family."
While the Free Thought Project consistently reports on police officers entering the wrong home during raids and killing, maiming, or traumatizing entirely innocent people, this is the first time we've reported a story of an off-duty cop going into the wrong home, on their way home, and killing someone.
As TFTP reported on Friday, the details of how or why this officer would walk into an apartment that was not hers are unclear. However, what is entirely clear is the fact that a mother and father are now and will be grieving for the rest of their lives because of her actions. And, in a slap to the face of Jean's parents, the person who admitted to killing their innocent son has yet to be arrested.