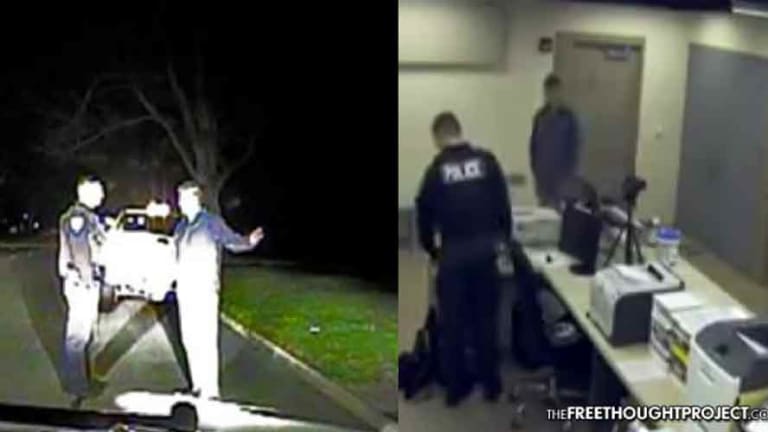 WATCH: Cop 'Un-Arrested' for DUI in His COP CAR, Epitomizing Why People are Upset
An Elgin, IL cop was allowed to drive home after being detained for DUI. Critics contend he received special treatment by the Sycamore police chief.
Sycamore, IL — The Sycamore Police Department and its Chief of Police, Glenn Theriault, are under the microscope today after dashcam footage was released showing how Elgin police officer Sgt. Mark T. Whaley was allegedly given special treatment during his DUI arrest proceedings.
The incident happened April 8, when Sycamore officer Luke Kampmeier pulled Whaley over for driving erratically, even cutting off another driver without using his turn signal. In the video, Kampmeier asks Whaley if he'd been drinking.
The 20-year veteran police officer admitted to only having drunk one beer, but his comportment gave the officer probable cause to issue a field sobriety test, which Whaley refused. According to reports, there was an unopened beer inside the vehicle, and Kampmeier said on video he could smell alcohol on the Elgin officer's breath.
Whaley refused any and all field sobriety tests offered to him, was handcuffed, placed in the back of Kampmeier's patrol car, and taken to jail sometime after 2:00 am. Closer to 4:00 Whaley was allowed to walk out of jail without being charged with Driving Under The Influence (DUI).
Records show Sycamore Chief Theriault made several calls to Elgin police commanders before he was released. Also, Whaley's car, a police-issued pickup truck, was returned to the officer. Reports say Theriault used to be an officer with the Elgin Police Department, as a commander before he became Chief of Police for Sycamore.
Whaley was released by police after they said they did not have enough evidence to charge the officer with driving under the influence of alcohol. But critics contend the whole incident is an example of blue privilege, whereby the officer was allowed to walk free after committing a crime the rest of us get charged for.
The Elgin Police Department says the incident is between Whaley and Sycamore PD, and refuse to comment. However, the City of Sycamore seems to be taking the matter very seriously.
According to the Daily Chronicle;
Sycamore Police Chief Glenn Theriault has been on paid administrative leave since April 10 as the city investigates the decision to let Whaley go without charges early that morning. Theriault, who joined the Sycamore force as chief in January 2015, worked closely with Whaley on the Elgin police force for years, Elgin Police Chief Jeff Swoboda has said.
In other words, it appears as though Chief Theriault and Sgt. Whaley are good buddies.
The fact a police officer was allowed to walk free without being charged with DUI did not escape being noticed by followers of the story. Citizen Mark Wells voiced his opinion about the department's decision to let the officer go with a slap on the wrist.
Wells wrote, "These two police chiefs should both be fired and arrested for conspiring to release an officer who had been arrested and charged with DUI." He described his own experiences being on the wrong side of the law. "I've been clean and sober for 23 years. Getting DUIs was absolutely horrible. It was the worst feeling you can possibly imagine."
" I lost my license for 7 years the last time. I served 30 days in county jail and spent a year on home monitoring with an ankle bracelet."
The financial toll was back breaking Wells wrote, "I paid thousands of dollars in fines and spent several years on probation. I did a year of mandatory alcohol counseling, which is expensive. I carried the mandatory SR-22 insurance which is thousands of dollars a year for three years even though I couldn't drive."
He also described the shame associated with being arrested and outed as someone who drank alcohol then chose to drive.
In addition to getting in trouble, there is a lot of shame and humiliation that goes along with getting a DUI. Your name is published in the newspaper. All of your friends and everyone you know is aware that you got a DUI. Some people never speak to you again. Random people call you for weeks harassing you. It's a serious offense and I'm not complaining, just listing the consequences.

I quit drinking and changed my entire life to avoid it ever happening again. I did finally get my license back, which I am very grateful for. But if I ever got another one I would lose my license for the rest of my life and do some serious prison time. I would rather be arrested for robbing a bank, I'm not kidding.

Why should citizens be crucified and the very people doing the enforcement just walk away?
Many who are following this story share Wells' frustration. Whether or not Whaley was actually drunk, perceived to be drunk, or was under the influence of some other substance, the people will never know. But if Whaley had been given the same type of treatment others have been subjected to, the issue would have been a matter of public record.
As The Free Thought Project has reported, forced catheterizations by police are taking place in South Dakota, against a person's will, to extract drug and alcohol evidence against suspects who've been accused of DUI.
And according to the Brian Roberts Law firm, "Many Illinois police are beginning to apply for a warrant to draw your blood when you refuse the mandatory breath test." All of this leads many to question why the Sycamore Police Department didn't forcefully take a sample of Whaley's blood as many IL departments are doing.
The answer appears to be as disturbing as the incident. There's blue privilege at work, and those who will kidnap, cage, and possibly kill you over a DUI, will give their buddies a free pass for doing the same thing.
Worse still is the fact the officer has been allowed to return to duty, writing DUI tickets, making drug busts, and DUI arrests. In the eyes of many, the special treatment Whaley received reaches the absolute heights of hypocrisy.