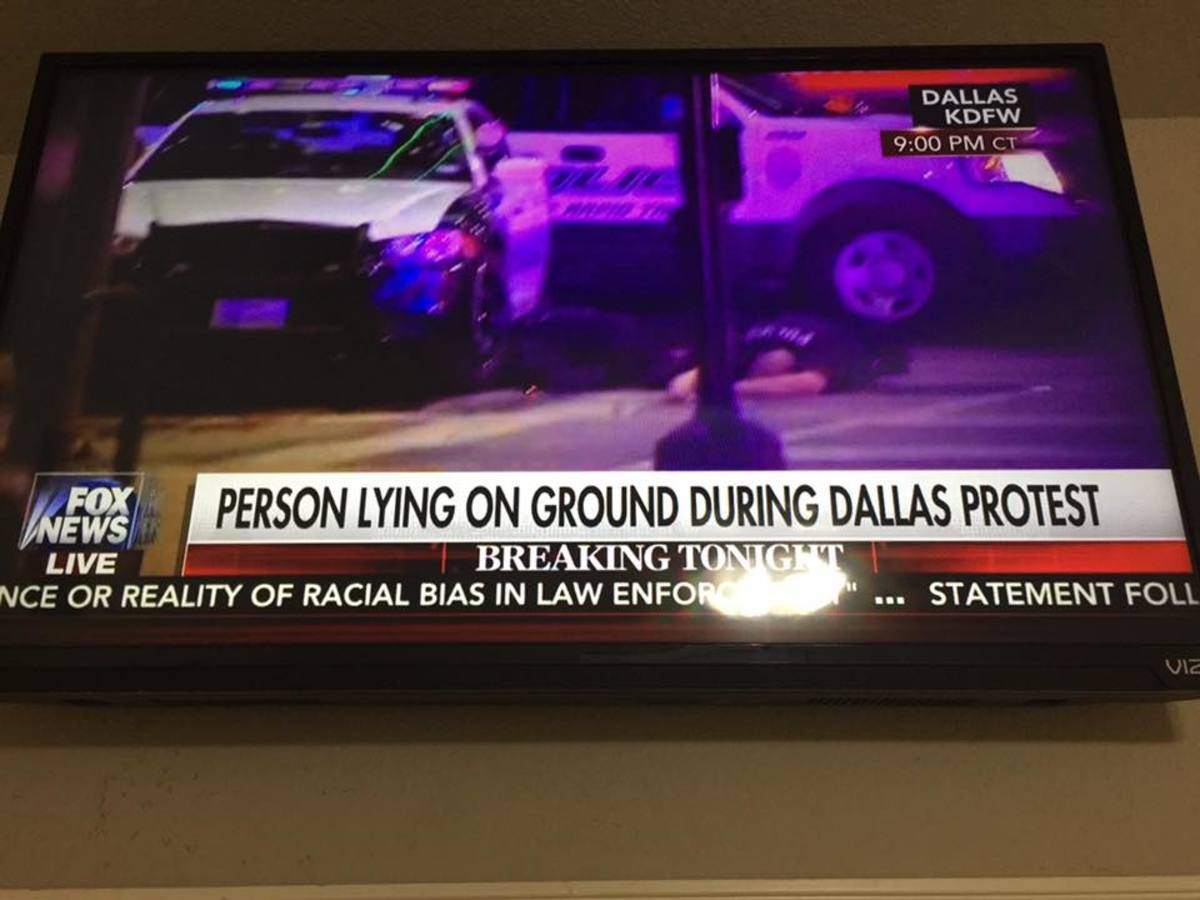 Dallas, Texas – Following the recent police killings of Alton Sterling and Philando Castile, major protests have erupted in major cities across the United States – including Dallas, Texas.
Police are responding to reports of shots fired at a downtown Dallas protest and rally following the deadly officer-involved shootings in other cities this week, according to NBC WDF-5.
According to reports, and video, shots were fired and at least two police officers were hit. Crowds were seen running in all directions after a reported 50 or more shots rang out.
My brother in West End says he heard 50 gunshots. Someone he's with says DPD officers carried officer to ambulance. pic.twitter.com/15FOslzAKk

— Allison Harris (@allisonfox4news) July 8, 2016
Dispatch has advised all Dallas officers to stay away from tall buildings, indicating that multiple snipers are potentially possibly suspected.
However, according to our sources on the ground, police have donned their military gear and are entering the Bank of America tower in an apparent search of the shooters.
Prior to the shooting, protests were completely peaceful.
#breaking Crowd on the run downtown Dallas. Reports of an officer shot at the protest march. pic.twitter.com/zstZnDIRlm

— Doug Dunbar (@cbs11doug) July 8, 2016
BREAKING: Officers down in #Dallas protest. GRAPHIC. pic.twitter.com/kG2pO83zoE

— Jayron (@Jayron26) July 8, 2016
Witnesses say numerous Dallas police officer have been shot and possibly killed in the attack.
Several hundred people had gathered Thursday at Belo Garden Park in Dallas, where they began their march through downtown Dallas to protest the recent police killings in Baton Rouge and a Minneapolis suburb.
We will keep you updated as this story develops.
*Update – The suspect is reported in the Bank of America Building on the 7th floor, according to police scanners, and the suspect has body armor.
*Update 2 – Some sources are reporting that 3-6 officers have been mortally wounded in the attack, with CNN reporting that as many as 10 officers have been shot during the attack.
*Update 3 – Dallas Police Chief David Brown says 10 officers were shot by 2 snipers in downtown Dallas. Three officers are dead, 3 are critical, and 2 are in surgery.
Here is the link to listen to the Dallas City Police scanner live. Officers are attempting to maintain radio silence but have occasionally given information about the situation over the live feed.
DASH cryptocurrency and The Free Thought Project have formed a partnership that will continue to spread the ideas of peace and freedom while simultaneously teaching people how to operate outside of the establishment systems of control like using cryptocurrency instead of dollars. Winning this battle is as simple as choosing to abstain from the violent corrupt old system and participating in the new and peaceful system that hands the power back to the people. DASH is this system.
DASH digital cash takes the control the banking elite has over money and gives it back to the people. It is the ultimate weapon in the battle against the money changers and information controllers.
If you'd like to start your own DASH wallet and be a part of this change and battle for peace and freedom, you can start right here. DASH is already accepted by vendors all across the world so you can begin using it immediately.