Cannon Ball, ND – Law enforcement responded violently to water protectors attempting to build a wooden footbridge across a creek linking a Native encampment and the Dakota Access Pipeline construction area for a prayer ceremony. The police responded with a vicious assault on the peaceful water protectors.
Breaking: hundreds of #NoDAPL water protectors attempting to cross foot bridges built over Cannonball river to reach DAPL construction area

— Unicorn Riot (@UR_Ninja) November 2, 2016
The Guardian reports:
The US army corps of engineers has ordered North Dakota police to arrest Native American protesters and destroy a bridge that activists built over a creek at the center of the increasingly tense Dakota Access pipeline demonstrations.

The Morton County sheriff's office announced on Wednesday that police were in a "standoff with protesters on the banks of the Cantapeta Creek" while activists said they were engaged in a peaceful water ceremony.

The situation raised concerns that there could be more mass arrests and violent clashes with police.
The tense situation erupted into state sponsored violence as law enforcement began spraying water protectors attempting to cross the creek with pepper spray, with reports of a water protector being shot in the back by a non-lethal round.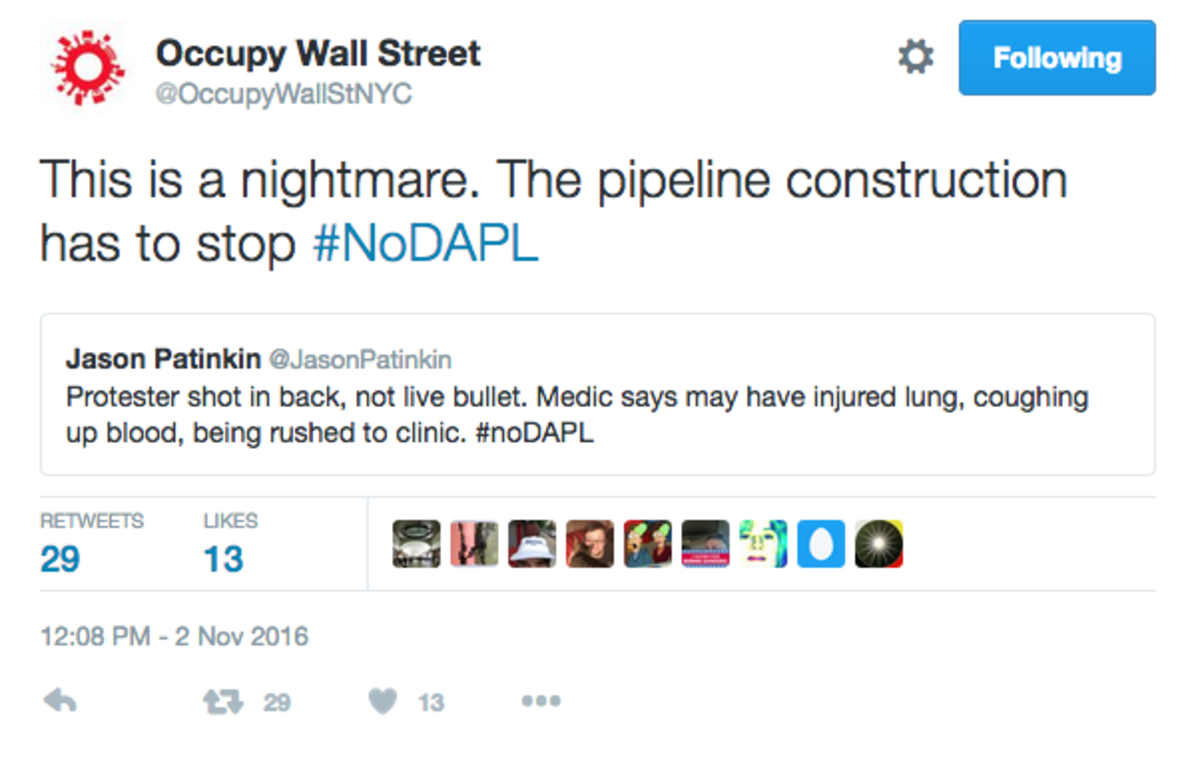 The situation on the ground is tense and many there feel that this conflict is coming to a head with these latest police actions.
The U.S. Army Corps of Engineers has given the county orders to remove the makeshift bridge and arrest any protesters who cross the Cantapeta Creek for criminal trespass, according to Morton County spokeswoman Donnell Preskey.
"Protesters involved in this activity are violating numerous federal and state laws," Pesky said.
According to a report by Forum News Service:
The Corps owns a sliver of land on the north side of the creek, Preskey said. Citing free speech rights, the Corps has been allowing hundreds and sometimes thousands of Native Americans and other pipeline protesters to camp on Corps land south of the creek along the nearby Cannonball River since Aug. 10
Variety of officers have been regularly spraying water protectors with pepper spray; more await in boats nearby. pic.twitter.com/y5ep8PczqK

— Unicorn Riot (@UR_Ninja) November 2, 2016
The water protectors were attempting to build a bridge to gain access to a pipeline construction area near Cannonball Ranch. Access to that area was cut off last week, after the militarized police crackdown on the "Treaty Camp" that saw more than 140 water arrested.
Barrier of logs and rope has been constructed, placed the water by #NoDAPL water protectors. More officers arriving, lining up on the shore. pic.twitter.com/LY4TbioL6z

— Unicorn Riot (@UR_Ninja) November 2, 2016
We will keep you updated to this intense breaking situation. Please share this story to get the word out about what is happening on the ground at Standing Rock!
DASH cryptocurrency and The Free Thought Project have formed a partnership that will continue to spread the ideas of peace and freedom while simultaneously teaching people how to operate outside of the establishment systems of control like using cryptocurrency instead of dollars. Winning this battle is as simple as choosing to abstain from the violent corrupt old system and participating in the new and peaceful system that hands the power back to the people. DASH is this system.
DASH digital cash takes the control the banking elite has over money and gives it back to the people. It is the ultimate weapon in the battle against the money changers and information controllers.
If you'd like to start your own DASH wallet and be a part of this change and battle for peace and freedom, you can start right here. DASH is already accepted by vendors all across the world so you can begin using it immediately.