Baltimore, MD — During Monday's FOX daytime news, Mike Tobin called in live to report police shooting a man in downtown Baltimore at the intersection of Penn and North Aves.
Shooting: 2500 block Marbourne Ave. Man reported to be shot multiple times. Southern District detectives investigating.

— Baltimore Police (@BaltimorePolice) May 4, 2015
shooting in baltimore was about 10 minutes ago;was running from police when shot

— Greta Van Susteren (@greta) May 4, 2015
Tobin said that the police shot the young man as he was running away. It is unclear whether or not the young man was armed, but Tobin described seeing a revolver on the ground that may have belonged to the man.
The unidentified man was immediately taken away in an ambulance and police began to disperse the crowd with pepper spray.
RT correspondent Manuel Rapalo also claimed to have witnessed the shooting.
I just saw a guy get shot! Police are clearing the scene and using pepper spray. I have no idea what's going on #Baltimore

— Manuel Rapalo (@Manuel_Rapalo) May 4, 2015
Tobin is heard on FOX News describing how he never saw the man do anything that would have warranted being shot.
"I was getting ready to do a live shot for my shift … I was sitting in the car, scribbling on my notes for the next live shot, and he ran right in front of us," Tobin said. "I never saw the individual turn and do anything I would consider an aggressive act, but we did see the officer draw his weapon and I counted one gunshot."
A live-streamer captured the immediate aftermath of the shooting.

Update:
Just twenty minutes after the man is seen being loaded into the ambulance, ABC 7's Brad Bell tweeted out that police are now claiming that no one was shot.
Police say nobody shot on North Ave. Suspect threw gun on ground. Suspects gun went off. Again …nobody hit

— Brad Bell (@ABC7Brad) May 4, 2015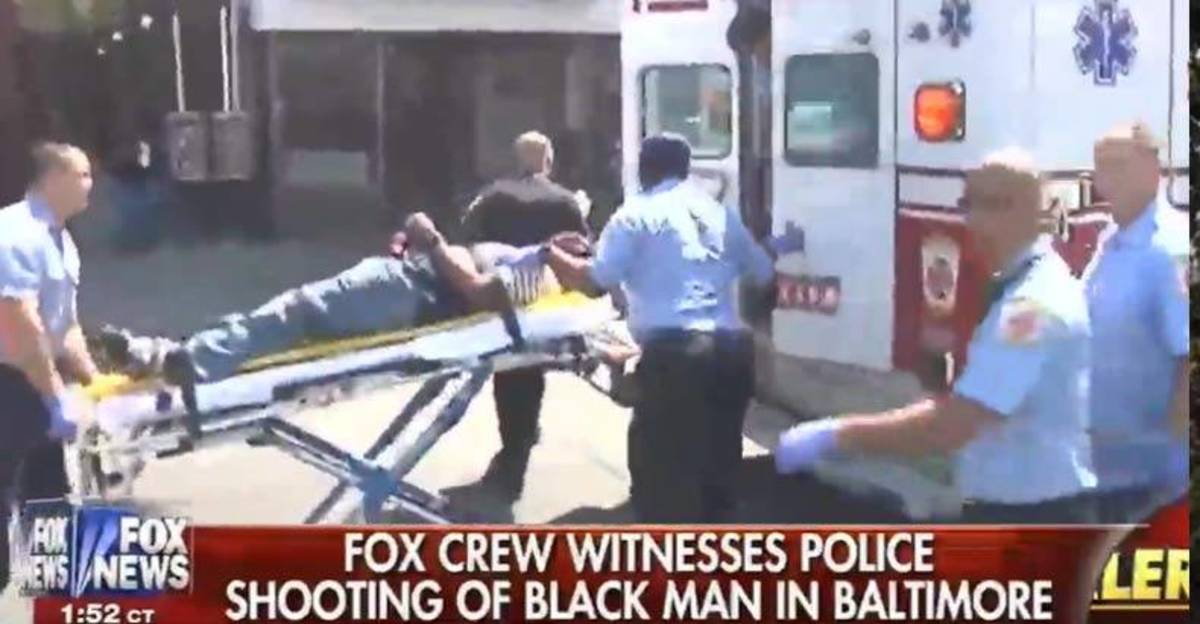 According to WJZ News, the police are now claiming that the shooting report is unfounded and officers arrested a man with a gun. Apparently the shooting victim being loaded into the ambulance on national TV was unrelated.
#PHOTO: @BaltimorePolice say report of shooting is unfounded. Officers arrested man with a gun https://t.co/lnZvs33IUj pic.twitter.com/lgxufb2LoG

— WJZ | CBS Baltimore (@cbsbaltimore) May 4, 2015
Who to believe? @FoxNews or @BaltimorePolice? Talk about a no-win situation. #Baltimore pic.twitter.com/559Nf3z93A

— D (@Delo_Taylor) May 4, 2015
Update:
At 3:34 EST Shepard Smith reported the discrepancy between what police are saying and what their producer has said.
.@FoxNews says @BaltimorePolice say their report about a man being shot is incorrect: pic.twitter.com/OJL1D7t9jX

— Billy Corben (@BillyCorben) May 4, 2015
Update:
At 3:52 EST Shepard Smith apologized for what appears to be Fox's error in reporting.
"We were wrong. Our people on scene were wrong," he said. "Theirs was an error that was honest and straightforward and our duty as journalists is not to make mistakes and when we make mistakes we are duty-bound to correct them immediately and as clearly as possible."
You can watch the scene unfold LIVE on the ground right now at our livestream link.
Sponsored Content: