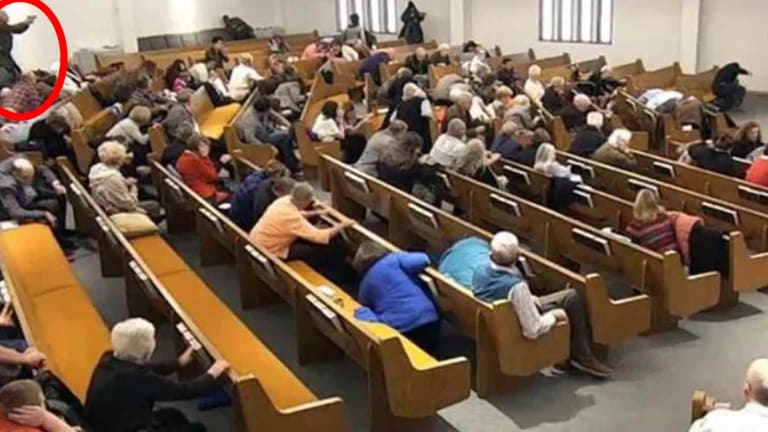 Two Dead After Armed Churchgoer Pulls Gun and Stops Mass Shooter During Livestream
During a church live stream on Sunday, a mass shooter opened fire but was quickly put down when an armed churchgoer pulled out his gun and shot him.
White Settlement, TX — A tragedy unfolded in a town just outside of Fort Worth, Texas on Sunday as a man armed with a shotgun walked into a West Freeway Church of Christ and began shooting. Two people were killed and another is in critical condition. The shooting could have been much worse, however, if a churchgoer hadn't been armed.
According to the Dallas Morning News:

MedStar spokeswoman Macara Trusty confirmed that one person died at the scene of the shooting, one person died en route to a hospital, and another person was transported to a hospital in critical condition. The shooter is believed to be one of those three people, said Fort Worth Fire Department spokesman Mike Drivdahl. Fort Worth police and fire were at the scene assisting White Settlement agencies, he said. Agents with the Bureau of Alcohol, Tobacco and Firearms as well as the Federal Bureau of Investigation were also at the scene. White Settlement police were called to the scene at 9:57 a.m. after reports of gunfire and people with gunshot wounds, Drivdahl said. White Settlement and Fort Worth officers were at the church speaking to witnesses, he said.
"Our hearts and prayers go out to all the families that were affected by this incident," Drivdahl said. "We'll continue to pray for them and continue to do everything we can for them." After the shooting, Texas governor Greg Abbot praised the armed churchgoer who took out the mass shooter and stopped a potential massacre in its tracks. "Places of worship are meant to be sacred, and I am grateful for the church members who acted quickly to take down the shooter and help prevent further loss of life," Abbott said. "Cecilia and I ask all Texans to join us in praying for the White Settlement community and for all those affected by this horrible tragedy."

Had this shooting taken place in another state with far stricter gun laws, the loss of life would've arguably been much worse. TFTP previously reported on another church shooting in Texas last year. Like this one, an armed churchgoer pulled out his gun and stopped the shooter.
In the case in Amarillo, Texas, however, that hero was shot by police when they showed up to the scene.
The situation was well on its way to becoming one of the deadliest shootings in history as the gunman took over 100 people hostage inside the Faith City Mission church in February 2018.
"They said there was a gun in the building everyone started running all different ways," said Clay Murdock, a student at Faith City Mission.
According to WLOX, Murdock said he tried to get as many people inside their sound room as possible.
"We're standing in there and everyone starts praying," said Murdock. "I went outside to see what was going on if I could get more people in there and right when as I went outside the guy was standing right in front of me with the pistol."
Murdock then ran outside.
According to the Amarillo police, the initial call came in around 8:45 a.m. and indicated that there was an armed suspect inside who was holding 100 people hostage.
Sergeant Brent Barbee told reporters that when officers breached the building, they encountered an individual who had a handgun.
"The officers fired shots that struck the man," said Barbee. "After some additional investigation, they've learned that the man that [had] the gun may have taken the firearm away from the original suspect in the call. The man who originally had the gun has been taken into custody."
Later that day, police clarified that they indeed shot the wrong man.
"The initial investigation indicates that the man the officer shot had originally been in a struggle with the original suspect and had taken away the gun from the suspect. The initial suspect has been taken into custody and is not injured. No other persons were hit by gunfire. This is very early in the investigation and more details will be available at a later time," read the report.
What both of these cases illustrate is that the most effective way to stop a bad guy with a gun is a good guy with a gun.