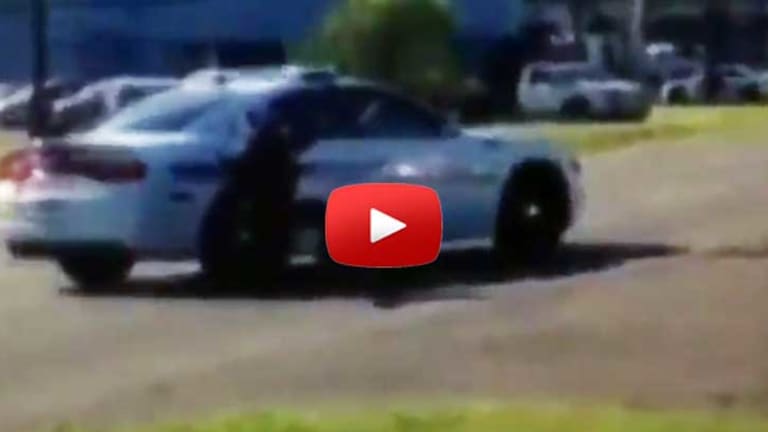 BREAKING: Amateur Video Shows Baton Rouge Police Exchange Fire with Shooter
Dramatic video of the Baton Rouge Police shooting has surfaced, showing the tense exchange of gunfire between cops and the shooter.
As many as seven police officers have been shot, three of them fatally in Baton Rouge, Louisiana.
A video showing a portion of the shootout was taken by Twitter user #BLM and posted shortly after. It shows the tense moments police exchanged fire with the active shooter.
While the video is grainy, we can hear the barrage of gunfire coming from what sounds like an AR-15.
According to multiple sources, the three Baton Rouge Police officers were shot around 9 am, though the gunman is still at large. SWAT has been deployed to the scene and roadways between Police Headquarters and I-12 are now closed.
Mayor Kip Holden told NSNBC officers responding to reports of a shooting at the B Quick store on Airline Highway were then ambushed by the suspect.
Another source with knowledge of the investigation told CNN police received reports of "a suspicious person walking down Airline Highway with an assault rifle," who then fired on responding officers.
"A witness told [local] WBRZ News 2, a man was dressed in black with his face covered shooting indiscriminately when he walked out between a convenience store and a car wash across from Hammond Air Plaza."
According to WFAB, multiple agencies responded to the scene and "several" officers had been shot.
Sgt. Don Coppola of the Baton Rouge Police said, "The scene seems to be contained right now. We're asking everyone to stay out of the area."
The gunman opened fire less than a mile from police headquarters, but details remain sketchy at this time.
"I do not have the extent of the injuries," Coppola continued. "We're hearing that it may also include some deputies [with the East Baton Rouge Parish Sheriff's Office], but that's preliminary information and I'm waiting on confirmation."
According to CNN, officers who weren't fatally shot have been hospitalized and are in critical condition.
Tensions between police and civilians have reached a fever pitch in recent days, following the police killing of Alton Sterling and the riot squad response to subsequent protests.
This report will be updated as information becomes available.