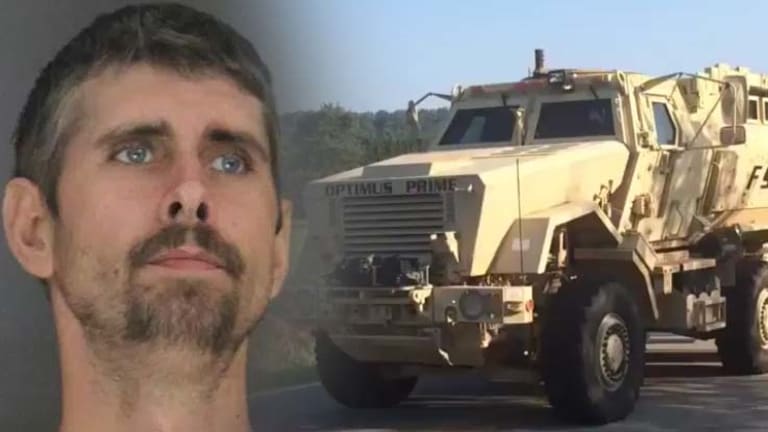 BREAKING: 100 Cops in Standoff With "Anti-Police" Shooter Who Just Shot Police Chief and Deputy
An active shooter situation is underway in Arkansas after a man with alleged "anti-police" sentiment shot two police officers.
Greenwood, AR -- An alleged active shooter is currently at large and involved in a standoff with more than 100 SWAT officers, Arkansas state police, and Sebastian County Sherrif's department deputies after he allegedly shot two cops.
The suspected shooter, Billy Jones of Greenwood, is described as "anti-police" by neighbors and was allegedly known for his weapons cache and his negative feelings towards law enforcement.
The incident began Tuesday morning when the Hackett Police Chief and a deputy crossed paths with Jones and he opened fire on them. Both officers were hit and have been rushed to the hospital.
The Sebastian County deputy is in critical condition, said Van Buren Detective Jonathan Wear. Chief Spells is also being treated at the hospital, however, his condition is still unknown.
Neighbors said Jones was "upset with law enforcement" which could possibly be related to a 2008 felony arrest for the cultivation of marijuana.
According to 4029tv.com,
Tthe chief and the deputy were brought by ambulance to Sparks Medical Center, a hospital official confirmed. The hospital would not release information on the condition of the two.

A police chaplain arrived at Sparks Medical Center, law enforcement told 40/29 News. Other law enforcement is also at the hospital.

Crawford County Sheriff Ron Brown is responding with deputies for assistance. The Crawford County SWAT is also responding, as are deputies with the Scott County Sheriff's Department. Logan County deputies are also responding.
This shooting is the third such shooting in the last two months carried out by individuals who are allegedly upset with police. However, in Jones' case, it appears that the officers approached him as opposed to him seeking out the officers.
There were conflicting reports of what led up to the shootings.
According to 40/29 News, Spells and the deputy were shot when "law enforcement went to serve a warrant."
However, 5 News says the initial call was for a "family disturbance."
The standoff is now in its third hour as police remain cautious due to the neighbors alerting them to Jones and his family owning a large number of weapons.
In a post on a Greenwood forum, Billy Jones was described by his father as a good man who was dealing with cancer. He also said that the two do not have weapons and had the felony marijuana charges expunged.
First of all, Billy Jones has had cancer for the past few months. As well as neither one of us are any longer felons, all charges have been exponged and fines paid. This is bullshit, we own kennels/ love the dogs that we raise like family and would never harm another mans dog unless it was a life or death situation. On top of all this we do not own any weapons, or illegal narcotics of any way, shape, or form. This is all speculation from some disgruntled individual who has nothing better to do than try and ruin the life that me and my son have rebuilt. We may have made a bad choice here and there, but no longer partake in these activities. So believe what you wish, because we are no more harmful than the next southern american. Now if there are any other indiscrepancies anyone would like to straighten out and discuss, you should be able to find out how to get in touch with me, Instead of listening to the ramblings of pussy like individuals who do not have to balls to talk to me like a man face to face, please feel free. thank you
-Clarence Jones
"DON'T TREAD ON ME"
According to court records obtained by the Free Thought Project, Jones's past includes:
2007: manufacture and possession of a controlled substance, schedule IV, V Sentenced to 60 months suspended sentence
2011: theft of property Sentenced to 60 months suspended sentence
February 2016: possession of firearms by certain persons, possession of a controlled substance, scheduled I and II
[divider style="solid" top="20" bottom="20"]
UPDATE: At approximately 12:00 Jones was taken into custody -- alive.
Investigator Philip Pevehouse said deputy Cooper underwent surgery and is still alive, but is in extremely critical condition in the ICU as of 11:30 a.m.
Chief Spells was released from the hospital shortly after 10:30 a.m.