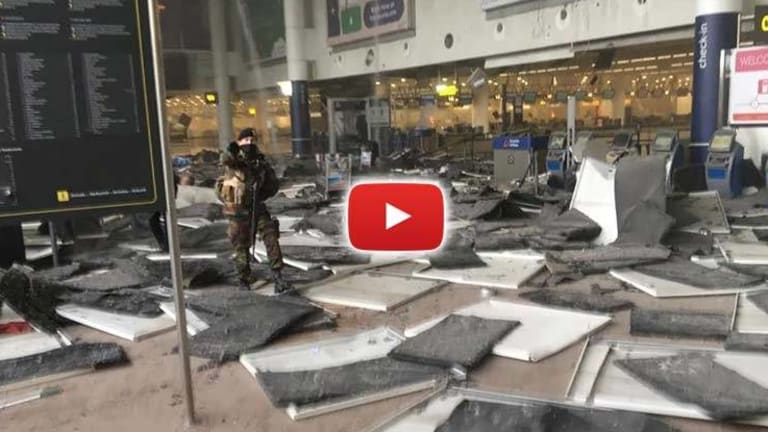 BREAKING: Belgium Under Attack -- Dozens Killed After Coordinated Explosions Devastate Brussels
Several bombs were set off in Brussels, Belgium, near the EU Parliament, killing up to 28 people. The city is now on lockdown.
At least 28 people are dead, and dozens injured, following reported suicide bombings in Brussels, Belgium, this morning. Two bombs struck the Zaventem international airport, others were set off in the Maelbeek and Schuman subway stations about seven miles from the airport — and near the European Union headquarters.
The first two explosions shook the departure hall in the airport shortly after 8 a.m. Witnesses told The Associated Press that one occurred at an excess baggage payment counter and the other near a Starbucks cafe.
Zach Mouzoun, who arrived on a flight from Geneva about 10 minutes before the first blast, told BFM television that the second, louder explosion brought down ceilings and ruptured pipes, mixing water with blood from victims.
"It was atrocious. The ceilings collapsed," he said. "There was blood everywhere, injured people, bags everywhere."
"We were walking in the debris. It was a war scene," he said.
An hour and twenty minutes after the airport blasts, another explosion was reported on a train that was stopped at the Maelbeek subway station, near the headquarters of the EU.
Witness, Alexandre Brans, 32, said, "The metro was leaving Maelbeek station when there was a really loud explosion. It was panic everywhere. There were a lot of people in the metro."
The attacks were carried out during the busiest travel time of the day.
Belgian officials have now shut down all modes of public transit and Eurostar train service, and are not allowing vehicles to pass through the city's tunnels. The city is under lockdown, as the Crisis Center has urged citizens to refrain from using the now-flooded phone system, and instead use social media or text to contact family and friends."The metro was leaving Maelbeek station when there was a really loud explosion. It was panic everywhere. There were a lot of people in the metro," said witness Alexandre Brans, according to RT.

Belgian authorities have raised the national security alert to its highest level and have told people to remain in place.
According to RT, the French BFMTV station cited police sources, which said Belgian authorities had advanced knowledge an attack was imminent, though location and time were unclear.
No group has yet claimed responsibility for the series of attacks. However, the attacks came four days after the main suspect in the November Paris attacks was arrested in Brussels. After his arrest, Salah Abdeslam told authorities he had created a new network and was planning new attacks.
During a midday press conference on Tuesday, Belgian Prime Minister Charles Michel said, "What we feared has happened."
This is a developing situation and more information will be released as it becomes available.
Two blasts at Brussels airport

Belgium has raised its terror threat to the maximum level following two explosions at Brussels airport and at least one more blast at a Metro station near EU buildings.Multiple casualties are reported in both attacks by local media – though police are yet to confirm figures.

Posted by Channel 4 News on Tuesday, March 22, 2016