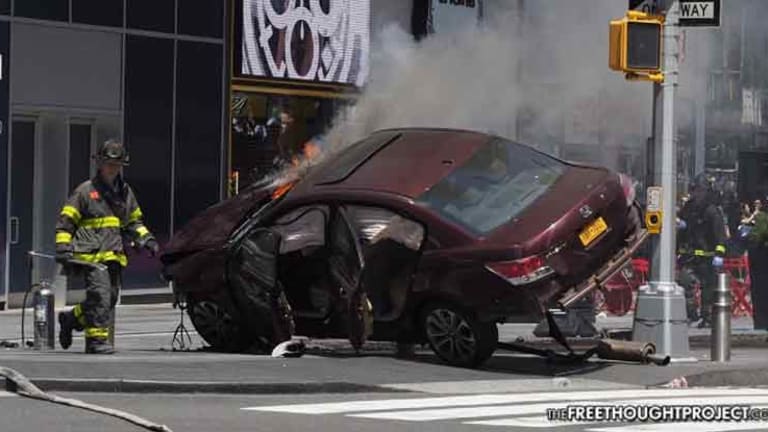 BREAKING: Dozens Injured After TWO Separate Vehicle Crashes in NYC Hit Pedestrians
"This didn't look like an accident. The driver was steering into people." — Eyewitnesses dispute the police account that this car rampage was an accident.
New York, NY — An out-of-control car speeding the wrong way on Seventh Avenue plowed into several pedestrians in Times Square Thursday — killing one and injuring 19 others, authorities said. Only moments later, across town, another vehicle crash resulted in 11 injuries, some critical.
New York City Police have declared a "mass casualty incident" after the crash.
According to police, the first crash was caused when Richard Rojas, 26, of the Bronx, began plowing over pedestrians in Time Square. The rampage only ended at W. 45th St. when Rojas' sedan crashed into a pole and flipped over.

The maroon Honda left behind a two-block trail of car parts and wounded victims.
While police say they suspect Rojas was driving while impaired, eyewitnesses on the scene said he appeared to be deliberately targeting people.
However, the incident is not being treated as a terrorist attack at this time, according to NYPD.
"I just decided to cross the street 30 sec before or I'd be dead," tweeted witness Annie Donahey. "This didn't look like an accident. The driver was steering into people." For more than two blocks, Rojas steered his car toward people in an attempt to take them out. An injured pedestrian also told Reuters that the driver's actions appeared "intentional."

"It was total chaos, total shock," said Kelly Graves, 54, a tourist from Wisconsin. "You didn't know what happened until you actually saw people and the police running and people laying on the sidewalk."
President Donald Trump has been "made aware" of the situation in Times Square and will continue to receive updates, said White House press secretary Sean Spicer.
In a separate incident, NY Daily News reported that 11 people were struck by a vehicle at Broadway & Castleton Ave. It is unclear if the two incidents are linked, especially as the NYPD claims the driver had no intention of driving into pedestrians — in spite of the eyewitness accounts to the contrary.
While fewer details are available in the second incident, one can't help but speculate.