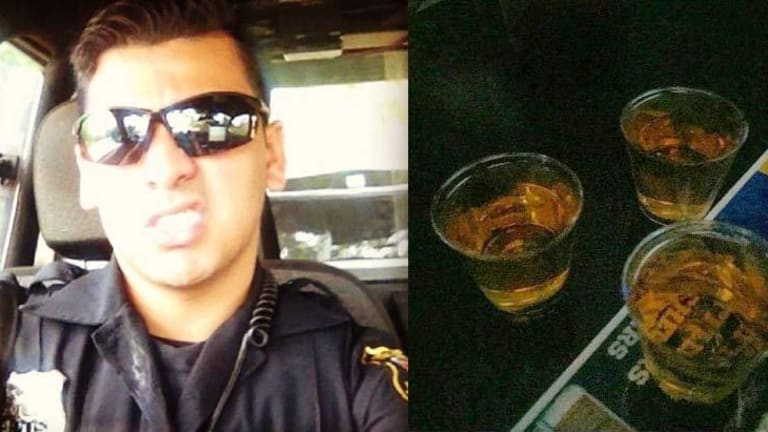 Car Full Of Cops Leaving Strip Club, Drives Wrong Way Down Road, 2 Dead 2 Critically Injured
A New Jersey Cop and a civilian are dead, two other officers fighting for their lives after a tragic accident.
Linden, NJ -- A New Jersey police officer and a civilian have been confirmed dead after a car they were in drove the wrong way down the road colliding head on with an 18-wheeler.
The off-duty officer who was driving the car had posted a photo on his Instagram hours earlier of three shot glasses full of alcohol. In his Instagram post, Officer Pedro Abad identifies the drinks in the photos as "Jack Daniels Fire."
According to Juno-News.com, Patrol Capt. William Turbett Jr. confirmed Friday that the Instagram account belonged to 27-year-old Linden police Officer Pedro Abad. Abad was critically injured in the crash along with another officer.
The Free Thought Project found Abad on twitter and found some particularly odd tweets for a police officer to make.
Linden police Capt. James Sarnicki says 28-year-old Officer Frank Viggiano died in the crash along with a 28-year-old Linden resident Joe Rodriguez.
Sarnicki says Abad and 23-year-old Officer Patrik Kudlac are "fighting for their lives."
According to reports, the car had left a strip club and was headed in the wrong direction on a Staten Island highway when it struck a tractor-trailer.
Video taken by a surveillance camera at a New York gas station shows a car traveling the wrong direction on a service road minutes before a wrong-way crash.
The driver of the tractor-trailer suffered minor injuries only.
While it isn't officially confirmed, this tragic incident appears to be a horrible case of DUI.