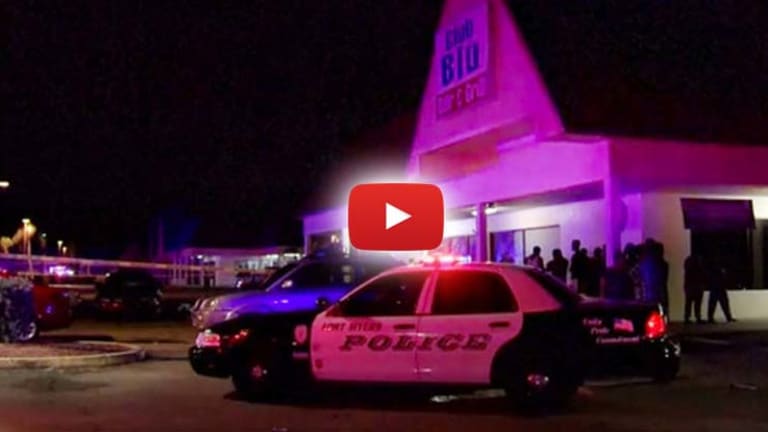 Another Florida Shooting: Multiple Fatalities, 17 Injured at Club Blu Nightclub
At least two people have been killed and as many as 17 injured in a shooting at a nightclub in Fort Myers in western Florida.
Ft. Myers, FL -- (RT) At least two people have been killed and as many as 17 injured in a shooting at a nightclub in Fort Myers in western Florida. The incident took place during a 'teen night', with a local hospital stating that one of those hurt is only 12 years old.
The shooting took place at Club Blu in the early hours of Monday morning, according to Capt. Jim Mulligan of the Lee County Sheriff's Office. He said that two people have been killed, while as many as 17 people have been injured.
Fort Myers Police Department (FMPD) reported that 14 to 16 people were injured.
The victims have not been identified by the authorities, while the FMPD says it is not sure of exactly how many people were injured, as not everyone who was hurt was taken to hospital by ambulance.
"The numbers, they're sort of fluctuating. We have multiple hospitals calling in. We're trying to confirm. So, 15 to 17. We do have two confirmed dead," Capt. Mulligan said, as cited by Wink News.
"Officers arrived on scene. Found multiple people suffering from various levels of gunshot wounds. EMS was called, multiple units responded [and] helped triage [and] transport multiple people from the scene," he added.
Lee Memorial hospital, which is treating 16 victims from the shootings, says that the youngest person is just 12 years old, while the oldest is 27. Four people still remain in hospital, while one is in a critical condition and another is in a serious condition.
The scene has been described as "a mad house" and there have been reports of gunshots as people were exiting the nightclub, according to Wink News, a television station based in Fort Myers. Another witness says that she heard around 30 gunshots from the scene and believes that these came from a number of weapons. Police say that the scene is still active and they are searching for suspects in two locations in the city. A total of three people have been detained in connection with the nightclub shooting, while police say they are trying to determine a motive for the shooting in the parking lot.

Officers at the scene said the condition of those who have suffered gunshot wounds is ranging from minor to life threatening, according to WPTV.
Onlookers said they could see people screaming, while others were being taken away in ambulances. One man said one of his friends was at the club when the shooting took place.
"I called and couldn't get a hold of them, I rushed to Blu scared when I arrived I got one of them and he said that the shooter took off and the cops where chasing him," he wrote on Facebook, as cited by Wink News.
"It was a mad house people were running everywhere. All people were saying was their friends' names to see if they're okay — a lot of phone calls to parents," he wrote. "But it was one of the scariest sights to just see people come pouring out like that."
Syreeta Gary said that her daughter was caught up in the shooting which took place in the parking lot outside the club. She described how the girl was forced to run for her life, while one of her friends was shot in the leg. "I just thank God that my daughter is OK because she could have been shot. Her dodging bullets and running and ducking between cars is ridiculous that these kids have to go through this and they can't enjoy themselves because you have other people there who have criminal minds and they just want to terrorize things."

A poster on Twitter shows that the nightclub was hosting a 'Swimsuit Glow Party', while those attending did not need ID to gain entry.
The shootings in Fort Myers come six weeks after 49 people were killed when a gunman opened fire at the Pulse nightclub in Orlando on June 12, causing the deadliest mass shooting in modern US history. The nightclub, which was frequented by members of Orlando's LGBT community, was targeted by Omar Mateen, who had pledged allegiance to the terrorist organization Islamic State (IS, formerly ISIS/ISIL).