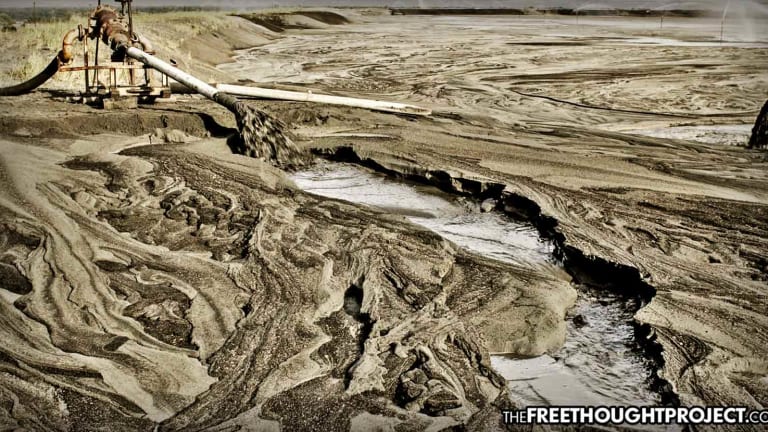 BREAKING: Flood Waters Breach Power Plant Dam, Toxic Waste May Be Spilling into Cape Fear River
On Friday, floodwaters breached the dam at a retired coal power plant in North Carolina with reports toxic ash, containing mercury and arsenic leaking into river.
Wilmington, NC — (RT) Hurricane Florence floodwaters have breached the dam at a retired Duke Energy coal power plant near Wilmington, North Carolina, likely causing a spill of coal ash into Cape Fear River.
Floodwaters topped the earthen dike at the northern side of Sutton Lake on Friday. Water from the south end of the lake is flowing back into the river, Duke Energy spokeswoman Paige Sheehan told AP.
Water has also crested over the steel retaining wall of a coal ash dump on the lake shore, Sheehan said. Duke "can't rule out" that ash might have spilled into the river.
Gray material that Duke Energy described as "lightweight coal combustion byproducts" was floating on the top of the lake Friday, according to AP. The 1,100-acre lake near the former L.V. Sutton Power Station is next to a landfill of coal ash residue left over from the plant, which closed in 2013. Coal ash contains a number of toxic metals, such as arsenic and mercury. By Thursday, the Sutton Lake site had received more than 30 inches (75 cm) of rain from Hurricane Florence. The storm dumped over 8 trillion gallons of rainfall on North Carolina over the past week. The Cape Fear River is still rising, and is expected to crest on Saturday. Sutton Lake is located upstream and northwest of Wilmington, which has taken the brunt of Hurricane Florence's impact. South of the city, Duke Energy's Brunswick nuclear power plant was shut down as the storm approached. Workers cut off by the flooding were supplied by helicopters.

Widespread flooding has also caused contamination by human and animal waste. Last Sunday, 5 million gallons (19 million liters) of partially treated municipal sewage spilled into the Cape Fear River after a power failure at the sewage treatment plant.
Earthworks around the lagoons holding hog farm waste across the state have also been compromised by floodwaters. North Carolina officials said that three of the lagoons have been breached, 21 had been flooded by nearby rivers, and 30 had overflowed.
This is the second time in four years that Duke Energy has suffered a coal ash spill; in 2014, a pipe collapse at a plant in Eden dumped 39,000 tons of ash into the Dan River, contaminating about 70 miles (110 kilometers) of it. The utility company paid $102 million in fines and restitution and pleaded guilty to nine Clean Water Act violations as a result.