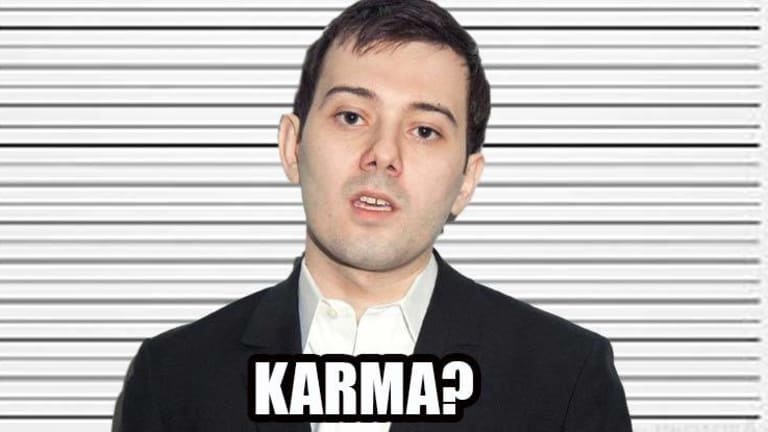 Karma? Price-Hiking Pharma Bro Arrested for Fraud in Illegal Hedge Fund Scheme
After a year-long investigation, pharma-bro Martin Shkreli has been arrested for unscrupulous acts during his time as a hedge fund manager.
After acquiring the sole rights to sell Daraprim, former hedge fund manager Martin Shkreli increased the price by 5,500%, thrusting the young millionaire into the limelight of infamy and outrage.
Prior to acquiring Turing Pharmaceuticals, Shkreli made his money as manager of hedge fund MSMB Capital Management and CEO of biopharmaceutical company Retrophin Inc.
Thursday morning Shkreli was raided by the FBI and arrested after a year-long investigation into his involvement in Retrophin and MSMB.
According to CNBC, Lawyers for Retrophin and Shkreli, whose arrest was witnessed by Reuters, did not immediately respond to a request for comment. Turing and KaloBios declined to comment.
The 32-year-old is expected to be charged Thursday for illegally using Retrophin assets to pay off debts after MSMB lost millions of dollars, according to CNBC.
According to Bloomberg, 
In the case that closely tracks that suit, federal prosecutors accused Shkreli of engaging in a complicated shell game after his defunct hedge fund, MSMB Capital Management, lost millions. He is alleged to have made secret payoffs and set up sham consulting arrangements. A New York lawyer, Evan Greebel, was also arrested early Thursday. He's accused of conspiring with Shkreli in part of the scheme.
News of his arrest comes just one day after Shkreli announced his plans to bail out rapper Bobby Shmurda, who was arrested last December with members of his GS9 crew on weapons and murder charges.
In an interview with Hip Hop DX, Shkreli said:
We're actually in discussion to try to bail out Bobby Shmurda. Forget whether you think he's guilty or not, the guy should not be sitting in jail right now. It's insane. He's from Brooklyn. I'm from Brooklyn. He deserves a fair trial. He deserves good lawyers. He doesn't have good lawyers. His label is hanging him out to dry and so I have a conference call tomorrow morning with them (December 15). I'll show up with $2 million bail money no fucking problem. He's not going to flee the country. I'm not going to lose anything. I'm going to try to make that happen. That's one thing I'm working on.
Shkreli wasn't bailing this accused murderer out because he was being kind either. He was expecting something in return.
I'm a fan and I'm a business man. I'm not going to do this for free. He's going to have to do something for me. I don't know what that's going to look like yet. He's going to owe me one, obviously. I'd like to pay for his legal defense as well. I'm a big fan, but also, I'm an opportunist. You know that.
Perhaps Shkreli was referring to his rap ambitions. After he paid $2 million for the most expensive album ever sold, Wu-Tang's mystic Once Upon A Time In Shaolin, it became public that Shkreli was an aspiring hip-hop artist.
One can't help to think of karma when hearing the news of Shkreli's arrest. Not only was he okay with raising the price of a life saving drug 5,500%, but he was actually okay with ripping people off who trusted him with their money too.
However, will any justice actually be served?
If we know anything about super wealthy and politically connected people, it's that they often act outside of the normal realm of justice for the commoner.