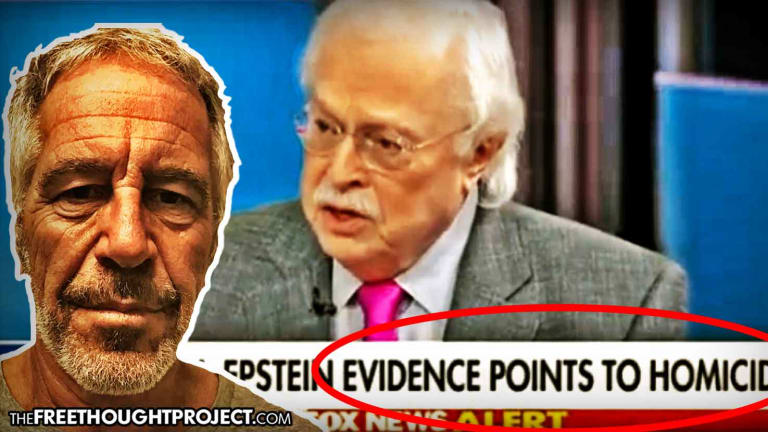 BREAKING: Pathologist Report Claims Epstein's Autopsy More Consistent with Homicide than Suicide
Moments ago, a renowned pathologist hired by Epstein's family revealed that the autopsy results are more consistent with homicidal strangulation than suicide.
It has been almost three months since the billionaire convicted pedophile, Jeffrey Epstein, allegedly "killed himself" in a federal prison cell. Since that fateful day in August, coverage of his elite ties and his death have been almost non-existent in the mainstream media. However, all that changed this morning when a pioneering forensic pathologist revealed a bombshell to "Fox & Friends". Epstein's body bore telltale signs of homicide despite an official ruling that he killed himself.
According to Fox, Dr. Michael Baden is a former New York City medical examiner who has worked on high-profile cases during a five-decade medical career.
Baden, who was hired by Epstein's brother and observed the autopsy, told Fox News its findings are more consistent with homicidal strangulation than suicidal hanging. He noted that the 66-year-old Epstein had two fractures on the left and right sides of his larynx, specifically the thyroid cartilage or Adam's apple, as well as one fracture on the left hyoid bone above the Adam's apple, Baden told Fox News.
"Those three fractures are extremely unusual in suicidal hangings and could occur much more commonly in homicidal strangulation," Baden, who is also a Fox News contributor, said.
Baden notes that these findings only suggest homicide and was clear that it is not yet conclusive. He did say that the fractures were "rare," however. Baden himself is, in fact, "rare" as he has overseen other high-profile cases involving O.J. Simpson, President John F. Kennedy, Martin Luther King, record producer Phil Spector, New England Patriots star Aaron Hernandez and many others.
"I've not seen in 50 years where that occurred in a suicidal hanging case," the 85-year-old pathologist told Fox News.
The report continues:
Baden, who's examined more than 20,000 bodies and hosted HBO's "Autopsy," explained that if a person weighed 120 pounds and their head weighed 10 pounds, there would be 110 pounds of pressure on the neck at the jaw during a hanging. But, if someone put a hand around a person's neck and squeezed, that could double or even triple the pressure on the neck, Baden said.

There were also hemorrhages in Epstein's eyes that were common in homicidal strangulation and uncommon, though not unheard of, in suicidal hangings, the forensic pathologist said.
"The prominent hemorrhage in the soft tissues of the neck next to the fractures is evidence of a fresh neck compression that could have caused the death," Baden said.
Baden pointed out that although this evidence is certainly suspect, the investigation is not yet complete. "The investigation is not completed until all the information has come in," he said.
This information brought forward by such a renowned pathologist like Baden is the biggest news in the Epstein case since his death in August. This pathologist's report coupled with all the unanswered questions like why there were no cameras in the cell, or why he was taken off suicide watch, or why Epstein claimed someone had tried to kill him, should be enough information to open an official investigation into his death.
Even Epstein's own defense team doesn't buy the suicide narrative, apparently, as one of his lawyers in August voiced deep skepticism that he hanged himself while addressing a final hearing in a Manhattan US District Court, which was held to formally dismiss the charges as is typical when the accused is deceased, but also to still allow testimony of some of the victims.
Defense lawyer Reid Weingarten told Judge Richard Berman during the hearing that Epstein's injuries are"far more consistent with assault"than suicide, especially given the broken bones in his neck discovered during the autopsy after he was found dead in his jail cell on Aug. 10. This after it was previously revealed that Epstein's defense attorneys had successfully lobbied for him to be taken off suicide watch on July 29, about a week before he was found dead in his cell, according to ABC News.
Weingarten's comments mirror that of Baden's. "Weingarten cited the defense's own medical sources. Broken bones were found in Epstein's neck during an autopsy after he died Aug. 10," reports CNBC. "Such fractures are somewhat more common in cases of strangulation than in hanging."
"We're skeptical of the certitude" of the finding of suicide by hanging by the New York City medical examiner, the lawyer said.
While there are still many unanswered questions surrounding the death Epstein, hopefully this bombshell report from such a high profile pathologist serves to reignite the discussion and investigation into one of the most controversial deaths in American history.