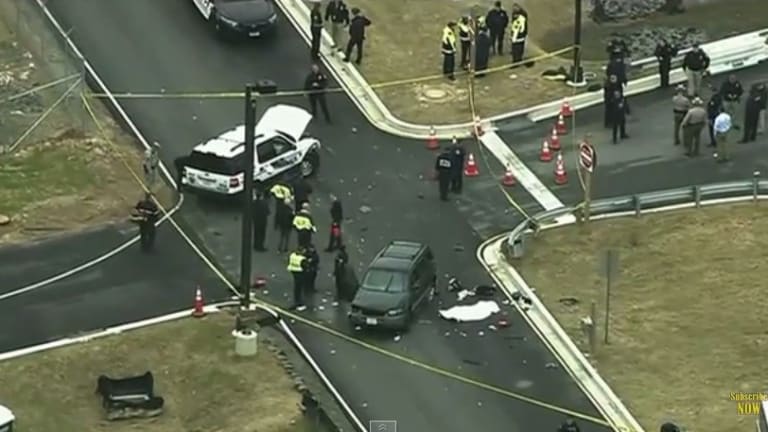 One Dead, One Injured After Police Shoot Men Dressed As Women After Collision At NSA
A shooting reportedly broke out at the NSA this morning after a car crash involving a police unit and a minivan.
Fort Meade, Maryland - A shooting reportedly broke out at the NSA this morning after a car crash involving a police vehicle and a van that seems to have belonged to a civilian. One person on the scene has been reported dead, and at least one other was rushed to the emergency room to be treated for unknown injuries.
The Anne Arundel County Police Department and Fire Department responded to the scene, but neither are able to make any statements on the incident because it occurred on NSA property.
From the details that have been made available thus far, we can determine that a vehicle, possibly belonging to a civilian, approached the NSA headquarters sometime around 9:30 AM on Monday Morning.
The vehicle was then involved in a crash with a police vehicle that was within the gates of the government site. According to police, the approaching vehicle attempted to ram the gates and struck one of their vehicles, which prompted officers on the scene to begin opening fire. From the photos that have been posted by the media, it seems that the two cars were involved in a head-on collision, with the front ends of both vehicles showing signs of heavy damage. Hours after the incident, it was reported that there were two men in the vehicle, both of whom were dressed as women. One of the men who were driving was reported dead, and the other was among those injured. It was also later reported that the vehicle they were driving was stolen. Earlier this year, a man was arrested for allegedly firing shots at the NSA headquarters, and local police agencies have been quick to announce that these cases do not seem related.

John Vibes is an author, researcher and investigative journalist who takes a special interest in the counter culture and the drug war. In addition to his writing and activist work he organizes a number of large events including the Free Your Mind Conference, which features top caliber speakers and whistle-blowers from all over the world. You can contact him and stay connected to his work at his Facebook page. You can find his 65 chapter Book entitled "Alchemy of the Timeless Renaissance" at bookpatch.com.