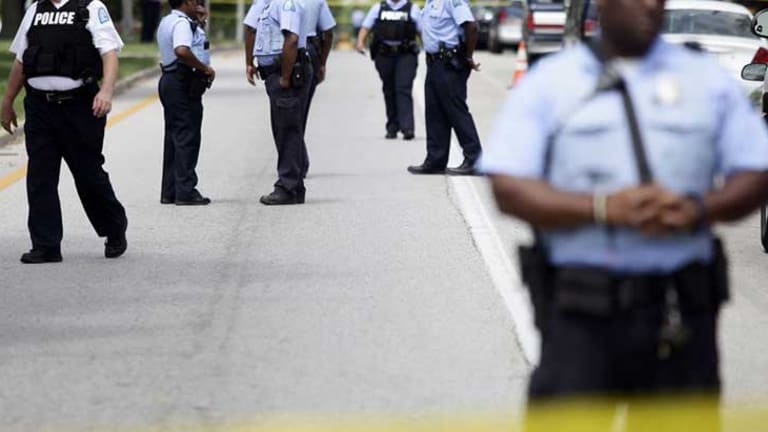 Police officers shot, wounded in Missouri & Georgia the morning after Dallas attack
The morning after five police officers were fatally shot in Dallas, Texas, a police officer was shot in St. Louis and Georgia.
(RT) -- The morning after five police officers were fatally shot in Dallas, Texas, a police officer was shot in the St. Louis suburb of Ballwin, Missouri. Another officer was shot and injured in Valdosta, Georgia.
The wounded officer was taken by ambulance to the Mercy Hospital emergency room, according to reporter Mike Colombo.

The Ballwin police officer was walking back to his squad car when the suspect got out of his car and ambushed the officer with a firearm before fleeing the scene, an unidentified source told KSDK's Jacob Long.
The officer was shot in the neck during a traffic stop, the St. Louis Post-Dispatch's Christine Byers reported. The suspect is in custody after a foot chase. A weapon was recovered.

Police described the suspect as a tall, thin African-American male wearing a gray T-shirt and blue jeans, and driving a blue Ford Taurus with Illinois temporary tags, according to KTVI.
The suspect was arrested after a search of known residences associated with him, Long reported.
The Ballwin officer is at least the second to have been shot in the US on Friday morning. An officer in Valdosta, Georgia was injured in an exchange of gunfire with a suspect.

The officer was investigating a report of a damaged vehicle when a man opened fire, which the officer returned, police said. Both men were injured and are expected to survive.
The Valdosta officer was shot "multiple times," Police Chief Brian Childress said, as quoted by AP. "He is out of surgery now. His family is at the hospital. And I'm happy to report he's going to be fine," Childress said. "He's in stable condition but he's in the ICU as a precaution." One of the gunshots hit the man in the abdomen, just below his bulletproof vest, Georgia Bureau of Investigation spokesman Scott Dutton said. Other bullets hit the officer in his vest. There's nothing to indicate the Valdosta shooting is related to the one in Dallas, Childress said, though he noted it is still early in the investigation. In Texas, five police officers were killed and seven other cops and two civilians were injured by a sniper during a peaceful protest, "You start to wonder. But any motive of why this happened this morning would be speculation," Childress said. The officer was wearing a body camera, and its footage has been turned over the Georgia Bureau of Investigation, the police chief said.

Also on Friday morning, police in Orlando, Florida received a "vague threat" that is being thoroughly investigated. The police department, still reeling from the aftermath of a massacre at a gay nightclub in the city that killed 49 people plus the shooter, would not give any details about the threat, citing security concerns.