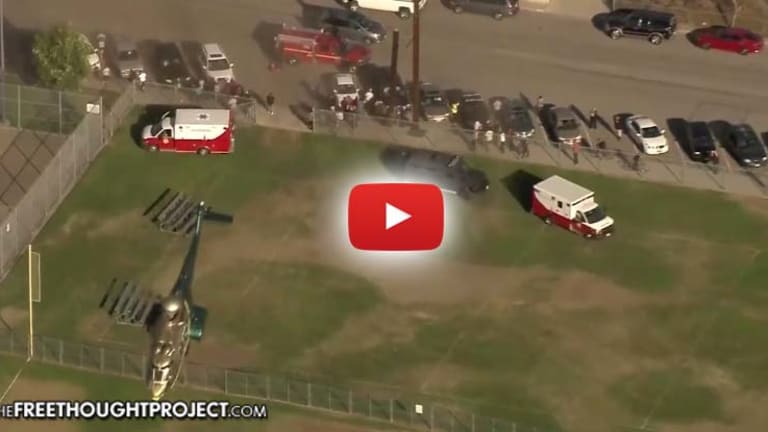 BREAKING: Polling Stations on Lockdown After Mass Shooter Kills 1, Injures 3
A gunman opened fire at a polling station, killing one person and injuring at least three others, and police have not yet apprehended the assailant.
Azusa, CA — One person is dead and at least three have been wounded in California after a gunman opened fire at a polling station, and then fled police — forcing officials to close two nearby polling stations.
An unnamed law enforcement source told the Los Angeles Times at least three of the victims had been headed into the polling station in Azusa when the rifle-toting gunman arrived and opened fire.
"Officers arrived to find a man with a rifle. The gunman immediately fired at least 20 shots at police," the source told the Times.
Law enforcement then returned fire, but were forced to take cover from a hail of bullets as the gunmen fled and took refuge in a nearby residence.
According to reports, which are still vague, the incident occurred around 2 pm local time — and the suspect has yet to be captured, although police claimed to have the suspect surrounded, according to Officer Jerry Willison of the Azusa Police Department, cited by the Times.
"This is a very volatile and critical situation," Willison asserted.
"Officers 'were met with gunfire at the scene' and found themselves 'pinned down' by gunfire," Willison explained, as a local CBS affiliate reported.
According to reports, officials said 'Azusa Union School District issued a lockdown for Slauson Middle and Mountain View Elementary schools about 2:15 p.m.'
Four victims were rushed to area hospitals, but one was declared dead upon arrival, said Vanessa Lozano of the Los Angeles County Fire Department, cited by the affiliate.
Local resident Roberto Chavez had been sitting outside with family when the heavily-armed gunman sprinted into the neighborhood, firing at a group of people.
Chavez told the Times the unidentified assailant, who wore a white shirt and black pants, stormed into a neighbor's home three houses down. Police then advised the homeowner to remain indoors as the gunman barricaded himself in the nearby home.
"Chavez said he recognized the man as someone who frequently visits and hangs out at his neighbor's home," the Times reported he said. "He didn't know the man's name. He said some of the victims appeared to be neighbors in the area."
Approximately 20 police officers swarmed into the neighborhood to hunt for the gunman.
Although the shooting occurred outside the polling location at Slauson Middle School, additional polling stations were placed on lockdown out of an abundance of caution.
"As a result of police activity, Slauson Middle School and Mountain View Elementary School have been placed on lockdown. Until further notice, all students and staff will be kept on campus in locked classrooms," said Azusa Unified School District Superintendent Linda Kaminski in a statement. "Azusa Unified personnel are actively communicating with parents and working with authorities to ensure that both schools are secure. We are asking that students, parents and staff stay clear of the area until the lockdown is lifted."
"Voters should avoid the area and, if necessary, cast a ballot at an alternate polling location. Updates to follow," the Los Angeles County Registrar posted to Twitter.
According to a local Fox News affiliate, the assailant has yet to be captured — and there are reports of exchanges of gunfire in the neighborhood.
Heavy.com, citing police scanners, reported a few officers had to be extracted from the area by law enforcement in an armored Bearcat vehicle.
Until the assailant can be safely captured, police are advising people to stay out of the area and for residents to remain inside with doors securely locked.
Although this incident is still unfolding, it would appear — given the gunman's choice of target — someone has undertaken the violence necessary for the State to be the ultimate victor in this fiasco of an election. If we act on heightened contention, using violence as a tool to prove our discontent with the system, police have an excuse to access more military equipment, the State has an excuse to increase surveillance, and government, in general, can somewhat justifiably view dissenters as credible threats.
Nobody wins.