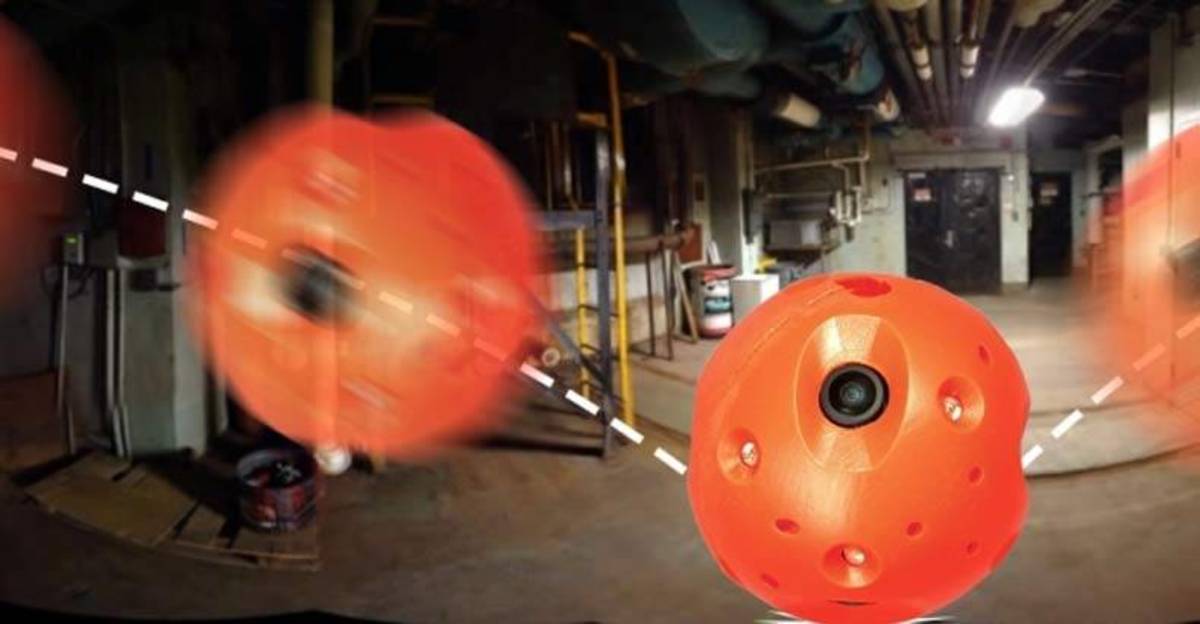 A new technological marvel will help save lives in natural disasters and may actually save lives in police-citizen encounters. The Explorer camera, made by Bounce Imaging, is a rubber ball with camera lenses that transmits panoramic images of an area almost instantaneously, to a smartphone.
"The softball-sized Explorer is covered in a thick rubber shell. Inside is a camera with six lenses, peeking out at different indented spots around the circumference, and LED lights. When activated, the camera snaps photos from all lenses, a few times every second. Software uploads these disparate images to a mobile device and stitches them together rapidly into full panoramic images."
The camera ball has its own wireless hotspot so it can independently send the images to any smartphone. One processor pulls images from the six lenses simultaneously, but the key technology is the image-stitching software. Engineers at the Costa Rican Institute of Technology developed a new algorithm that stitches images in a fraction of a second, much faster than existing methods that take about one minute.
Francisco Aguilar, MIT alumnus and CEO of Bounce Imaging, says the 2010 Haiti earthquake compelled him to invent the device. The fiber optic cameras being used to find survivors were cumbersome, expensive and difficult to maneuver. It wasn't long before his prototypes were noticed by law enforcement.
After collaborating for months with police departments in the New England area, the Explorer was born. The police version uses near-infrared light to illuminate the room and costs about $2,500. 100 of the camera balls will be deployed in Boston police departments beginning in July.
This presents a two-fold issue for police. The right to privacy must be maintained, as the device will make it much easier for police to see into private premises. On the other hand, during tense situations such as a hostage stand-off, the camera ball could save lives by providing panoramic images of the room. If officers choose to use the Explorer instead of a flash-bang grenade, this is undoubtedly a good thing.
Had this technology existed last year when a Habersham County SWAT team raided the home of Baby Bou, perhaps the cops wouldn't have thrown a flashbang into this infant's crib and blown his face apart.
Or, had Detroit police had this technology prior to kicking in the door of the home where Aiyana Stanley-Jones lay sleeping on the sofa, this 7-year-old girl may still be alive.
Bounce Imaging is not limiting its technology to law enforcement. They are exploring its use for drones, video games, movies, and smartphone technologies. They plan to add sensors for radiation, temperature, and carbon monoxide, which would be useful for first responders in hazardous areas.
Sponsored Content: