Danielle Bregoli, also known as the "cash me outside" girl, has gotten a lot of attention recently after appearing on Dr. Phil's circus sideshow, titled "I Want to Give Up My Car-Stealing, Knife-Wielding, Twerking 13-Year-Old Daughter Who Tried to Frame Me for a Crime," to show America how awesome she thinks she is. Not surprisingly, Bregoli became wildly famous and amassed a whopping 7.5 million followers on Instagram, which just so happened to by hacked on Wednesday and used to show Americans a harsh reality — their infatuation with ignorance.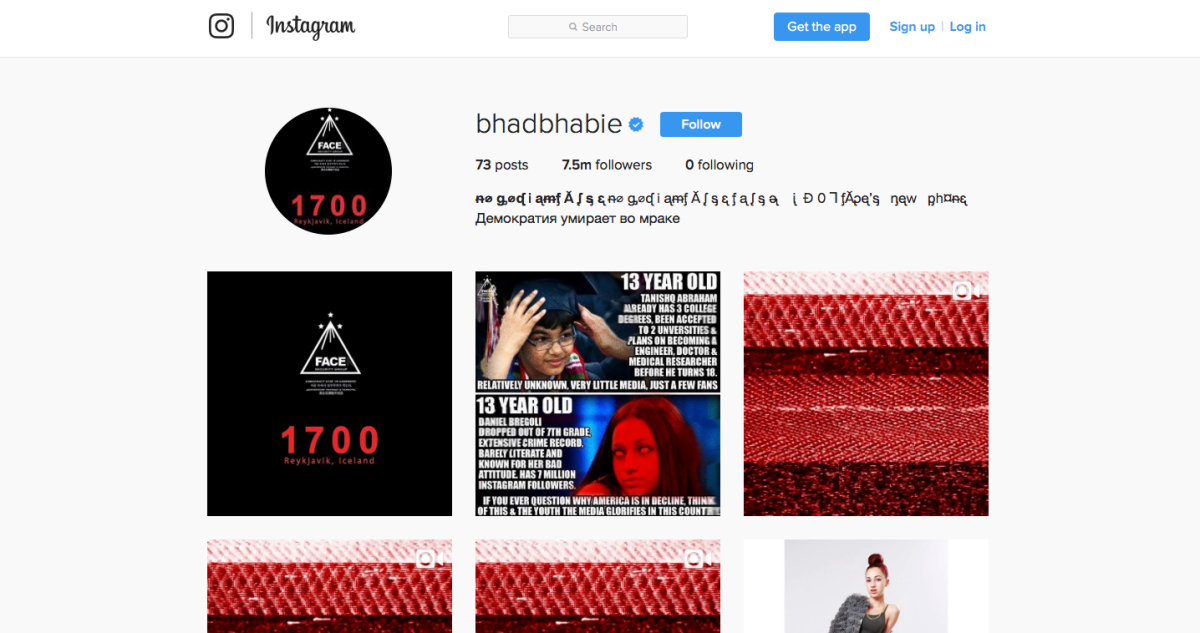 "Face Security Group," the hacking entity who took over Bregoli's page, changed her name to Cyrillic characters which referenced the Washington Post and read, in Russian, Демократия умирает во мраке "Democracy Dies in Darkness."
Bregoli immediately set up another Instagram account and noted,  "My account got hacked. I will be taking my account back soon. Follow this one until then."
After taking over her account, the hackers posted a series of cryptic videos and a remake of a meme they took from the Free Thought Project.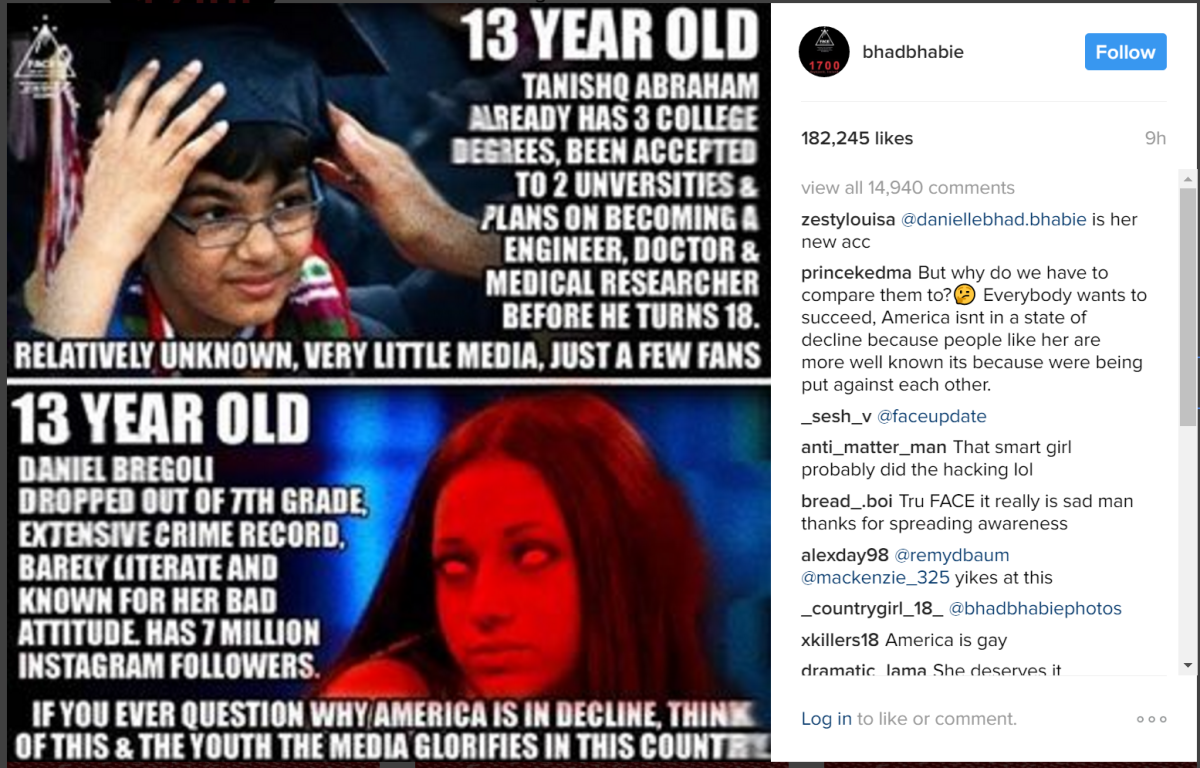 Below is the original meme that went viral on the Free Thought Project's Facebook page.
The first video, which has over 2 million views, stated the following:
"This is the modern day celebrity. This country glorifies and makes famous a young girl for being disrespectful to her mother. She is no role model. She is no idol. She is no God. Pay close attention to what happens next."
https://www.instagram.com/p/BRWLzsyAGEB/
The second video, with nearly 2 million views, explained that the group will begin releasing 'leaks' on Wednesday.
"Citizens of the world. Too long we have stood by idly and observed. It is time we take matters into our own hands. The time for change is now. The leaks begin Wednesday."
https://www.instagram.com/p/BRWa4V-gawk/
A third video simply showed a clock counting down from 19 hours to zero.
Whether or not the page is back in control of Bregoli is unknown at this time. However, it appears that some of the hacked content was removed and a new video with a modified version of the old hacker logo (Glass added above Face) has been uploaded.
The new video is a portion of a music video which is linked at the top of her Instagram profile. The incredibly odd video depicts Bregoli lip-syncing as images are flashed of Kim Jon Un on a rocket, Donald Trump, Harambe,  and a shirtless Vladimir Putin riding on a horse.
A twitter user by the handle @Glassface_ vaguely confirmed that he was behind the hack in a now deleted Tweet.
everyone's saying it's @glassface_ that hacked @TheBhadBhabie and if so thank you.

— ? (@buncooI) March 7, 2017
Whatever the reason for the hack, whether it was a publicity stunt by Bregoli or whether she tried to use it to her advantage, the result is still the same as it highlights the ridiculous infatuation this country has with irrelevance.
If it actually was Bregoli, who used herself to help Americans stop worshipping ignorance, perhaps she does deserve those 7.5 million followers. However, we doubt that very seriously.
A rather in depth conspiracy theory has surfaced on r/conspiracy which poses an entirely alternate theory too.
Catch Me Outside Girl Instagram Hack is Totally a Distraction from CIA Leak from conspiracy
Just in case this is some attempt at a distraction, here are the links to some major stories that have broken in the last 24 hours.
Deep State Coup Exposed: Wikileaks Shows How CIA Can Stage Russian Hacking
BREAKING: WikiLeaks' Vault 7 Shows How CIA Spies on Your TV, Phone, PC, Mac, and More
Fmr Secret Service Agent Turns On Obama to Blow Wiretapping Conspiracy Wide Open