Fast food chain caves under food activist pressure
Adan Salazar
Infowars.com  
In yet another victory for food rights activists, fast food chain Chick-fil-A has agreed to stop sourcing chickens fed antibiotics following overwhelming pressure from critics.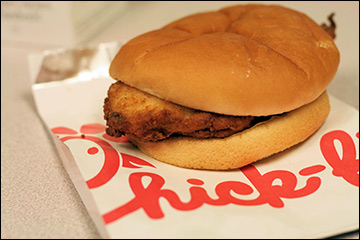 Although Chick-fil-A is taking a major step, they are still far from being fully organic. / Image: Wikimedia Commons
"…we are collaborating with national and regional poultry suppliers to build a supply chain based on chickens raised with no antibiotics," Chick-fil-A stated in a press release. "We are asking suppliers to work with the USDA to verify that antibiotics are never administered from the hatchery to the processing plant."
The plan, Chick-fil-A says, is to "serve chicken raised without antibiotics in all Chick-fil-A restaurants, nationwide, within five years."
Sourcing chickens fed antibiotics is a revoltingly common practice that helps fatten chickens rapidly for production.
Undoubtedly, the prime mover urging Chick-fil-A's decision was Vani Hari, AKA the Food Babe. "For over a year and a half," Hari says she's been consulting the chain "on the top priorities of consumers and on healthy ingredient changes."
Hari says upon receiving news of Chick-fil-A's decision, she literally burst into tears. "…when the news hit, I screamed so loud that every neighbor within a mile radius must have heard me. And then tears of joy started rolling down my face," Hari wrote.
This is Hari's second victory over a fast food chain in two weeks. Last week, after repeated attempts, she was able to force sandwich chain Subway to stop making their bread with an ingredient called azodicarbonamide – a chemical also used to make yoga mats and shoe rubber.
Even though she's been able to get Chick-fil-A to change their purchasing habits, however, Hari says she still wouldn't eat there.
Let me be super clear on this. This announcement or any of the changes Chick-fil-A has already started making, does not mean this food is now healthy or I will begin to eat there.

Next on my list of demands is the removal of Monosodium Glutamate (and various hidden MSG additives, like autolyzed yeast extract) from their chicken sandwiches. I think it would be absolutely amazing to be able to eat at a fast food restaurant with a drive through window again! But you won't catch me at Chick-fil-A until they start providing clean, organic and sustainable food! Chick-fil-A would be surprised about how many people would choose an organic option if they offered it.
Chick-fil-A's time table is also problematic. "This strategy gives me some heart ache," Hari confesses. "I'd like to see them move faster than 5 years and hope they will be able to influence their suppliers (think Tyson, Perdue, etc.) to move faster or at least consider using other suppliers who are not using antibiotics in the meantime."
Over the last year, Hari and her legion of food activists have been able to persuade Chick-fil-A to drop the chemical TBHQ, high fructose corn syrup, artificial food dyes, and has convinced them to switch to a cleaner bun, one "without yoga mat chemical azodicarbonamide, mind you." She claims if the chain one day offers an organic option, that she'll "rent a chicken costume and run up and down the street on live TV."
Watch "Food Babe" Vani Hari on the Alex Jones Show following her victory over Subway, who conceded last week to removing the ingredient azodicarbonamide from their bread production, a chemical used in the production of yoga mats and shoe rubber.

Reprinted with permission from Infowars.com