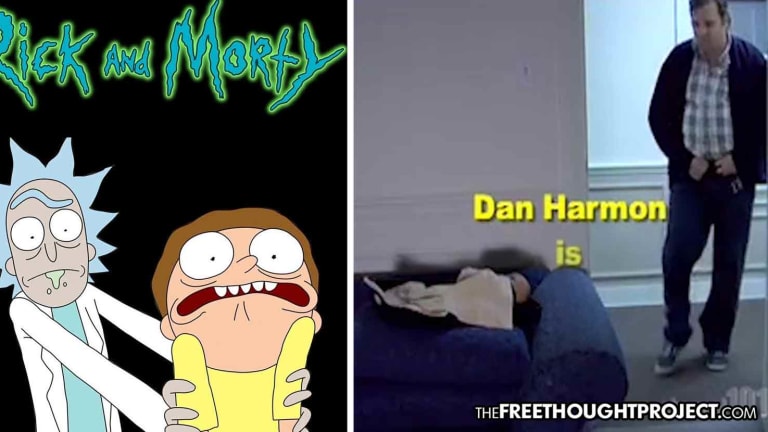 Internet Sleuths Discover Horrifying Film of 'Rick and Morty' Creator Pretending to Rape a Baby
Dan Harmon has deleted his Twitter account after a deeply disturbing film of him pretending to rape a baby surfaced online.
Dan Harmon, creator of the popular Cartoon Network series Rick and Morty, deleted his Twitter account this week, after a disturbing sketch film that he recorded in 2009 surfaced online. The film was summarized as a parody of the Showtime hit "Dexter," where a vigilante homicide detective hunts down and kills murderers, but the skit was just 5 minutes long and doesn't leave much room for context.
In the video, Harmon introduces himself as the character "Daryl" a therapist who confesses to raping babies. If it was not explicitly stated in the caption that this was intended to be a "Dexter" parody, there would really be no way of knowing, as there is no clear connection with the show or its themes.
"Dexter" is the story of a vigilante cop who kills murderers, while Daryl is the story of a therapist who cons families into allowing him to rape their children.
Some fans of Harmon have rushed to his defense, suggesting that this is dark humor and a matter of free speech. However, there doesn't seem to be any punchline, joke or comedy in the skit, just pedophilia jokes for shock value.
It is true that many performers and artists make attempts to be as shocking and as offensive as possible so they stand out from the crowd, but if this is the case, then Harmon should have stood by his work and made a statement in defense of dark humor. On Tuesday, after reports began surfacing, Harmon broke his silence and apologized.
"In 2009, I made a 'pilot' which strove to parody the series Dexter and only succeeded in offending," said Harmon. "I quickly realized the content was way too distasteful and took the video down immediately. Nobody should ever have to see what you saw and for that, I sincerely apologize."
A portion of the clip was posted to YouTube — which had to be heavily edited just to show a portion of it — but has since been pulled. However, the Daily Mail posted it on their website and this depraved, sick and disgusting video can be seen there. After watching the video, no amount of apologizing can justify the horrifying nature of making such a film.
Harmon has been very open with his fans about the darker side of his personality and is frequently discussing his problems with alcohol and depression in interviews. Even at the heights of fortune and fame, Harmon tells his fans that he is still miserable, going so far as to talk about killing himself and pondering a hypothetical suicide note on stage.
Earlier this year Harmon admitted to sexually harassing a writer on one of his shows and invited the victim on his podcast to publicly apologize.
This controversy comes less than a week after Guardians of the Galaxy director James Gunn was fired by Disney after old Tweets that he posted making light of pedophilia resurfaced and went viral last week. This was another case that was chalked up to dark humor, however, one of those posts had a real-life connection to a convicted pedophile.
Among dozens of questionable Tweets that seemed to promote pedophilia, Gunn made a post about a girls choir that was sent to him by a "friend" Huston Huddleston. The clip reportedly showed the girls singing "I Touch Myself."
Gunn's Tweet read, "Huston Huddleston posted this video on my Facebook page with the note, "I thought you'd appreciate this." My response: "Appreciate it?!! I just came all over my own face!!"
Huddleston, another Hollywood writer, and director pled guilty last month to possession of child pornography and was let off with probation.
Making offensive jokes is one thing, but the fact that a convicted pedophile sent Gunn a video of sexualized children with the message "I thought you'd appreciate this," seems to suggest that Gunn had a reputation for being attracted to children and that this reputation was somehow acceptable to his peers.
This is not so unreasonable considering that Kevin Spacey had such a successful career while having a reputation behind the scenes as being a pedophile. In fact, Spacey's crimes against children were such an open secret that a 2005 episode of Family Guy featured a scene where Stewie strips naked and runs through the mall, pretending to be a child who just escaped from Kevin Spacey's basement.
This, by the way, is how you make an actual joke about pedophilia without making light of it.