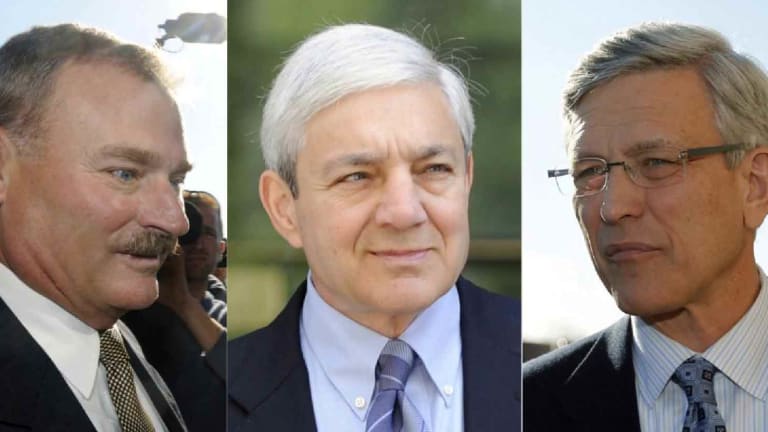 Penn State Officials Get Slap on the Wrist for Covering Up Rampant Child Rape
Penn State school administrators were sentenced for their role in covering up Jerry Sandusky's child rape, their combined sentences are less than 1 year.
Justice has finally been served to those now found responsible for covering up Jerry Sandusky's crimes against children. The former president, vice-president, and athletic director at Penn State have all been sentenced to jail. However, their sentences do not fit their crimes of covering up what was one of the most explosive child rape incidents in U.S. history.
According to the Associated Press (AP), Former President Graham Spanier, 68, was sentenced to only two months in jail and eight months of house arrest. Former athletic director Tim Curley, 63, only got three months in jail. Former vice president Gary Schultz, 67, received just two months behind bars. They all pleaded guilty to child endangerment and will report to jail to begin their sentencing on July 15.
Judge John Boccabella didn't hold back his feelings at sentencing, saying, "They ignored the opportunity to put an end to his crimes when they had a chance to do so." He added he was "appalled that the common sense to make a phone call did not occur...sort of robs my faith of who we are as adults and where we are going.''
Assistant Coach Mike McQueary said he witnessed Sandusky molesting a child in the Penn State locker room showers and reported the incident to his superiors, who did nothing to prevent the abuse from continuing. Sandusky, who ran a charity and was heavily involved in Joe Paterno's Penn State football program, had access to children through his charity and was later found guilty of several felony child sex abuse charges.
The number of known victims stands at 10 and he's currently serving 30 to 60 years in prison. Sandusky's case, as gruesome as it was, served to expose the horrid nature of child rapists in positions of power. Politicians, police, the clergy — all of these roles attract society's worst who use their authority to prey on the vulnerable.
As The Free Thought Project recently reported, a Netflix documentary entitled The Keepers described the horrors of rape, gang rape, sodomy, physical and mental abuse of over 100 girls at Baltimore's prestigious Archbishop Keough High School. The girls, all middle-aged now (some have passed away), testify they were tortuously abused by Father Joseph Maskell, his well-connected friends in politics, and police.
It wasn't until the 1990s that their voices were heard, but not believed. In fact, at least 100 victims reportedly gave testimony and depositions to Maryland's state attorney Sharon May, who told the filmmakers of The Keepers that there was simply not enough evidence to charge Maskell -- even though eye-witnesses stated police dug up enough evidence to put him away for life.
The documentary takes an interesting turn in episodes 7 and 8 when dentist Charles Franz said he, too, was abused in the late 1960s and that his mother went to the Archdiocese in Baltimore and told them Maskell had raped him as well. It was at that time Franz said Maskell was transferred to Keough, where he continued his reign of terror on countless victims for many years.
Not only was Maskell not held accountable for his crimes, but to date, no one in the Catholic Church has been arrested and charged with any crimes such as the charge of child endangerment for which Penn State's administration was just convicted.
Adding insult to injury, Maskell's victims say politicians, police and others were invited to the school to rape them as well. However, one brave victim said she confided in her teacher, Sister Catherine Cesnik. Shortly thereafter, Cesnik was found dead. To date, no one has been charged with her murder. No one has been charged with brutally raping the teens over decades of recorded abuse — and no one in the Catholic Church has been charged with covering-up the alleged crimes.
The fact that no one has been charged is most likely due to the status of those involved in the crimes. Because Maskell was well-connected within the police department, he was allowed to prey on his victims with impunity as he brought in officers who did the same.
Maskell's brother was a high-ranking city cop. This connection had two facets. First, it allowed him to cover up their crimes using these police connections. Second, it allowed for these depraved police officers to enter into this dark child sex ring.
It's time to charge the Church with breaking the law and not reporting the numerous allegations of child sexual abuse as they're required to do, being that all clergy in the U.S. are considered "mandatory reporters." They should have reported it to police when Franz says they knew about it in the 1960s.
For now, the church has been protected by Maryland's seven-year statute of limitations. But that can change with enough pressure being placed on the Maryland State Legislature to abolish statutes of limitations for child sexual abuse. For those Maryland residents who are interested in advancing such legislation, contact MD State Representative C.T. Wilson who is spearheading the effort.