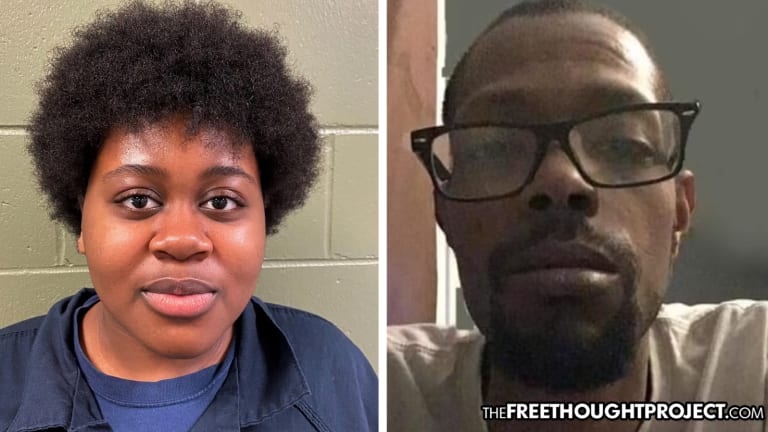 Teen Facing 10 Years in a Cage for Killing Man Who Raped and Trafficked Her as a Child
A child who defended herself from sex traffickers is locked in a cage as the sex traffickers walk free.
Des Moines, IA — Pieper Lewis, 17, does not deny grabbing a knife and stabbing Zachary Brooks 30 times in June of 2020. She has admitted as much. Lewis does, however, deny that her actions on that fateful night were illegal. Brooks' death, according to Lewis, was entirely just as he was a rapist child trafficking pedophile and Lewis was his child victim.
Lewis is scheduled to be sentenced today and she faces years in a cage for defending herself from her abuser.
On the night she killed Brooks, who was 37, Lewis was just 15 years old. He had just raped her and it was one of many rapes she'd endured as the teen had been trafficked for months prior.
Despite the facts of the case, Brooks was charged with first-degree murder. Even prosecutors have admitted it and do not dispute claims that Lewis was raped and trafficked by Brooks and others. Yet they are still seeking to lock her up.
The Des Moines register reports that Lewis, who graduated from high school in July while in juvenile detention, agreed to plead guilty in adult court in June 2021 to involuntary manslaughter and willful injury. She is now staring down a potential 10 years sentence for this plea.
As a young teenager, Lewis life began to fall apart when her abusive parents got divorced. Her mother verbally and physically abused Lewis, leading to Lewis running away. According to court documents, when she ran away the first time, she was raped and when she returned home to tell her mother about it, her mother blamed her.
After her mother ignored her, Lewis went to the police and told them that a 28-year-old musician had kidnapped her and forced her to have sex with men for money. But they took no action. One of these men who paid her abuser to rape Lewis was Zachary Brooks.
The Des Moines Register explains:
One night in May, Lewis said, Brooks raped her five times after making her drink alcohol and smoke pot until she was passed out. Sex with an underage minor is rape. Then on May 31, she resisted going to his apartment, her attorneys say, and the musician responded by cutting her neck, so she went. On that night and the next, she was ordered to strip, drink vodka and smoke marijuana by him and two other people, according to her plea agreement. On June 1, she fell asleep, awoke to find Brooks raping her, and screamed unsuccessfully for him to stop. While he slept, she was getting ready to leave when she saw a knife on the nightstand and something snapped.
Despite the fact that Lewis identified her original sex trafficker, "nothing in court records shows that police have investigated her alleged exploitation," reporter Philip Joens pointed out.
When her high school teacher, Leland Schipper saw her arrest on the news, he was shocked. He described Lewis as a well-liked "extremely kind, sweet and very funny" 15-year-old he taught freshman math to at Des Moines Lincoln High School.
Schipper, according to the Register, says he's "flabbergasted and outraged" that she was charged while no action has been taken against the men involved, noting that, but for their actions, the "anger and trauma" her violent act belied wouldn't have taken place.
We agree, and it is an absolute travesty of justice that a child is about to be locked in a cage for defending herself from men who viciously raped and trafficked her. Unfortunately, this is not an isolated incident and other children have faced similar consequences.
Lewis' case is very similar to that of Chrystul Kiser, who like Lewis, killed her sex trafficking rapist as a child. Kizer has had her fate in limbo for years after she was accused of killing her sex trafficker in 2018 after he drugged her and raped her when she was just 17-years-old.
Luckily for Kizer, however, her case has received national attention and she was bailed out of jail last year after the Chicago Community Bond Fund and other supporters raised money to post her $400,000 bond. She is now pursuing a self-defense argument in court to have the charges dropped.