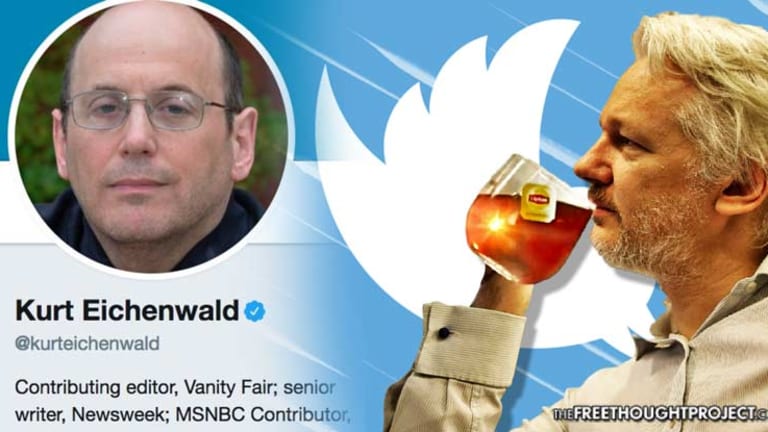 Mainstream Media Journalist Tries to Troll WikiLeaks on Twitter, Assange Proceeds to Own Him
Investigative journalist Kurt Eichenwald was targeted by Wikileaks and provoked a rage-filled Twitter rant from the mainstream media's poster boy.
Kurt Eichenwald is a contributing editor with Vanity Fair, a New York Times bestselling author, and an investigative journalist with Newsweek. Eichenwald has made it no secret he has no respect for Wikileaks, but now the world's most controversial news organization is firing back and pulling no punches.
This week, according to Wikileaks, the reporter may have recently been fired from Newsweek.
As it usually does with Wikileaks, it all started with a tweet;
Has Newsweek fired its "senior writer" @KurtEichenwald after libel complaint? Bio changed to remove 'Newsweek'
The news organization posted pictures of Eichenwald's Twitter bio which appears to show the journalist no longer works with Newsweek. It could have easily been ignored by Eichenwald, but it wasn't. The mainstream media's poster boy fired back in fit of Twitter rage against the innuendo the mainstream media superstar may have gotten fired from Newsweek.
Here's a video explanation by Tim Pool of the backstory behind why Wikileaks chose to go after Eichenwald.
The MSNBC contributor tweeted a response to Assange saying he was on "book leave" meaning he is still with Newsweek but is writing another book and therefore left it off of his employment bio.
Back in 2007, Debbie Nathan, reporter for Counterpunch.org, outed Eichenwald's involvement with a male prostitute. According to Nathan, who said she reviewed then unsealed court documents, Eichenwald not only had administrator access to a website which broadcast the masturbation of underage minors, but the investigative reporter financially sponsored the website's owner by buying pictures of him, sending him a $2000 cashier's check, and helping him to secure legal counsel when the teenager got in trouble with the law.
Eichenwald was severely criticized by many who called his actions "checkbook journalism", but both the New York Times and Eichenwald maintained they acted within the law to get the story.
Calling his actions in outing the predatory network "the most honorable" thing he's ever done, the investigative journalist claimed Wikileaks was trying to turn it all around and portray him as the villain.
Eichenwald stated his reasons for paying the young man was done in an effort to get the story about pedophilia on the internet. And that may, indeed, be the truth, as Eichenwald later testified before Congress about the horrific truths he uncovered after going so deeply into the seedy world of predators, pedophiles, gullible teens, and profiteers. The whole experience has reportedly caused him to suffer from PTSD.
But the Twitter war between Wikileaks and Eichenwald raged on with Eichenwald taking umbrage with being likened to a child pornography user. He vehemently defended his actions on the investigative journalism piece on child pornography.
Eichenwald makes no qualms about his disdain for Wikileaks. And in all fairness, he did a good job of defending his integrity and involvement in outing child predators, a few of whom were sent to prison.
Wikileaks Task Force wasn't done with Eichenwald, however. They apparently found an alias he used to fluff up his own books on Amazon. As much as he tweets responses to himself, he seems to love his own work, enough to create a fake name and talk about how good his work is.
It's obvious the Twitter war between Wikileaks and Eichenwald is far from over.