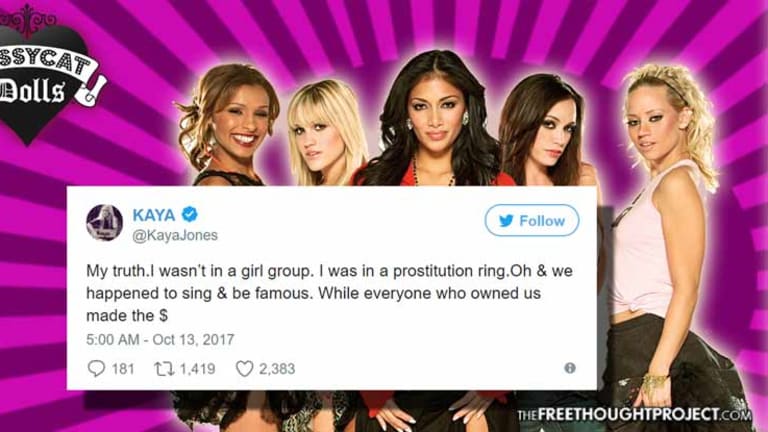 'I Wasn't In a Girl Group, I Was in a Prostitution Ring': Pop Super Star Exposes Hollywood Sex Slavery
Platinum recording artist, and former member of the Pussycat Dolls, Kaya Jones, has just dropped a massive bombshell on the Hollywood sex slavery culture.
Hollywood is burning. The recent ousting of movie mogul Harvey Weinstein as a sex offending predator has set off a chain reaction that is blowing the lid off of the depraved dark world that is Hollywood. The latest whistleblower to expose the depraved underbelly of the Hollywood sex abuse ring is the platinum recording artist and former member of the group Pussycat Dolls, Kaya Jones.
Starting with Angelina Jolie and Gwenneth Paltrow earlier this week, a veritable torrent of stars have come forward to expose how they have been raped, abused, groped, or otherwise molested by Hollywood top dogs.
Rose McGowan went on a Twitter tirade Thursday calling Amazon CEO Jeff Bezos out for ignoring her reported rape while working with his company.
"I forcefully begged studio head to do the right thing. I was ignored. Deal was done. Amazon won a dirty Oscar."

Even James Van Der Beek, another child star who grew up in the industry came out on Thursday claiming that he'd been abused when he was "much younger."
And now, Kaya Jones has followed suit and once again gone public with allegations of her abuse. For those who think that these stars are simply riding the coattails of Weinstein's fall and are only now coming out with these allegations, think again. Many of these stars have screamed from the mountain tops about their abuse only to be ignored, shamed, kicked out of the industry, or driven to death. It took an ousting of a megastar like Weinstein to finally make people listen. As Jones pointed out, she spoke up many times but no one cared to listen.

"In 2004 I told hollywood executives, 2005-2006 I told press. In 2011 I spoke up again. Hope you can hear me now Media in 2017!" Jones Tweeted.
"I told press in Hollywood about my abuse & they did nothing. I'm still dealing with Vegas," Jones noted, expressing her heartache and shock after experiencing the tragic shooting in Las Vegas in person.

While they have been ignoring her before, they will be hard pressed now as her allegations are nothing short of bombshell. In a single tweet, Kaya Jones laid bare the horrid nature of the popular culture.
My truth. I wasn't in a girl group. I was in a prostitution ring.
Naturally, people asked how bad her abuse was, to which Jones replied noting that she walked away from a $13 million record deal to get away from her abusers.

Seemingly talking about someone either in the band Pussycat Dolls or very close to it, Jones called out the 'den mother' who allegedly drove another member of the band to suicide. While she didn't name any names, a quick Google search will reveal that the
While she didn't name any names, a quick Google search will reveal that the spin-off of the Pussycat Dolls, G.R.L. signed a new member, Simone Battle. Battle was found dead at her West Hollywood home in 2014—she had hanged herself.
Explaining how to remain in the 'team' or part of the group, Jones explained you had to do everything that was demanded of you, including involuntary sex with the elite.

To keep you in their ranks, they will hold these deeds against you, get you hooked on drugs, and victimize you over and over, according to Jones.
When asked why more people don't report it, Jones noted how these monsters could literally kill you, or at least kill your career.

The good news is that the press coverage spawned by one monster is leading to the unmasking of others. We must remain resilient in this battle against evil child abusing sexual predators until the last cockroach is flushed from the darkness and stands trial for their crimes. And to those cockroaches, still hiding in the dark who think that Jones may not remember you, think again.