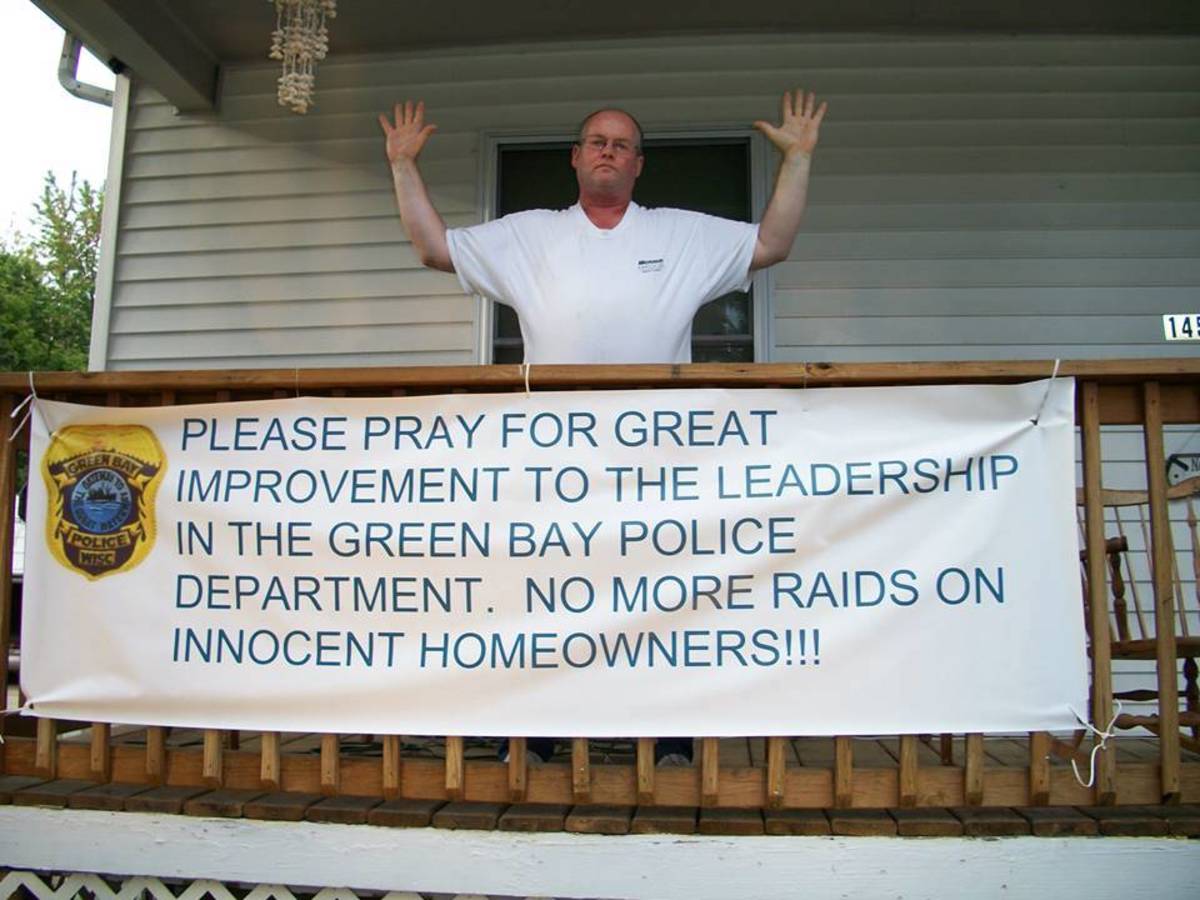 Lee Olson of Green Bay, Wisconsin has been dealing with police harassment in his community for many years. He is a grandfather in his mid 50's, and years ago he became a target for police aggression after being wrongly accused of multiple crimes by a neighbor who was a problem in the community.
One day, police began to search through his trash and around his property at the request of his nosy neighbors. Additionally, the police came by his home to measure his children's pool to make sure it was up to standard regulations, another request from his neighbors.
Eventually, the police obtained a warrant to search Olson's home and carried out a full scale raid of the property.
Olson said that, "During the search, I had a gun pointed at me most of the time by Officer Brian Schilt. Only a few uniformed officers were on the search, most were tech College students called Community Service Interns. Nothing was found of course, after running a drug dog through my home several times. When only officers Vanhandel and Schilt were left in my home, Officer Vanhandel stated 1 inch from my face that they (police and city) would condemn and tear down our home of almost 40 years. That they would give us fines of several thousands of dollars for a piece of trash on our front lawn, etc. The officers then placed us and our home on the Official Neighborhood Nuisance Watch List. Almost 40 years as a home owner and tax payer there and this Is how the city of Green Bay uses my tax dollars!"
After the raid, police continued to sift through his trash, so he began leaving cards in his trash that said "we, the hard working, honest and loving neighbors of the 1400 block of Chicago Street pray several times a day for great improvement to the Green Bay Police Department. We pray for NO MORE RAIDS ON INNOCENT FAMILIES AND HOMES AGAIN!"
Olson went on to explain that, "being on the NAT (Nuisance Abatement Team) list tells all patrol officers to shine lights in our windows at night, follow us driving around town, park in front of our home day and night, etc. This started officers taking me down at gun point, hand cuffing me, and putting me in police cars when I would walk around the block, or park for exercise. In November of 2012 Officer Rob Korth did that. He stated to Officers Knutson, and Buxton that he would "teach Olson A lesson!' I did receive a torn rotator cuff from that stop. When the 3 officers released me after about 20 minutes, Officer Korth said I should thank them for not treating me any rougher!"
Then, Olson says that in May of 2013, 2 officers came from behind him when he was out walking and clubbed his left knee cap, almost breaking It. After that incident, Olson hung a sign from his porch with the same message that he left for the officers in his trash, about praying for improvement in the Green Bay Police Department.
On July 8th, Green Bay Police Officers gave Mr. Olson a verbal trespass warning and told him not to enter the Community Police Center where the Joannes Park Neighborhood Association has their monthly meetings.  Olson was on the yearly July ballot for a director of the Joannes Park Neighborhood Association, and was given a trespass ticket for trying to enter the building during the election.
Kevin King, from the city government, told members of the Joannes Park Neighborhood Association that Mr. Olson had to be ignored on the ballot because he was not there in person, so his participation in the election was null and void.
Later that year, Olson was arrested outside of his home in a SWAT team raid. Olson said in an email interview with Thefreethoughtproject.com, that laser beams from the SWAT officer's guns were"dancing around on his chest" when they invaded his property.
He was later charged with disorderly conduct for allegedly pointing a gun out his 2nd floor office window, although the officers were unable to substantiate those claims.  Additionally, Mr. Olson had significant evidence proving that the police had lied in their statements, including photos and GPS data.
Olson has since continued to speak out against police brutality and corruption, running for his local city council on a platform of police accountability. He says that he has only missed a few meetings in the past 4 years at the Green Bay City Council, City Protection and Welfare Committee, and the Brown County Board.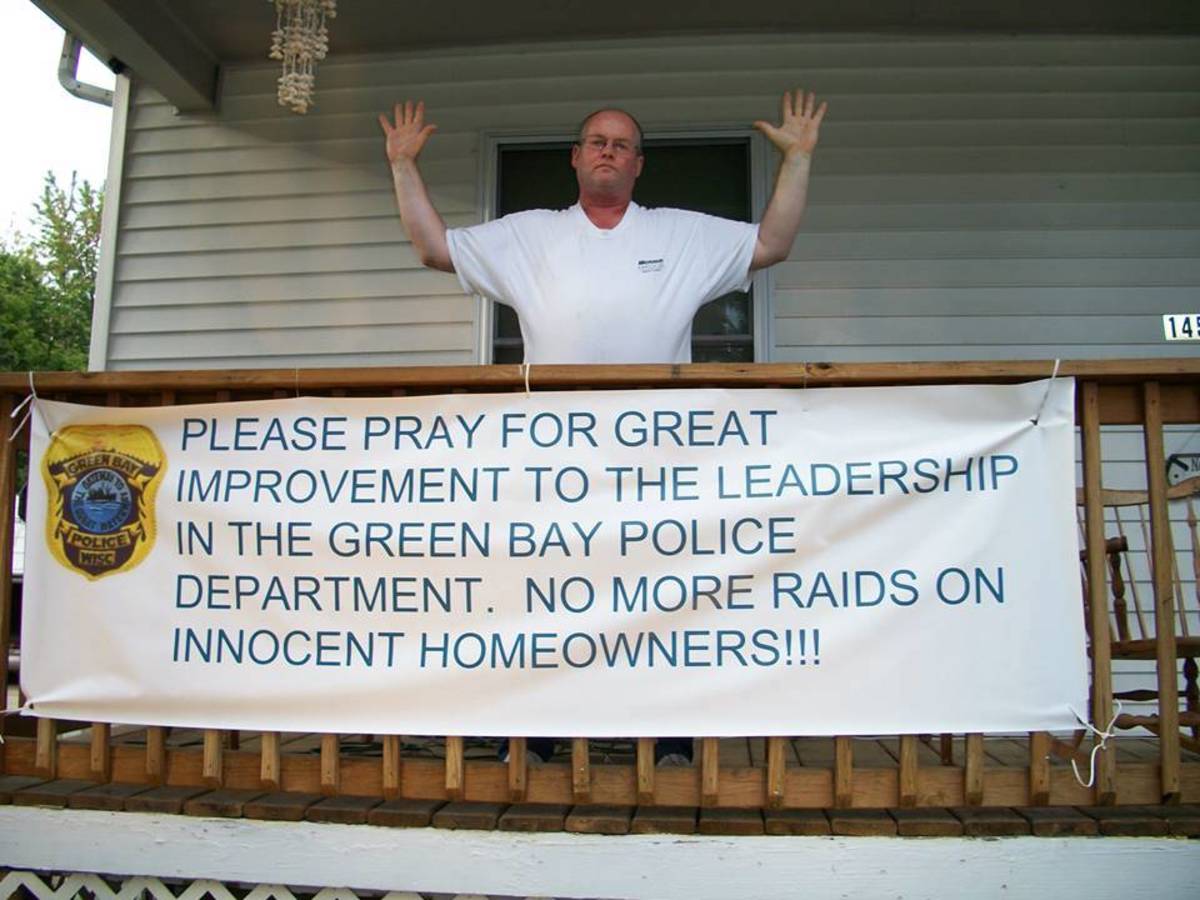 The Free Thought Project wants to continue to spread the ideas of peace and freedom while simultaneously teaching people how to operate outside of the establishment systems of control like using cryptocurrency instead of dollars. Winning this battle is as simple as choosing to abstain from the violent corrupt old system and participating in the new and peaceful system that hands the power back to the people. We feel that PIVX is this system.
PIVX takes the control the banking elite has over money and gives it back to the people. It is the ultimate weapon in the battle against the money changers and information controllers because PIVX is the only cryptocurrency in existence that allows for completely anonymous storage while simultaneously paying interest.
If you'd like to start your own PIVX wallet and be a part of this change and battle for peace and freedom, you can start by clicking here. PIVX is already accepted all over the world so you can begin using it immediately.