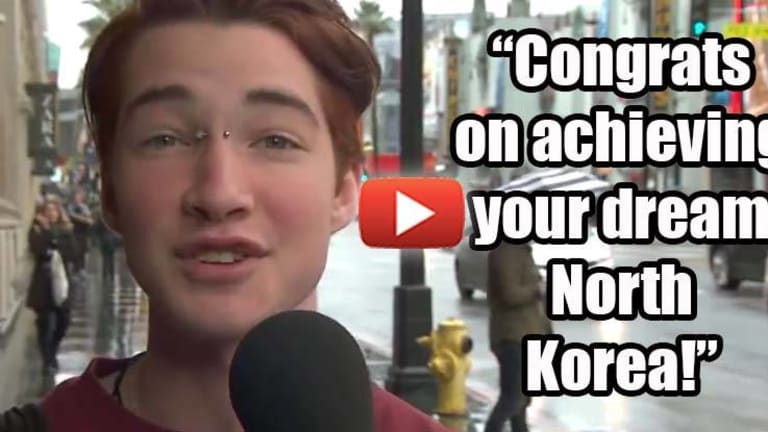 These Jimmy Kimmel Interviews Will Leave You Speechless as Americans Praise North Korea Nukes
Is this the power of TV or is it ignorance? You be the judge.
Los Angeles, CA - With North Korea claiming to have successfully detonated their first hydrogen bomb one would assume Americans, particularly on the West coast, would be extremely alarmed at the news.
Jimmy Kimmel took to the streets of Los Angeles to gauge people's reaction to the news.
To highlight how gullible the average American is Kimmel decided to sound excited and cheerful when asking about the recent nuclear test in North Korea. Rising to the occasion, the people on the street ignorantly congratulated Kim Jong Un and North Korea on the successful H-bomb test.
While Kimmel did a great job using his contagious excitement to elicit congratulations, the fact that Americans have so little knowledge of international relations that they congratulate the most despotic and isolated regime in the world on testing a nuclear weapon should give pause.
The North Korean missile test is an ominous sign, but even more frightening is the realization that these are the very same people that will be selecting the next leader of the most powerful nation on the planet.
The typical mentality of Americans is clearly on full display in this video -- someone associated with the TV is clearly smarter than me and I should conform.
Jay Syrmopoulos is a political analyst, free thinker, researcher, and ardent opponent of authoritarianism. He is currently a graduate student at University of Denver pursuing a masters in Global Affairs. Jay's work has been published on Ben Swann's Truth in Media, Truth-Out, Raw Story, MintPress News, as well as many other sites. You can follow him on Twitter @sirmetropolis, on Facebook at Sir Metropolis and now on tsu.