"We just gotta figure out your name so we can get outta here and go about our business, that's all," Fullerton Police Department Officer Manuel Ramos told Kelley Thomas.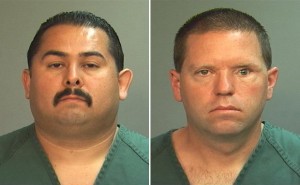 But according to the video below, it is evident that the cops had no intention of "going about their business." Officer Ramos can be heard muttering obscenities to Thomas while putting on latex gloves: "Now, you see my fists? … They're getting ready to f— you up … If you don't start f—— listening."
In July 2011, Ramos and Cicinelli were videotaped confronting Thomas, who was seemingly minding his own business at the time, and badgering him to reveal the contents of his backpack.
What happened next is simply bullying, led to an escalation of force, led to a man being beaten to death on the ground by multiple other men, as he screams, "I'm Sorry, I'm Sorry."
Near the end of the gruesome video, the glare of ambulance lights can be seen reflecting off a pool of what appears to be Thomas' blood. He died in the hospital five days later after being taken off life support.
Ramos is facing one felony count of second degree murder and one felony count of involuntary manslaughter. If convicted, Ramos faces up to 15 years in prison. Former Cpl. Jay Cicinelli is charged with one felony count of involuntary manslaughter and one felony count of the use of excessive force.
The defense for these two officers claims that they did nothing wrong and his client was just "doing his job."
According to NBC Los Angeles, 
Jurors on Monday were shown portions of that footage, but so far have only heard the officers' calls for help.
Defense attorneys told the jury that Thomas was a time bomb whose years of methamphetamine use led to spontaneous psychotic episodes.
They spoke of a time when Thomas allegedly beat his 73-year-old grandfather with a fireplace poker.
Ron Thomas, Kelly's father, said his son had mental issues, did not use drugs and on the night he was beaten, had actually surrendered by putting his hands up.
Ron Thomas was at the bus depot Sunday where his son was beaten to death. He said a candlelight vigil was being prepared ahead of the trial.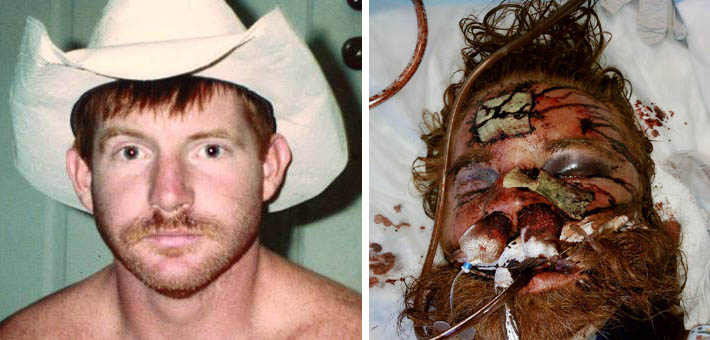 This is such a tragedy and another horrific example of the unwarranted escalation of violence that is seemingly skyrocketing nationwide by police.
One can only hope that justice is served here, but if prior cases are any indication, the cops will likely never see the inside of a jail cell.
DASH cryptocurrency and The Free Thought Project have formed a partnership that will continue to spread the ideas of peace and freedom while simultaneously teaching people how to operate outside of the establishment systems of control like using cryptocurrency instead of dollars. Winning this battle is as simple as choosing to abstain from the violent corrupt old system and participating in the new and peaceful system that hands the power back to the people. DASH is this system.
DASH digital cash takes the control the banking elite has over money and gives it back to the people. It is the ultimate weapon in the battle against the money changers and information controllers.
If you'd like to start your own DASH wallet and be a part of this change and battle for peace and freedom, you can start right here. DASH is already accepted by vendors all across the world so you can begin using it immediately.