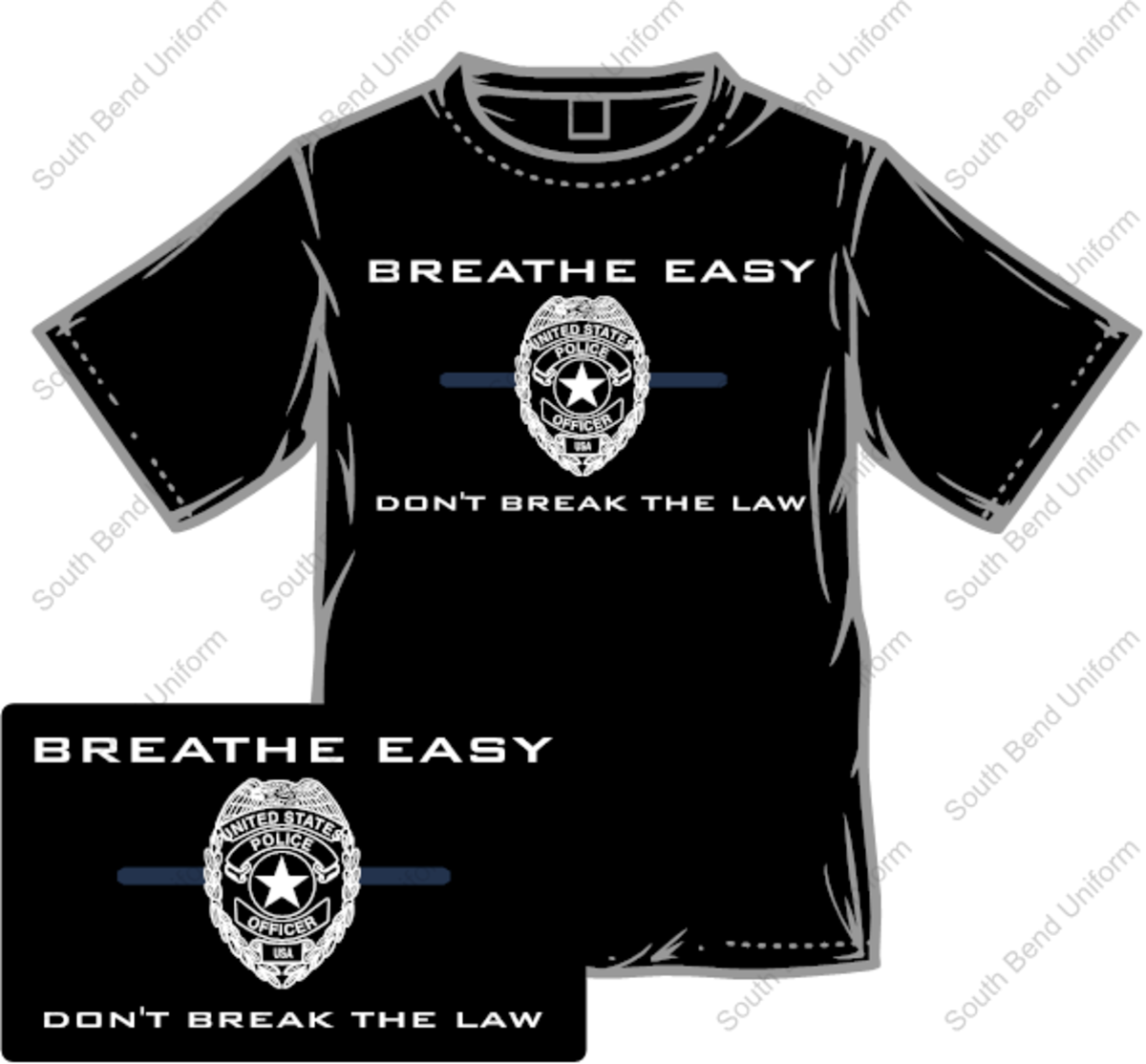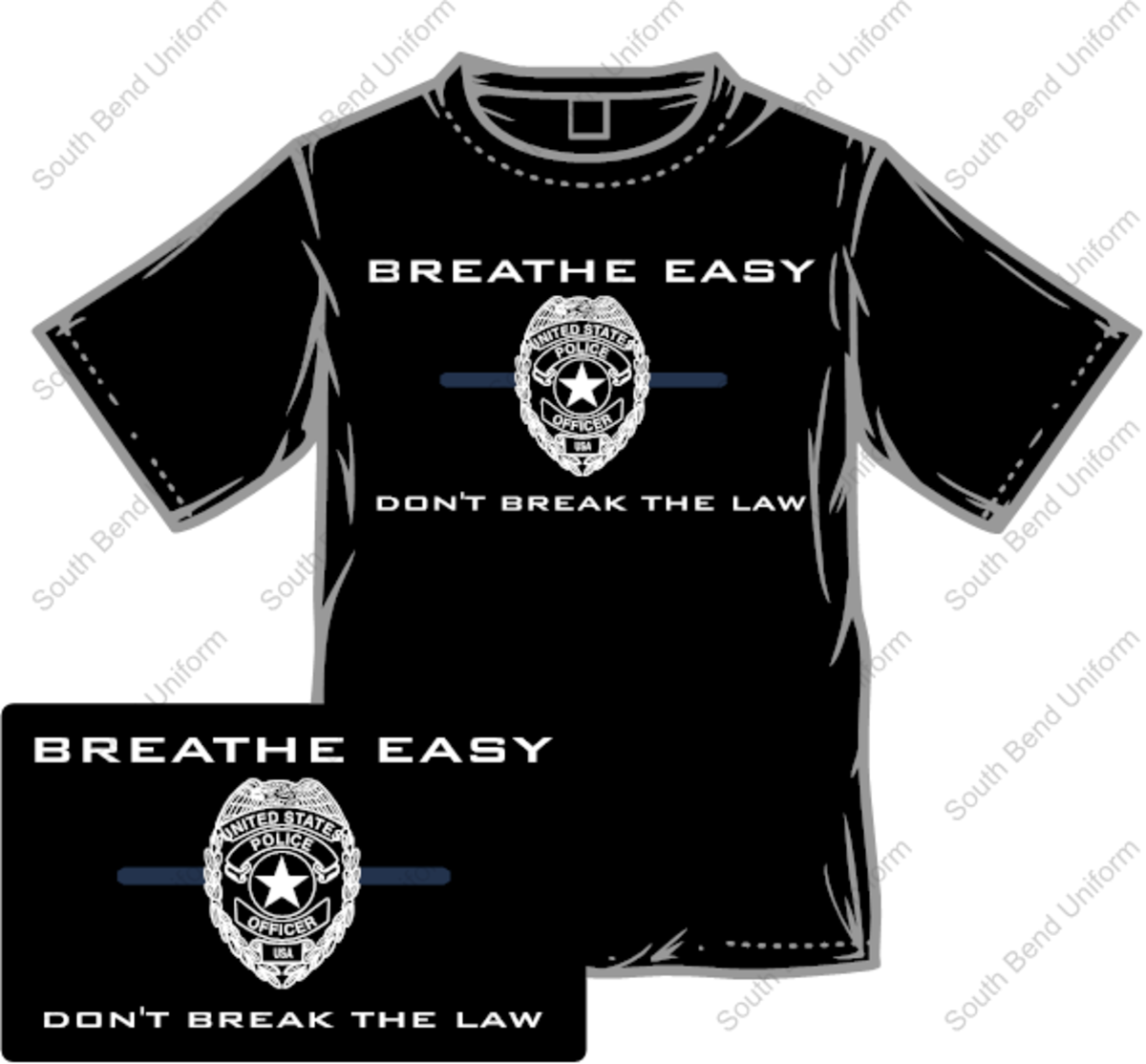 South Bend, Indiana – When police abuse and misconduct became a national conversation recently, police all over the country have had a great opportunity to actually connect with the public, and make an honest effort to admit wrong-doing, apologize for their behavior, and offer a solution to fix the problem.
Unfortunately it seems that many police are going in the opposite direction, deciding to engage in an all out media war with the public, in defense of their culture of violence.
In the wake of the recent and highly publicized police killings, officers and police unions could have taken a sensitive approach, but instead they continue to defend these unspeakable crimes, exposing themselves as the thugs that they are in the process.
For example, a police officer who owns a t-shirt company has created a controversy in his community by printing and selling shirts that say "Breathe Easy Don't Break The Law," a sarcastic response to the "I Cant Breathe," slogan that has become an icon to symbolize Eric Garners final words.
Michiana police officer Jason Barthel of South Bend Uniform Company says that he has already sold over a hundred of the t-shirts, but there is a good chance that a large percentage of those purchases were cops themselves.
"We're here to protect the public and we want you to breathe easy knowing that the police are here to be with you and for you and protect you," Barthel said.
Barthel denied that his t-shirts were meant to disrespect Eric Garner or his family in any way.
Barthel's company said in a statement that:
"For those upset, please understand when we use the slogan "Breathe Easy" we are referring to knowing the police are there for you! We are one people, one nation regardless of race, religion, creed or gender. We are all in this together. The police are here to protect and serve. 99.9% of us have the greater good in our hearts each time we strap on our uniforms and duty belts. We are all one people and this is by no means is a slam on Eric Garner or his family, God rest his soul. Lets all band together as AMERICANS regardless of our feelings and know we can and will be better! Thank you for your support."
Does Barthel really expect people to believe that a shirt that says, "Don't break the law" means that police are "there for you" and that "Breathe Easy" is not a reference to Eric Garner? The attempt to lie to to people makes this situation that much more insulting.
It is truly disturbing that police largely believe that someone being disobedient or breaking a law is an acceptable reason to murder them.
This is not the first time that police in Indiana have mocked the death of Eric Garner either.  Earlier this month, the Indianapolis Metropolitan Police Department thought that it would be funny to end one of their tweets with the hashtag "#WeCanBreathe."
The post has since been removed and the police department has apologized, but luckily The Indy Star was able to obtain screenshots of the post before it was taken down.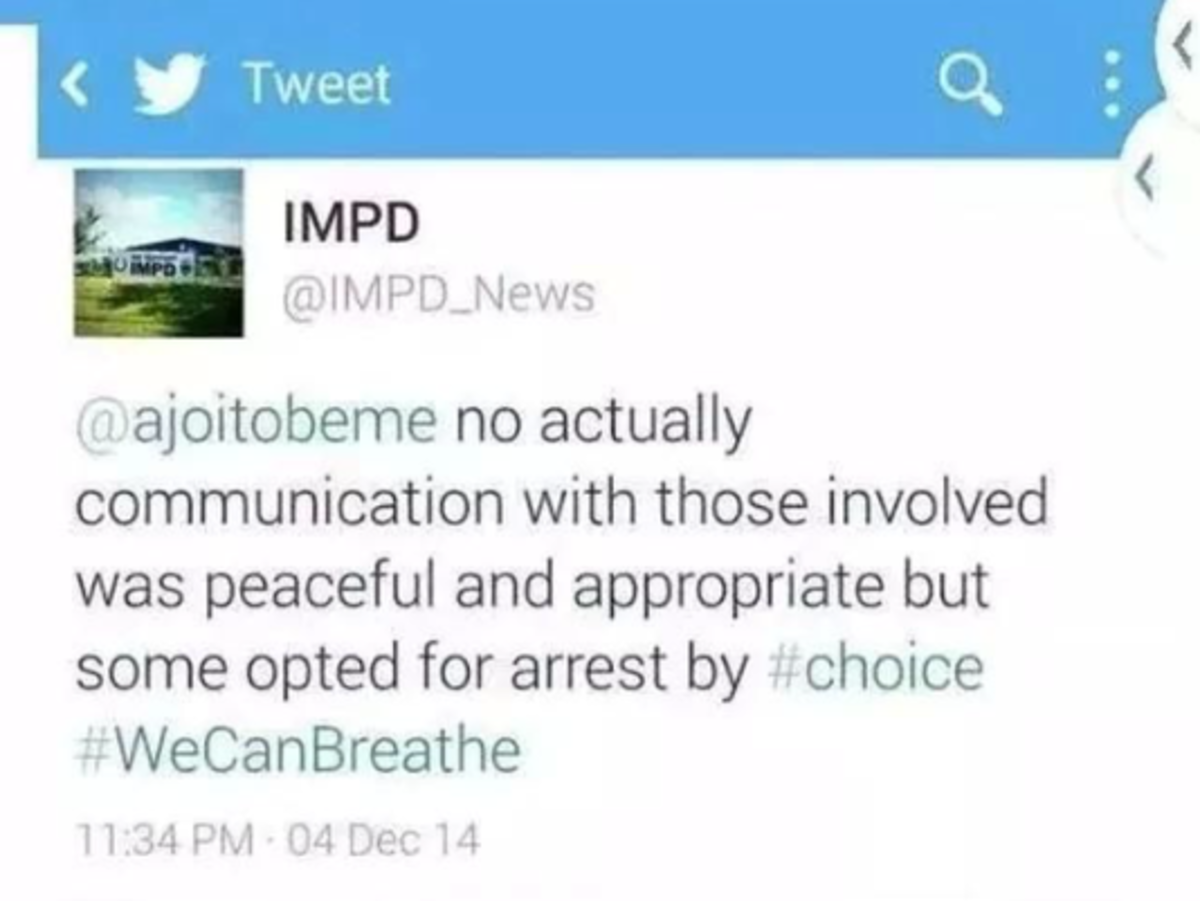 ---
John Vibes is an author, researcher and investigative journalist who takes a special interest in the counter culture and the drug war. In addition to his writing and activist work he is also the owner of a successful music promotion company. In 2013, he became one of the organizers of the Free Your Mind Conference, which features top caliber speakers and whistle-blowers from all over the world. You can contact him and stay connected to his work at his Facebook page. You can find his 65 chapter Book entitled "Alchemy of the Timeless Renaissance" at bookpatch.com.
DASH cryptocurrency and The Free Thought Project have formed a partnership that will continue to spread the ideas of peace and freedom while simultaneously teaching people how to operate outside of the establishment systems of control like using cryptocurrency instead of dollars. Winning this battle is as simple as choosing to abstain from the violent corrupt old system and participating in the new and peaceful system that hands the power back to the people. DASH is this system.
DASH digital cash takes the control the banking elite has over money and gives it back to the people. It is the ultimate weapon in the battle against the money changers and information controllers.
If you'd like to start your own DASH wallet and be a part of this change and battle for peace and freedom, you can start right here. DASH is already accepted by vendors all across the world so you can begin using it immediately.