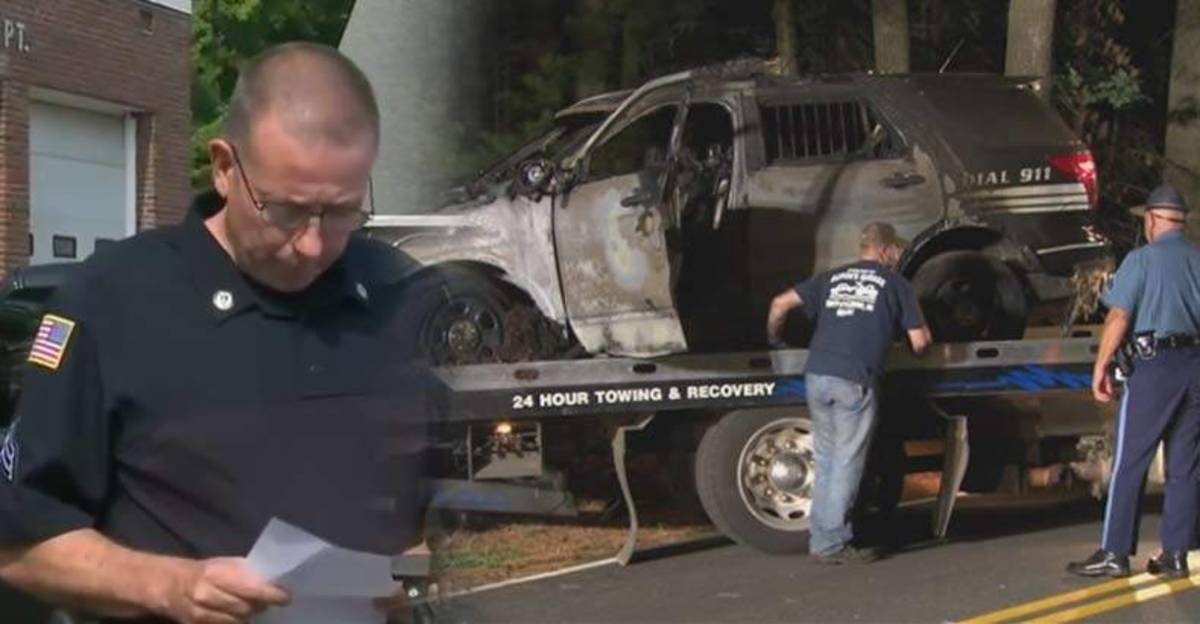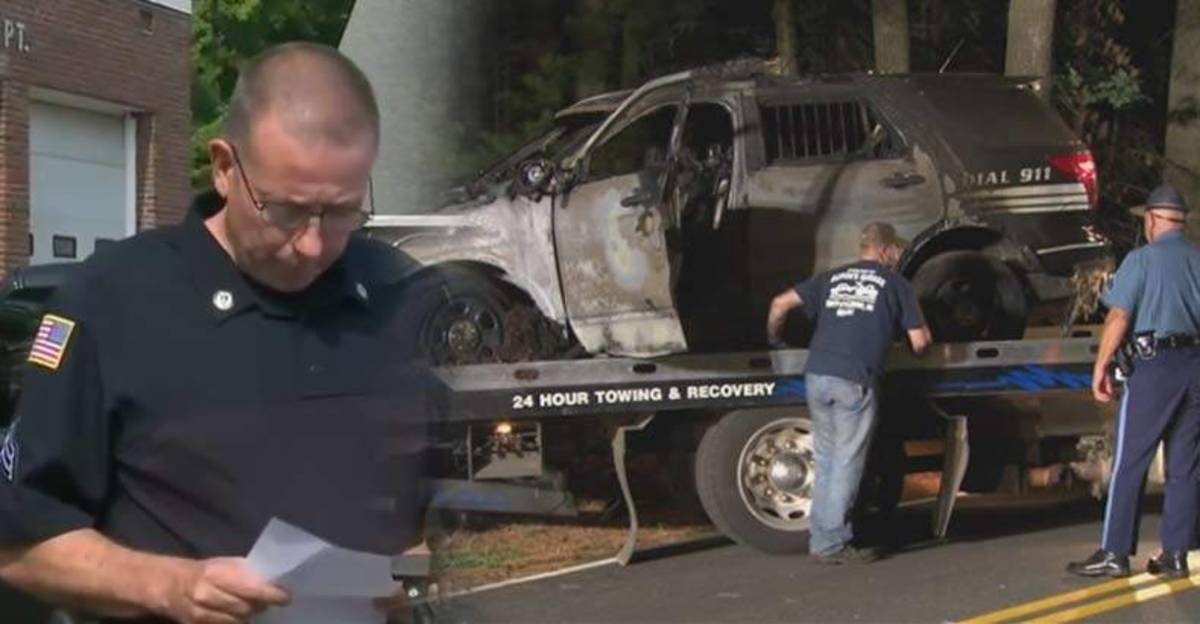 Millis, MA — A new cop on the Millis police force put a whole neighborhood on lock-down and initiated a massive manhunt when he fabricated a story to cover up his car accident.  The officer, 27, said someone in a pickup truck opened fire on his vehicle as they passed in opposite directions on Forest Road.
"My cruiser's been shot at. I'm at Forest Road. It's going to be a dark maroon pickup," the officer radioed to dispatch at 2:17 p.m.
As the story goes, he spun around to avoid the gunfire and seek shelter, whereupon his vehicle slammed into a tree and caught fire.  The fire part is true, as the photo shows, but the gunshots were all his own.
"We have determined that the officer's story was fabricated. Specifically, that he fired shots at his own cruiser as a plan to concoct a story that he was fired upon," Millis Police Sgt. William Dwyer said. "The evidence indicates the shots were not fired by a suspect, and there is no gunman at large in or around the town."
The officer was evaluated for injuries at a local hospital and released.  Sgt. Dwyer said his employment will be terminated.  The officer's fabrication resulted in a giant waste of money and manpower, put residents in a state of fear, and caused a huge embarrassment for law enforcement.
"I am very upset and don't know how to feel right now.  The public is safe and should feel secure in their homes and the community," Dwyer said.
It appears the rookie officer may have been playing upon an earlier scare in town.  A bomb threat was called in to Millis Middle School on Wednesday morning, after an anonymous call warned about an imminent crime in town.  No device was found at the school.
DASH cryptocurrency and The Free Thought Project have formed a partnership that will continue to spread the ideas of peace and freedom while simultaneously teaching people how to operate outside of the establishment systems of control like using cryptocurrency instead of dollars. Winning this battle is as simple as choosing to abstain from the violent corrupt old system and participating in the new and peaceful system that hands the power back to the people. DASH is this system.
DASH digital cash takes the control the banking elite has over money and gives it back to the people. It is the ultimate weapon in the battle against the money changers and information controllers.
If you'd like to start your own DASH wallet and be a part of this change and battle for peace and freedom, you can start right here. DASH is already accepted by vendors all across the world so you can begin using it immediately.