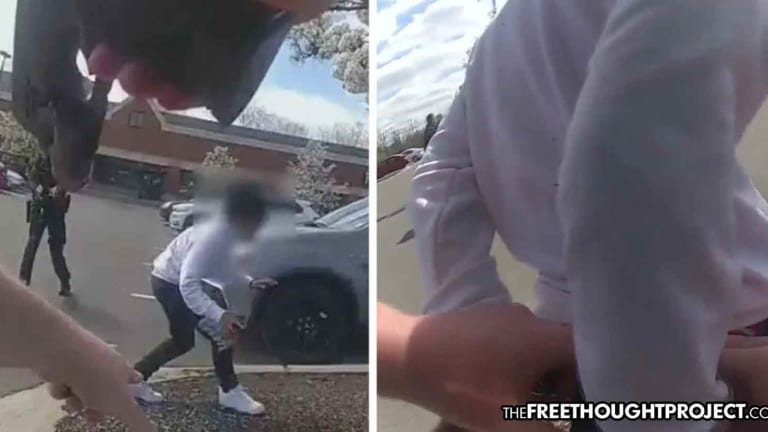 WATCH: Innocent 10yo Boy Held at Gunpoint, Handcuffed While Going to the Mall With Father
While on a trip to the mall, a father and son were stopped by police, and the 10-year-old boy was held at gunpoint and handcuffed.
Ann Arbor, MI — A father seemingly misunderstanding a crime scene traffic redirection and driving the wrong way, ended horrifically for his 10-year-old son who was held at gunpoint and handcuffed for no reason. Body camera footage released this week shows just how quickly things can go south when dealing with the cops — especially for young Black folks.
On the day he was traumatized by police, 10-year-old Benjamin Whitfield and his father were on a trip to the mall. They had committed no crime and harmed no one. When they arrived at the mall, police were conducting a shooting investigation and were routing traffic in a different direction than it normally flowed.
Likely due to a simple misunderstanding, Whitfield's father drove the wrong direction which prompted a police pursuit and subsequent stop. Instead of simply telling the father that he was driving the wrong way, police ordered the 5th grader and his father out of the car at gunpoint.
As the body camera footage shows, Benjamin is terrified as an officer points his pistol directly at him. The young boy is shaking with his hands up and doing everything he can to comply with police as a Pittsfield Township Police Officer barked commands.
The officer's attempt to calm the young boy down were futile as it is impossible to be calm while police are placing you in handcuffs — especially as a child. Benjamin's parents told FOX 2, that their son is still not calm, nearly seven months after this happened.
"Benjamin was always my good kid. He always just wanted to play basketball. He really doesn't want to do too much. All he wants to do is sit in the house and play games," his mom, Makia Dixson, said.
The family has since hired an attorney, Dionne Webster-Cox, who is filing a lawsuit against the department for the way they treated the 10-year-old.
Family and friends held a press conference and protest on Tuesday to announce the lawsuit and explain their feelings.
"What happened on April 16, 2021, was a travesty," said Cox. "What happened on April 16, 2021, makes me sick."
"Every time he sees the police, he gets scared," his mom said.
In their report, FOX 2 detailed the disparities between Black and White children and the numbers startling. According to the data they received from the Sentencing Project, while Black children make up only 15% of the population in the country, they make up 40% of children in juvenile custody.
In Michigan, that number skyrockets and Black children are five times more likely to be taken into custody than White children.
Clinical therapist Dr. Sabrina Jackson told FOX 2 that situations like the one that happened to Benjamin traumatize young children and this trauma can affect them later on in life.
"Another word for trauma is wound. These children become wounded," Jackson said. "You have to begin to give kids opportunities to see positive interaction with police because there are some."
Below is a video showing what going to the mall with your father looks like in a police state.