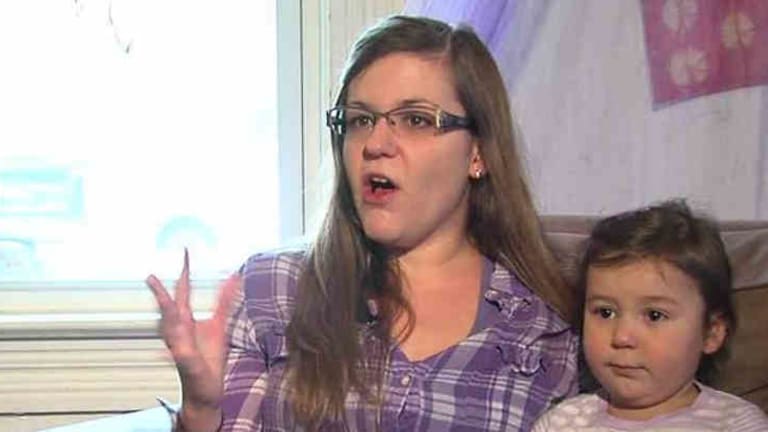 12 Cops Raid the House of a Mother and Daughter After Mistaking Her for a Male Fugitive
Massillon, Ohio -- An Ohio mother and her 3-year-old daughter woke up to the horrifying scene of a dozen men dressed in military attire, armed with assault rifles, standing over their bed last week.
Kaiti Glazier said she and her daughter Nadiah were sleeping inside their home on 10th Street Southeast when these paramilitary cops from the Northern Ohio Violent Fugitive Task Force stormed into her bedroom.
"When I woke up they were all in here (the bedroom) . . . I was like, 'What?' And it's just 'Hands up! Hands up!' " she said.

"I was like, 'What is happening? Is this real?' " she said.
Glazier said her 3-year-old also raised her hands up.
The task force mistook Glazier, a woman, for Christopher Williams, a Canton man wanted for a probation violation.
Williams was evicted from that house over a year and a half earlier.
"They did no homework at all. I can find Chris Williams on the internet. I can Google better than they can apparently," said Glazier.
This home invasion happened after police even came by their home in November and spoke with her husband, confirming that Williams no longer lived at this address.
According to ABC 5, Glazier said she repeatedly asked the officers to show her a search warrant. She said the lead officer responded by threatening to arrest her.
Had the U.S. Marshals office simply apologized for their incompetence and left, Glazier would have still been offended, but she said it wouldn't have been as bad.
However, no one apologized or acknowledged a mistake had been made.
Instead, Glazier said, the task force went through every room in her home, searching through drawers and even looked in her bread box.
"Obviously Chris Williams isn't in the bread box, so I don't know if they were looking for something to try and incriminate us," said Glazier.
They did not leave for an hour after entering her bedroom.
"Why not be the good cop? That seems to be a mythical thing these days," said Glazier.
Glazier points out the fact that had she tried to defend herself from these home invaders, she likely would have been killed; and the thugs who broke into an innocent woman's home and murdered her, would most likely go unpunished. Sadly she is correct.
The U.S. Marshals office released the following statement in regards to their dangerous negligence:
U.S. Marshals Service-led task forces adopt state and local warrants involving violent fugitives, usually the "worst of the worst" violent offenders. In fiscal year 2013, we arrested more than 110,000 fugitives nationally. Whenever U.S. Marshals deputies and task force officers enter private residences, they do so in accordance with the laws of the United States. We cannot comment on potential or pending litigation, but any member of the public who believes that a Marshals Service employee acted negligently may submit a claim under the Federal Tort Claims Act. - Lynzey Donahue, Office of Public Affairs
Glazier plans to file a complaint with the U.S. Dept. of Justice.