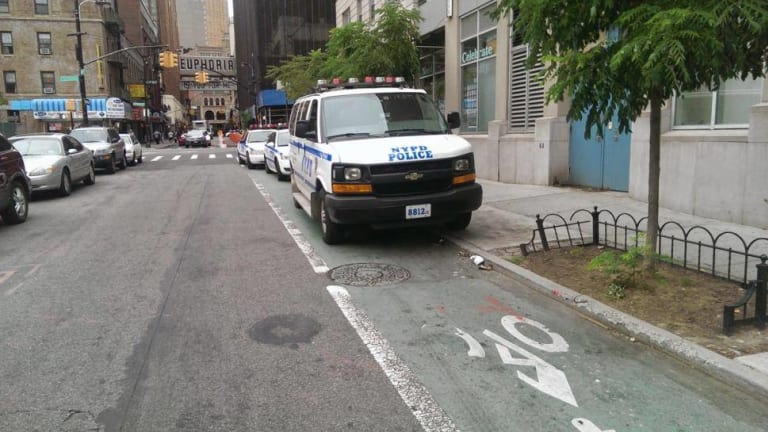 These 12 Photos Say So Much About the "Above The Law" Attitudes of Police Today
Jun 1, 2014
The hypocritical nature of police has become downright laughable.
The 'do as I say and not as I do attitude' is the all to familiar tendency within the law enforcement ranks.
I can speed, but you cannot. I do not wear my seat belt, but I will write you a ticket and claim that you owe me money, if you do not wear yours.
If you do not ride in the bike lane, I will write you a ticket, even if my illegal parking job prevents you from doing so.
Below are 12 pictures of this routine hypocritical characteristic put together by tumblr user, copsinbikelanes. 
Fret not folks, as they were probably ALL on "official police business."

15th Street between 5th and 6th, Brooklyn. May 10. Submitted by Alex.May 28, 2014
Hoyt and Schermerhorn. An old submission from an anonymous (but very helpful) user which had gotten lost in my inbox. September, 2013. The two cars are both multiple-time offenders; this is the eighth appearance for car number 2242 and the sixth for 3996.Who will have the dubious distinction of being the first to appear ten times? One of these two vehicles? Car 4255? Van 1958? I will have to come up with some sort of prize for the winner (loser) of this sorry race. Hit me up via e-mail or Twitter if you've got any suggestions!May 28, 2014
A doubleheader from Liz. May 7. The first is from 1st Ave and 49th, and the second is from Christie and Grand.May 26, 2014
Lafeyette Street just below Canal, Manhattan. April 29. Submitted by a user who wishes to remain anonymous.May 24, 2014
8th Ave and 44th, Manhattan. April 27. Submitted by a user who wishes to remain anonymous.May 22, 2014
38th and Broadway, Manhattan. May 21. Submitted by a user who wishes to remain anonymous. Once again, lots of space but the officer decides to endanger cyclists.May 18, 2014
Déjà vu, anyone? Hoyt and Schermerhorn, Brooklyn. May 14. Submitted by a user who wishes to remain anonymous.May 14, 2014
DeKalb and Classon Aves, Brooklyn. May 10. Submitted by Tyler Veil.May 11, 2014
Hoyt and Schermerhorn for the EIGHTH TIME! October 18, 2013.Source: Tumblr