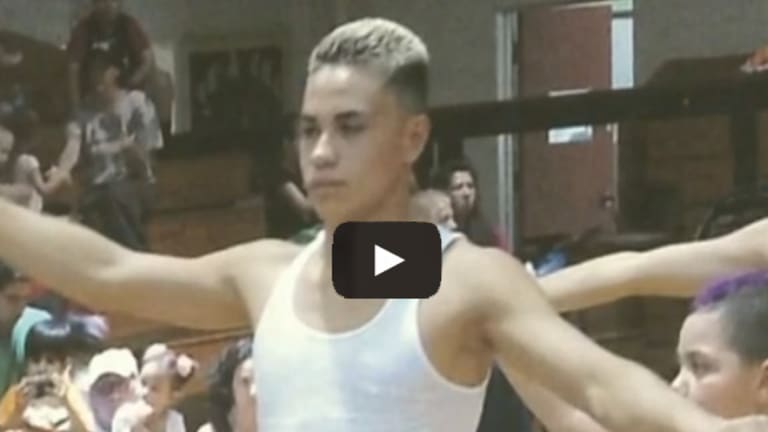 16 Year Old Gymnast Shot Dead by Police For Holding a Stick, Cops Seize Video Footage
John Vibes
June 11, 2014
In the past year. police in New Mexico have become notorious for killing innocent people. The most recent wrongful death took place in Espanola, when a police officer shot an unarmed 16 year old Gymnast for no reason.
16 year old Victor Vialpando was a gymnast, dancer and a teacher at Moving Arts Espanola. According to his family he has no criminal record.
The police claim that he pointed a weapon at them, but the boy was unarmed and the police are refusing to release security camera footage that would corroborate their story.
Close friends of Victor believe that he may have had a stick that he was using to practice a dance routine, which he often does.
"I can't fathom him even having a gun on his body, much less holding it and pointing it at somebody," a friend said.
The case is being investigated by the same police department that the murdering police officers belong to.
In recent months Albuquerque, New Mexico has taken center stage in the fight against police brutality. The Albuquerque Police Department is traditionally known for their aggression and constant abuses of power, but recently the whole country started to take notice when a group of police killed a homeless man in cold blood, because he was camping in a public park.
In the months following this attack there were several other police involved murders in the area, and protests have continued to grow in size and intensity. Instead of actually doing something to prevent police officers from using violence against innocent people, the police department created a new bureaucracy and selected an officer with a history of police brutality to run it. Additionally, a New Mexico Police Chief recently avoided losing his job after he was caught on video having sex in the back of an ambulance.
John Vibes is an author, researcher and investigative journalist who takes a special interest in the counter culture and the drug war. In addition to his writing and activist work he is also the owner of a successful music promotion company. In 2013, he became one of the organizers of the Free Your Mind Conference, which features top caliber speakers and whistle-blowers from all over the world. You can contact him and stay connected to his work at his Facebook page. You can find his 65 chapter Book entitled "Alchemy of the Timeless Renaissance" at bookpatch.com.