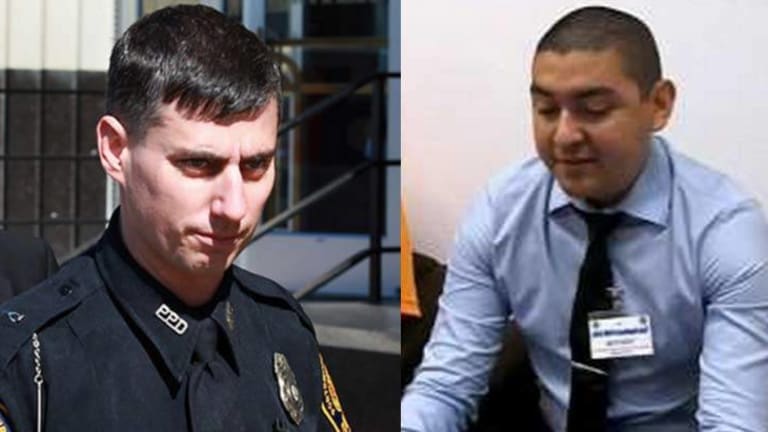 Justice is a Crapshoot: 2 Cops Caught Killing Unarmed Men; One Charged While the Other Walks
Two cops were caught killing unarmed men. The one cop who did it on video wasn't charged while the other was. Justice is a crapshoot.
Although two police officers have recently been caught killing unarmed men, only one of them was charged with murder on Thursday. Shortly after a Virginia grand jury indicted him on first-degree murder and firearm charges, Officer Stephen Rankin was arrested and terminated from the Portsmouth Police Department. In contrast, a Texas grand jury declined to file criminal charges against Brownsville police officer Rolando Trujillo Jr. after dash cam video captured him gunning down a man driving away from the officer.
On the morning of April 22 in Portsmouth, Virginia, Walmart employees called the police to report a shoplifter. Responding to the 911 call, Officer Rankin confronted 18-year-old William Chapman in the parking lot as he was leaving the store. At 7:35 a.m., witnesses reported seeing Rankin attempting to handcuff the teen against a parked car.
According to construction workers who witnessed the shooting, Chapman broke free and knocked a Taser out of Rankin's hand. When the teen aggressively stepped towards the officer, Rankin shot him in the head and chest. Chapman's autopsy found that the unarmed teen was not shot at close range and had been too far to pose a threat to the officer. Police refuse to disclose whether any stolen merchandise was found on his body.
After a grand jury indicted him for first-degree murder and use of a firearm in the commission of a felony, Rankin was taken into custody on Thursday and fired from the department.
The shooting occurred nearly four years after Rankin shot another unarmed man who he claimed was reaching towards his waist before charging at the officer. A grand jury cleared Rankin of the 2011 shooting even though he shot 26-year-old Kirill Denyakin 11 times, and no other weapon was recovered from the scene.
On the day before Rankin's arrest and termination, a Texas grand jury declined to file criminal charges against Brownsville police officer Rolando Trujillo Jr. Recently released ">dash cam video revealed Trujillo shooting an unarmed man as he was driving away from the officer. But the grand jury decided not to charge Trujillo because officers found a screwdriver inside the car.
According to the dash cam video, Trujillo pulled over an SUV on July 17 that matched the description of a vehicle involved in several recent robberies. A few seconds after 24-year-old Jose Roman Rodriguez stops the vehicle, his passenger, Jaime Gomez, immediately flees on foot. After opening the driver's door, Trujillo orders Rodriguez to get out of the car.
Instead of complying, Rodriguez closes the door and accidentally revs the engine because his SUV was not in drive. As Rodriguez begins to drive away, Trujillo pulls out his gun and fires four shots killing him. The vehicle ends up on the side of the road a few seconds later.
Although Rodriguez did not attempt to hit Trujillo with his vehicle, and the dash cam video does not show him attacking the officer with a screwdriver, a grand jury decided not to file criminal charges against Trujillo on Wednesday.
In a recorded video statement six days after the shooting, Trujillo justified his actions by claiming that he had momentarily lost sight of Rodriguez's right hand. Investigators determined that Rodriguez had magically been reaching for a screwdriver while simultaneously shifting gears and attempting to drive away.
The reality of the situation is that "justice" in America is a subjective game of chance, in which the odds always favor the house.