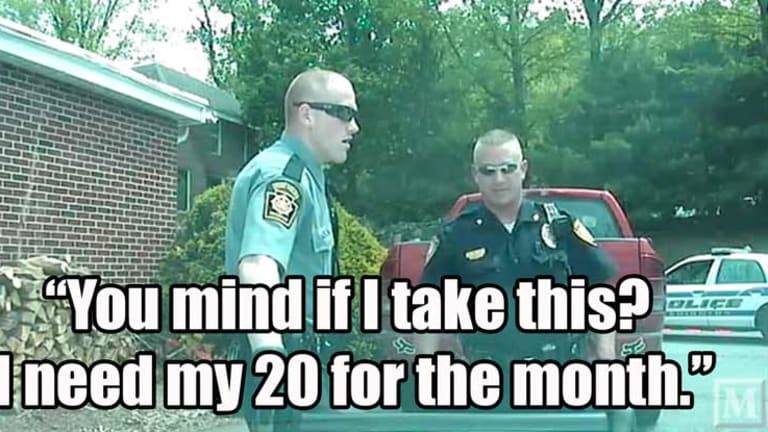 WATCH: 'Need My 20 For the Month': Cops Admit to Arrest Quota, 'Falsely Arrest' Man to Make It
Damning dashcam footage catches officers discuss having to make a quota and then allegedly lie about an arrest to make that quota.
Lehighton, PA — Most people reading this article know what it is like to have the blue and red lights pop up in your rearview mirror. The last thing going through your mind at this point is the feeling of 'being protected.' This feeling comes from the fact that the overwhelming majority of the time a driver sees police lights in their mirror is because they have been targeted for revenue collection—often the result of a quota system—and they are about to be given a ticket.
Police, we are told, are here to keep us safe and protect us from the bad guys. However, public safety all too often takes a back seat to revenue collection. Time and time again, the Free Thought Project has exposed quota schemes in which officers were punished for not writing enough tickets.
The most recent ticket writing scheme to be exposed comes of out Lehighton, Pennsylvania in which two State Troopers were caught on video discussing which one of them should get credit toward their requirement of 20 DUI arrests a month. Even more ominous is the fact that these cops were discussing the arrest of this person before they even established probable cause.
In the video, Trooper Ronald Mercatili asks the other trooper, "You mind if I take this?" adding, "I need my 20 for the month," the video shows.
"I need mine too, but I'll let you have him," Trooper Gary Fedor replied, according to the video.
The video is now at the center of a lawsuit against the Pennsylvania State Troopers and brings forth some damning allegations.
As the Morning Call reports:
The lawsuit filed this month also alleges that the arresting trooper and other officers falsely reported drunken-driving violations in the past and that state police supervisors were deliberately indifferent to the practice and condoned and encouraged it by setting quotas for filing such cases.

The trooper who made the 2015 arrest later falsified court documents, stating he performed field sobriety tests that the motorist failed, when no tests were given, the lawsuit alleges. The video shows the driver, Noah Reed of Jacksonville, Fla., being placed in one police car in handcuffs and later transferred to another without being given the tests described in the court documents.
"The law doesn't allow quota systems for a very good reason," said attorney Joshua Karoly of Allentown, who is representing Reed. "It puts a personal motive into law enforcement and that's not good for anyone."
Because ticket and arrest quotas create an incentive to harass and extort otherwise innocent people, states across America have laws on the books prohibiting such practices. Pennsylvania is one of those states. In 1981, the state enacted the Prohibiting Ticket Quota Act which clearly states:
Section 1. No political subdivision or agency of the Commonwealth shall have the power or authority to order, mandate, require or in any other manner, directly or indirectly,
suggest to any police officer, State Police Officer, game commission officer, fish commission officer or any other officer employed by such political subdivision or agency of the Commonwealth that said police officer, State Police Officer, game commission officer, fish commission officer or any other officer shall issue a certain number of traffic citations, tickets or any other type of citation on any daily, weekly, monthly, quarterly or yearly basis.

Section 2. Any tickets or citations issued in violation of this act shall be unenforceable, null and void.

Section 3. This act shall take effect immediately.
Clearly, the troopers' discussion of this quota voids Reed's DUI and illustrates that criminal charges should be brought against the troopers for allegedly falsifying the report of issuing a DUI test.
"As is clear from the (video), Mercatili flat out lied when he stated that he performed the standard field sobriety tests on the plaintiff," the lawsuit alleges.
In the video, the woman running from Reed's truck did so because she had outstanding warrants. Reed, however, had none.
As the Morning Call reports, in his federal lawsuit, Reed claims his arrest amounted to a false arrest and illegal search and accuses Trooper Ronald Mercatili of false imprisonment, malicious prosecution and violating his constitutional rights.
Below is an example of what can happen when cops are told they must make arrests and issue citations or face punishment. Sadly, however, as TFTP has consistently reported, even though police are caught repeatedly in quota schemes, they are almost never punished for it.