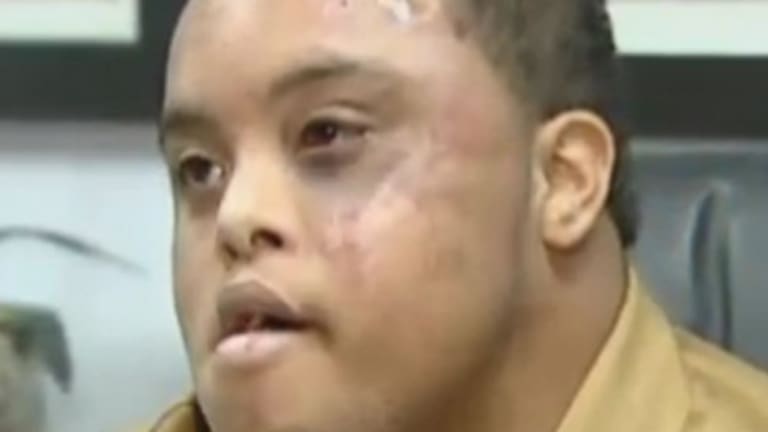 22 Year Old With Down Syndrome Beaten By The Police For 'Bulge In Pants' That Was Only A Colostomy Bag
Gilberto Powell, 22, was says that he was being followed by officers in a police cruiser when he was stopped near Southwest 111th Place and Southwest 138th Street around 9:30 p.m.
According to the police report, officers noticed a "bulge" in Powell's waist and when they tried to pat him down, he attempted to flee. That is when police body-slammed him to the ground and ripped out his colostomy bag, causing injuries so severe they may require surgery, according to family attorney Philip Gold.
While police claim they did not know Gilberto had Down Syndrome, Gold noted in a comment to NBC Miami;
If you just look at Gilberto, he 5-foot-3, 130 pounds with Down Syndrome, it's 100 percent obvious he has Down Syndrome," He continued, "It's impossible to believe [the police's story] if you hear one word out of Gilberto's mouth."
Gilberto's mother also asked the officer, "Didn't you know he was a Down Syndrome kid?" to which the cop responded, "I'm not a doctor, I didn't know."
The department has since released a statement saying,
"The Miami-Dade Police Department continues to investigate the incident involving Mr. Gilberto Powell. The integrity of the investigation and successful resolution of this case continues to remain our highest priority. As a result, the investigation remains active and ongoing; therefore, we cannot provide additional information at this time."
When reached for comment, Gilberto's father stated,
"I'd like an apology for me and my family, and really I'm just doing this to make sure this doesn't happen to any other little kid or anybody."