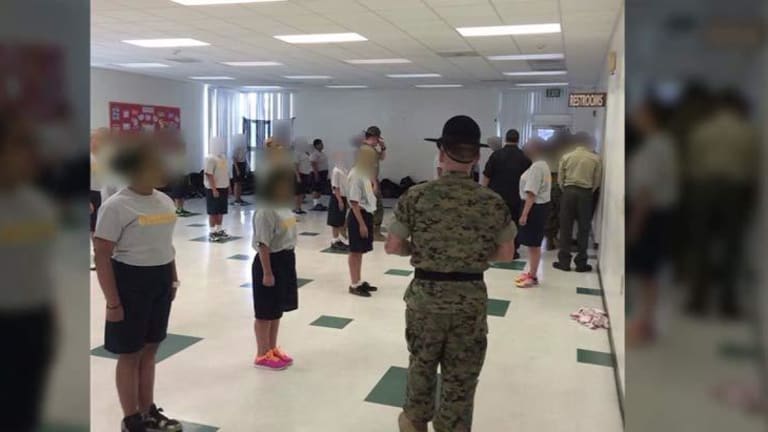 4 Cops Arrested for Torturing and Beating Young Children at a Youth Camp
"They never told me that they were going to beat them, or they were going to put them in a dark room or they were going to fracture him or break his arm."
San Luis Obispo, CA -- Four Southern California police officers were arrested this week after a two-month investigation into allegations of severe police abuse of numerous young children.
According to officials, officers Carlos Gomez-Marquez, 31, and Edgar Gomez, 35, of the South Gate Police Department , and Detective Marissa Larios, 36, and Officer Patrick Nijland, 47, of the Huntington Park Police Department were served search warrants at their homes. They were then taken into the custody of the San Luis Obispo County Sheriff's Department.
The South Gate Police Department issued this statement in response to the arrests and investigation:
"We support the San Luis Obispo Sheriff's and the District Attorney's Office regarding the need for transparency in this matter and we will continue to cooperate with them as is necessary and appropriate."
All four suspects were released after quickly posting bond. All face charges including abuse under color of authority, criminal battery, and willful cruelty to a child.
The reported assaults took place May 17-24 during a seven-day camp for at-risk youth called LEAP - Leadership, Empowerment and Discipline Program, sponsored and run by the Huntington Park and South Gate police departments.
Below is the news report, after the children originally came forward.
According to NBC4, When one of the children came home with an injury, his mother took him to the emergency room. When the hospital called children's services and the police department, the young boy stated that his mother was not responsible, his "camp counselors" were. Six other children from the camp came forward, all of their stories matching.
Out of the 37 camp participants interviewed by detectives during the investigation, 13 children reported that they were assaulted by the officers.
The mother of a 13-year-old in attendance at the week-long program spoke about her son's assault, saying "They had him by the neck with their forearm and they just beat in his head, stomach, everywhere."
Araceli Pulido, the mother of two young girls who participated in the program also spoke out about the brutality inflicted on one of her daughters, reporting that her little girl was "slapped in the face...kicked in the ribs if she didn't do her pushups right." She goes on to say, "One of my oldest daughters said she wanted to become a cop. She's traumatized. They told her they got paid for her to get hit."
Mother Veronica Bernal is also upset, stating "They never told me that they were going to beat them, or they were going to put them in a dark room or they were going to fracture him or break his arm."
Attorney for some of the children involved, Greg Owen, elaborated, saying "...before they came out [of the dark room], they would throw em a towel and say, 'wipe the blood off.'"
The attorney plans to "detail the abuse further," and is dedicated to making sure the truth is exposed, and criminals brought to justice.
It's no secret anymore that cops are bullies. Bullies are cowards. Cowards work best with other cowards by their sides and often choose easy targets - minorities, the physically disabled, mentally challenged, homeless, and in this case - young children.