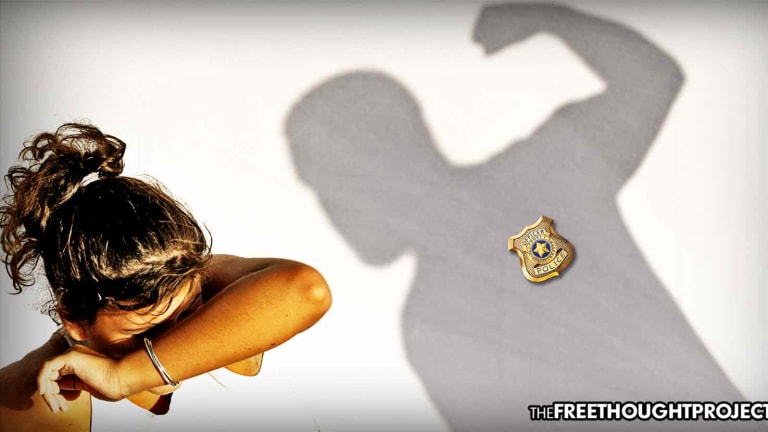 Isolated Incident? 4 Cops in 1 Dept Arrested in 6 Months for Beating Women, Even Pregnant Ones
Illustrating just how prevalent domestic violence is among police officers, four cops in a single department have been arrested for it in just six months.
Spartanburg County, SC — Spartanburg County Sheriff Chuck Wright went on the news recently to express his anger over several recent arrests for domestic violence in his jurisdiction. What made his comments noteworthy, however, were the fact that they were about his own deputies. Four of them were arrested in just the last six months for carrying out horrifying violence against women and small children.
"I've got zero tolerance for domestic violence," Sheriff Chuck Wright said. "I couldn't care less what badge you wear. I don't care how important you think you are in your community. We don't do that."
Wright told WBTW that he has never seen so many arrests in his own department in such a short amount of time. However, if he was reading the Free Thought Project he would know that at least two recent studies have found thatat least 40% of police officer families experience domestic violence. That's right, nearly half of all police families experience some form of domestic violence which means the sheriff likely has a few more wife beaters in his department.
All four of the deputies with the Spartanburg County Sheriff's department have been put behind bars and the violence of which they are accused is utterly disgraceful. As WSPA reports:
Former jailer Kelvin Washington was arrested in May, accused of assault.

Former deputy Donald Ross was arrested in July, accused of slamming a pregnant woman to the ground.

Christopher Marden was charged with kidnapping and aggravated domestic violence. He's accused of grabbing the victim's neck, throwing her to the floor, and hitting her.

Cody Steiner is accused of grabbing a woman's arms while she was holding an infant and pushing her. Steiner had been let go before that incident.
The sheriff said people have accused him of covering up the domestic violence charges within his ranks, a claim he denies.
"I have Facebook pages, too, and I hear this stuff about 'Well, they're covering it up,' and I'm like 'I'm the one who called SLED.' I called SLED to tell them we got a complaint about it, so I don't know how much more open I can be about it," Wright said.
As to why he is hiring people who beat their wives, he claims it's because they aren't robots, they are humans, who make poor choices — like violently smashing pregnant women to the ground.
"We hire people. We don't hire robots. And our people make really dumb choices, but I stand by my policy," Wright said. "We're not going to tolerate that mess. You've just got to make better choices than that."
Wright now offers help to his employees who may be experiencing stress from their jobs. He hopes this helps to curb the increasing rate of deputies beating their significant other.
"I get this job is stressful, trust me. I've got a lot of stress with my job, too, but I don't go home–just because me and my wife are arguing about something or disagree about something–I don't go home and put my hands on her," he said.
The problem is not just isolated to Wright's department either, in the same area, in the same time frame, a former Spartanburg police officer and a Cherokee County deputy were also arrested for domestic violence in the past six months. That makes six cops in the same area arrested for domestic violence in just six months — hardly an isolated incident.
The most recent data on the matter shows that Officer-Involved Domestic Violence or OIDV (yes, it has its own abbreviation), is a major problem.
Individuals who are the victims of domestic violence at the hands of police officer-batterers are often in a unique and particularly vulnerable situation. Unlike most victims of domestic violence, where the success of protective efforts depends on the cooperation of law enforcement, those subject to officer-involved domestic violence (OIDV) may, for a variety of reasons, be unable to secure the assistance they seek. This is particularly troublesome in light of increased rates of domestic violence in police officer families.
Even more startling than the fact that 40% of police officer families experiencing domestic violence is the fact that this number is likely far higher as it is estimated that much of it goes unreported.
According to Leigh Goodmark, author of Hands Up at Home: Militarized Masculinity and Police Officers Who Commit Intimate Partner, 
The data on intimate partner abuse by police officers are both dated and potentially flawed, but in ways that make it more likely that abuse is being under—rather than over—reported. Most of the studies rely on self-reporting by police officers to establish prevalence of abuse. Self-reporting is a notoriously unreliable measure; as one study noted, 'The issue of the reliability of self-reports data is problematic when considering any socially undesirable behavior.'
The problem of police violence often times comes out in full display in the form of violent murder suicides. In December, the nation was shocked to hear about the tragedy that unfolded in Plant City, Florida in which a Hillsborough County sheriff's deputy killed his wife, daughter and granddaughter, then confessed to their murders over his agency radio before killing himself.
Terry L. Strawn, 58, a Sheriff's Office veteran who was once named Officer of the Year was the perpetrator. It is unclear how much abuse his family suffered before he made the ultimate decision to murder them.
In less serious cases, police have been seen beating their wives or girlfriends—in public, while in uniform.
As TFTP reported last year, officer Ian Ray and his girlfriend attended McGavock Elementary School for a child's graduation when the two got into a verbal argument during the ceremony.
Ray was in uniform at the time and multiple witnesses reported seeing a police officer grab his girlfriend around the neck or hair and brutalize her. During the altercation, witnesses called police who showed up and then arrested the officer.
In that case, the officer was arrested. Sadly, however, many of these abusive cops are protected by their own departments and when an abused spouse or girlfriend attempts to get help, they are ignored and the abuser protected.
As TFTP has previously noted, a report by a government-appointed watchdog group shows that most of the time, the abusive officers commit these crimes with seeming impunity. Perhaps that's why it's so prevalent. At least one sheriff in Spartanburg County appears to be taking it seriously.