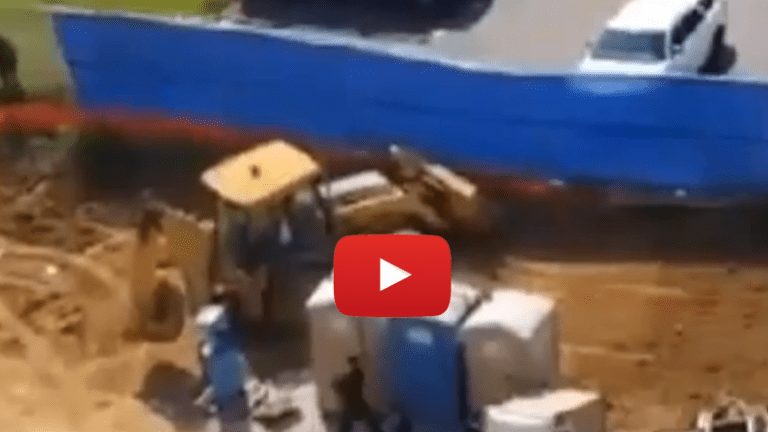 4 Cops Suspended After Being Caught on Video Tipping Over Portable Toilet With Man Inside
4 Memphis police officers were recently suspended after they tipped over a portable toilet that had a human being inside. 31-year-old Joseph Hampton was allegedly being chased by police when he ducked into a construction site and hid in one of the toilets.
According to Reuters, Hampton was at the home of someone who did not want him there, and that person called police.
The relationship that Hampton had with this person, and the details of the encounter at the home are unclear. When police arrived on the scene, Hampton allegedly ran and eventually led the police to the construction site.
A construction worker who wishes to remain anonymous noticed the chase taking place and began recording the situation with his cellphone.
In the video, police can be seen checking the stalls one by one. When there was only one stall remaining, the police tipped the toilet over, and then pulled Hampton out, kicking him, and throwing him on the ground.
After the incident, the construction worker posted the video on YouTube, which forced a reaction from the police department. Soon after the release of the video, Officers Taylor Ackerman, Roosevelt Shaw Jr., Timothy Taylor, and Manuel Saldana were suspended with pay.
Hampton was charged with criminal trespassing and evading arrest and released later on a $250 bond.
John Vibes is an author, researcher and investigative journalist who takes a special interest in the counter culture and the drug war. In addition to his writing and activist work he is also the owner of a successful music promotion company. In 2013, he became one of the organizers of the Free Your Mind Conference, which features top caliber speakers and whistle-blowers from all over the world. You can contact him and stay connected to his work at his Facebook page. You can find his 65 chapter Book entitled "Alchemy of the Timeless Renaissance" at bookpatch.com.