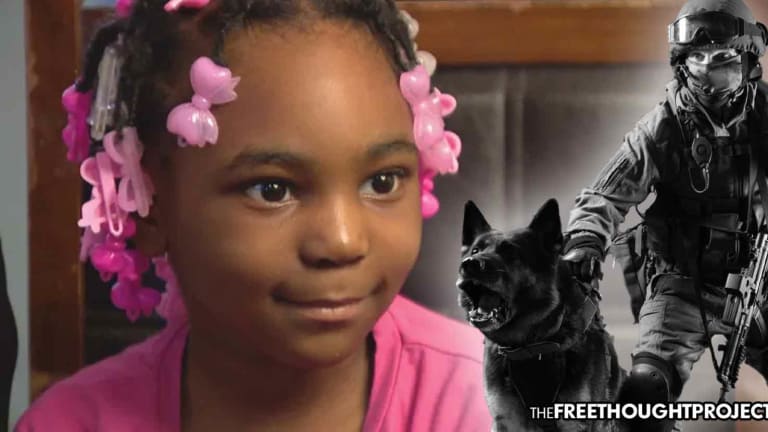 4-Year-old Girl Held Down At Gunpoint, Family Terrorized as Cops Raid Wrong Home, Again
A 4-year-old girl was held at gunpoint screaming for help as her family was forced to the ground in the other room, unable to comfort her.
Chicago, IL -- Over the past few years, the residents of Chicago have been subjected to a militarized police state occupation. Innocent family after innocent family each waking up in the middle of the night as heavily armed storm troopers throw flash bangs into their homes, haul them outside in the cold, point guns at their heads, and even handcuff small children. These families are being terrorized in their own homes, many of them left with PTSD, and no one is being held accountable—because the state is the one behind the terror.
In the latest instance of police state terror carried out by Chicago's finest, a toddler was held at gunpoint and forced to the ground by cops raiding the wrong home. Highlighting the sheer irresponsible and reckless nature of the Chicago police department carrying out raids is the fact that this raid was carried out on the wrong home just weeks after police promised to stop doing it.
CBS 2, who has been covering Chicago PD's raids on wrong homes for several years now, interviewed police officials earlier this year who claimed that they were committed to stopping bad raids like these from happening. Prompted by CBS 2's ongoing investigation, the department changed its search warrant policy to ensure additional oversight with search warrant approval and more protections for children.
However, just a few weeks later and Sharon Lyons and her family were shaken out of bed when the Chicago Police broke down her door and held her family at gunpoint, including 4-year-old Lillie.
"The next thing I knew, the whole panel to my door came flying down," Sharon said.
Lillie was asleep in another room. Sharon's sons 32-year-old Timothy, 35-year-old James and 30-year-old Julius, who has autism were in other rooms.
Julius ran toward his mother in the kitchen when police burst in.
"Get down, get down, get down!" Julius recalled.
"They had the guns pointed at me, telling me to get down," Sharon said. "I got down. I keep asking them, 'What's going on? Please tell me what's going on.' I've never been through nothing like this. They just kept saying they had a search warrant."
Lillie was asleep across the hall and all the adults were being forced to the ground at gunpoint, unable to comfort the small child.
That's when Sharon said she witnessed police go into Lillie's room with guns pointed at her. The family recounted hearing the screams of horror coming from Lillie's room. The state-sponsered terrorists refused to let them get to her room to help her.
"And I just heard [Lillie] start screaming," James said through tears. "She was so helpless at the time, no one could help her."
When CBS 2 Investigator Dave Savini asked Lille who the cops pointed guns at, the 4-year-old pointed to her grandmother Sharon and said, "her and me."
Like the countless victims before them, the Lyons were terrorized by cops and a system too incompetent to verify the proper address in which to raid. As CBS2 reports:
According to the complaint for search warrant, police were looking for a person officers only knew by the name of "Blondie." A paid confidential informant told police they saw "Blondie" selling heroin at the family's address, records show. In these documents police described the target as "a black transgendered woman" with a "medium length blonde wig," who weighs 150 pounds and is between 5 foot 7 inches and 5 foot 9 inches tall.

Other than driving the informant past the building, police documents show they did not take any additional steps to independently verify the informant's tip, such as surveillance, property records checks or any other research. That, despite police's commitments to more training and oversight on the process with its new policy just one month earlier.
After getting the address wrong and holding a child at gunpoint, the department issued a canned statement claiming they prioritize the safety of children during these raids on people over arbitrary substances.
"While we cannot comment on the specifics of this incident, the Chicago Police Department prioritizes the safety and welfare of all residents, including children," a CPD spokesperson said in a statement emailed to CBS 2. "Furthermore, the Department updated its search warrant policy earlier this year to ensure that if children are present, a sensitive approach will be taken to safeguard their physical and mental well-being to minimize trauma following the execution of a search warrant."
If this is the way the Chicago police department prioritizes the safety of children, we would hate to see what not prioritizing it looks like.
Sadly, this is not the first time incidents like this have happened. TFTP has documented at least a dozen raids by Chicago police in just the last year that were carried out on innocent families. In spite of taxpayers shelling out millions in lawsuit settlements, the CPD seems unconcerned with correcting themselves — proving they are accountable to no one.