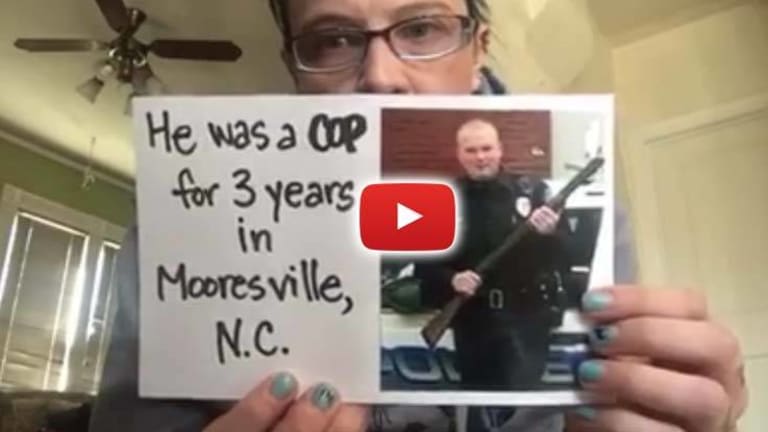 Mom Exposes How Her Ex-Cop Husband Raped Her Daughter in Viral Facebook Video
A brave mother took to Facebook to help other mothers who could be in the same position.
Loveland, CO -- On Friday morning, Catherine St. Germain posted a video to inform others about the dangers of sexual predators. Her daughter was sexually abused by Catherine's ex-husband, Aaron Scott, in 2015.
"My amazing daughter, and I can remember her when she was smiling," St. Germain said with a smile, pointing to a picture of her daughter. "That'll get you through just about anything because she's got a pretty incredible smile."
Scott was a police officer for 3 years before he raped his own stepdaughter, she was 15 at the time.
On April 23, 2015, St. Germain got a call to come to the police station and not tell Aaron.
"We were in the police station, and the policeman handed me her statement. And I started reading, and I don't even think I made it more than a couple of lines in," St. Germain said as her eyes began to water. "And I just collapsed on her. And hugged her and told her I was so sorry and how much I loved her."
Sadly, Scott only received a 90-day sentence and is already back out on the streets. The court didn't even notify his ex-wife who he has two kids with. This is why St. Germain felt compelled to make the video and warn other single mothers who could be facing the same scenario.
"I don't want this to happen to anyone else. I want moms to know what grooming signs look like," she said. 
Below is that powerful video.
The rate of sexual misconduct among police officers is far higher than the rest of society.
Last year, an AP investigation revealed around 1,000 policemen across the US had their licenses revoked and lost their jobs over the last six years on account of numerous sexual offenses that included rape and possession of child pornography.
The probe involved examining records from 41 states to see how many police officers' licenses were revoked in 2009-2014 and for which offenses. Police desertification data was not provided by nine states and the District of Columbia. The investigation included examining the records of state and local police, sheriff's deputies, prison guards and school resource officers. However, no federal officers were included in the investigation.
The probe revealed that 550 officers were decertified for various sexual assaults, including rape. Some were dismissed for sodomy or sexual shakedowns, where victims were forced to perform sexual acts to avoid arrest.
A further 440 officers lost their jobs for other sex-related offenses, such as possessing child pornography, being a peeping Tom, sending sexually charged messages to underage teens or having sex while on duty.
About one-third of the officers lost their jobs for committing sexual offenses with juveniles.
[author title="" image="https://tftpstagingstg.wpengine.com/wp-content/uploads/2016/03/magorist-e1456948757204.jpg"]Matt Agorist is an honorably discharged veteran of the USMC and former intelligence operator directly tasked by the NSA. This prior experience gives him unique insight into the world of government corruption and the American police state. Agorist has been an independent journalist for over a decade and has been featured on mainstream networks around the world. Follow @MattAgorist[/author]