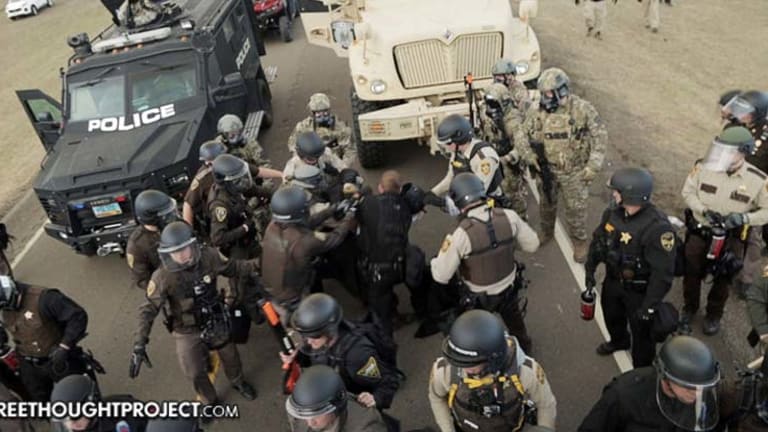 Here's a List of the 45 Officials Responsible for Militarizing Standing Rock -- and How to Contact Them
Here's how you can voice your concern to the people responsible for turning standing rock into a militarized war zone at your expense.
Cannonball, ND - While there is certainly no lack of blame to go around as to who is responsible for the standoff taking place at Standing Rock, numerous specific government officials are directly responsible for turning the peaceful protest in something resembling a militarized war zone.
The increased militarism on the part of the state began when North Dakota Gov. Jack Dalrymple declared a state of emergency in response to the growing protests against the construction of the Dakota Access Pipeline (DAPL).
Morton County Sheriff Kyle Kirchmeier then utilized the Emergency Management Assistance compact to call on law enforcement agencies in six states surrounding North Dakota – with numerous police agencies from neighboring states responding.
Last Thursday, the heavily militarized police engaged in a violent raid on the "Treaty Camp" -- which saw over 140 people arrested -- using heavy weapons, rubber bullets, chemical weapons and armored police tanks. The vicious assault was caught on video by many of the water protectors and journalists covering the protests.
Less than a week later, law enforcement again responded violently – this time to water protectors attempting to build a wooden footbridge across a creek linking a Native encampment and the Dakota Access Pipeline construction area for a prayer ceremony.
People nationwide have taken notice of the brutality being perpetrated against the water protectors, and have begun taking solidarity actions to stand with Standing Rock. This week over 1 million people checked-in to Standing Rock on Facebook in an effort to usurp alleged social media geolocation mining by law enforcement.
People across the country are coming to a realization that police are being employed, at the taxpayers' expense, to operate as a private security force for big oil interests.
If you are tired of seeing police used as corporate enforcers please take the time to call this list of government officials, put together by Yes Magazine, that have contributed to the militarization of Standing Rock.
Some of these officials have relented and recalled their police from Standing Rock, but many still refuse. If you are tired of the militarized response to peaceful protest, then please share this important information!
North Dakota Gov. Jack Dalrymple
600 East Boulevard Avenue
Bismarck, ND 58505-0100
Phone: 701-328-2200
Email: https://www.governor.nd.gov/contact-us
https://www.facebook.com/NDGovDalrymple
https://twitter.com/NDGovDalrymple
Morton County Sheriff Kyle Kirchmeier
205 1st Ave NW
Mandan, ND 58554
Phone: 701-667-3330
Email: [email protected]
https://www.facebook.com/MortonCountySD/
Morton County Commissioners Chairman Cody Schulz
Email: [email protected]
Phone: 701-391-9698
https://www.facebook.com/CodySchulzForMortonCountyCommission
North Dakota Congressional Delegation:
Sen. John Hoeven
Bismarck Office
U.S. Federal Building
220 East Rosser Ave. Room 312
Bismarck, ND 58501
Phone: 701-250-4618
Washington, D.C. Office
338 Russell Senate Office Building
Washington, D.C. 20510
Phone: 202-224-2551
https://www.facebook.com/HoevenForSenate
https://twitter.com/SenJohnHoeven
Sen. Heidi Heitkamp
Bismarck Office
228 Federal Building
220 East Rosser Avenue
Bismarck, ND 58501
Phone: 701-258-4648
Washington Office
SH-110 Hart Senate Office Building
Washington, DC 20510
Phone: 202-224-2043
https://www.facebook.com/SenatorHeidiHeitkamp
https://twitter.com/SenatorHeitkamp
Rep. Kevin Cramer
Bismarck Office
220 East Rosser Avenue
328 Federal Building
Bismarck, ND 58501
Phone: 701-224-0355
Washington, D.C. Office
1032 Longworth House Office Building
Washington, DC 20515
Phone: 202-225-2611
https://www.facebook.com/CongressmanKevinCramer
https://twitter.com/RepKevinCramer
Law enforcement agencies sending troops and support to Morton County:
Cass County Sheriff Paul D. Laney
Cass County Courthouse
211 9th Street South
Fargo, ND 58103
Phone: 701-297-6000
Email: https://www.casscountynd.gov/Pages/EmailUs.aspx?Department=sheriff
https://www.facebook.com/CassCountySO
North Dakota Highway Patrol Superintendent: Col. Michael Gerhart
Headquarters Office
600 E Blvd Ave, Dept 504
Bismarck, ND 58505
Phone: 701-328-2455
Email: [email protected]
Bismarck Office
601 Channel Drive
Bismarck, ND 58501-7757
Phone: 701-328-5590
Minnesota:
Minnesota Gov. Mark Dayton
116 Veterans Service Building
20 W 12th Street
St. Paul, MN 55155
Phone: 651-201-3400
https://www.facebook.com/GovMarkDayton
https://twitter.com/GovMarkDayton
Hennepin County Sheriff Richard W. Stanek
350 South 5th Street
Room 6
Minneapolis, MN 55415
Phone: 612-348-3744
Email: [email protected]
Minneapolis Mayor Betsy Hodges
City Hall
350 S 5th Street Room 331
Minneapolis, MN 55415
Phone: 612-673-2100
Email: https://www.ci.minneapolis.mn.us/mayor/contact/index.htm
https://twitter.com/MayorHodges
Anoka County Sheriff James Stuart
13301 Hanson Blvd NW
Andover, MN 55304
Phone: 763-323-5000
Email: [email protected]
Anoka Mayor Phil Rice
2015 First Ave
Anoka MN 55303
Phone: 612-702-8442
Email: [email protected]
Washington County Sheriff William M. Hutton
15015 62nd St. N.
Stillwater, MN 55082
Phone: 651-439-9381
Email: [email protected]
Wisconsin:
Wisconsin Gov. Scott Walker
115 East
State Capitol
Madison, WI 53702
Phone: 608-266-1212
https://twitter.com/GovWalker
https://www.facebook.com/governorscottwalker
Marathon County Sheriff Scott Parks
Marathon County Courthouse
500 Forest St.
Wausau WI 54403-5554
Phone: 715-261-1200
Email: [email protected]
Indiana:
Gov. Mike Pence
200 W. Washington St.
Rm. 206
Indianapolis, IN 46204
Phone: 317-232-4567
https://www.facebook.com/GovernorMikePence/
Lake County Sheriff John Buncich
2293 N. Main Street
Crown Point, IN 46307-1854
Phone: 219-755-3333
Munster Indiana Chief of Police Stephen Scheckel
1001 Ridge Rd
Munster, IN 46321
https://twitter.com/munsterpolicein
https://www.facebook.com/Munster-Police-Department-623099214436141
Schererville Indiana Police Chief David A. Dowling
25 E Joliet St.
Schererville, IN 46375
Phone: 219-322-5000
https://twitter.com/scherervillepd
Griffith Indiana Police Chief Greg Mance
115 N Broad St.
Griffith, IN 46319
Phone: 219-924-7503
https://www.facebook.com/Griffith-Indiana-Police-Department-526691684035932
Hammond Indiana Police Chief John D. Doughty
509 Douglas St.
Hammond, IN
Phone: 219-853-6544
https://www.facebook.com/hammondpd
Michigan City Police Chief Mark Swistek
1201 E. Michigan Blvd.
Michigan City, IN 46360
Phone: 219-874-3221 Ext. 305
Email: [email protected]
https://www.facebook.com/MCPD46360
Indiana Department of Homeland Security
Executive Director: David Kane
317-232-6139
District 1 Coordinator: Angie Cloutier
317-519-6761
Porter County Sheriff David Reynolds
2755 State Road 49
Valparaiso, IN 46383
Phone: 219-477-3000
https://www.facebook.com/portercountysheriff/
La Porte County Sheriff John T. Boyd
809 State Street
Suite 202A
La Porte, IN 46350
Phone: 219-326-7700 Ext. 2406
https://www.facebook.com/LaPorteCountySheriffsOffice
Jasper County Sheriff Terry J. Wisner
2171 North McKinley Avenue
P.O. Box 296
Rensselaer, Indiana 47978
Phone: 219-866-7344
https://www.facebook.com/IndianaJCSO
Newton County Sheriff Thomas Van Vleet
304 E Seymour St
Kentland, IN 47951
Phone: 219-474-3331
https://www.facebook.com/Newton-County-Sheriffs-Office-590519011044153/
South Dakota:
South Dakota Gov. Dennis Daugaard
500 E Capitol Ave
Pierre, SD 57501
Phone: 605-773-3212
https://twitter.com/SDGovDaugaard
South Dakota Highway Patrol Superintendent Col. Craig Price
118 West Capitol Avenue
Pierre, SD 57501
Phone: 605-773-3105
https://www.facebook.com/SDHighwayPatrol/
https://twitter.com/SDHighwayPatrol
Wyoming:
Gov. Matt Mead
Idelman Mansion
2323 Carey Ave.
Cheyenne, WY 82002-0010
Phone: 307-777-7434
https://www.facebook.com/governormattmead
https://twitter.com/GovMattMead
Laramie County Sheriff Danny L. Glick
1910 Pioneer Avenue, Cheyenne, WY 82001
Phone: 307-633-4700
Email: [email protected]
Wyoming Highway Patrol
5300 Bishop Blvd
Cheyenne, WY 82009
Phone: (307) 777-4301
Wyoming Highway Patrol Administrator Col. Kebin Haller
Phone: 307-777-4301
https://k2radio.com/six-wyoming-highway-patrol-troopers-helping-authorities-deal-with-protesters-in-north-dakota/
Nebraska:
Nebraska Gov. Pete Ricketts
P.O. Box 94848
Lincoln, NE 68509-4848
Phone: 402-471-2244
https://twitter.com/GovRicketts
https://www.facebook.com/GovernorPeteRicketts
Nebraska Emergency Management Agency
2433 N.W. 24th Street
Lincoln, NE 68524-1801
Phone: 402-471-7421
Nebraska Emergency Management Agency Operations Section Manager Earl Imler
Phone: 402-471-7181
Email: [email protected]
Ohio:
Gov. John Kasich
Riffe Center, 30th Floor
77 South High Street
Columbus, OH 43215-6117
Phone: 614-466-3555
https://www.facebook.com/JohnKasich
https://twitter.com/JohnKasich
Ohio State Highway Patrol Superintendent Col. Paul A. Pride
Columbus Metro Post
Columbus, Ohio 43209
Phone: 614-466-2660
Columbus District Headquarters
2855 West Dublin-Granville Road
Columbus, OH 43235
Phone: 614-799-9241
Email: [email protected]
Ohio State Highway Patrol Spokesperson Lt. Robert Sellers
Phone: 614-752-2792
https://twitter.com/OSHP
https://www.facebook.com/OhioStateHighwayPatrol
Federal level decisionmakers:
U.S. Army Corps of Engineers Commanding General: Lt. Gen Todd T. Semonite
441 G Street NW
Washington, DC 20314-1000
Phone: 202-761-0011
https://www.facebook.com/USACEHQ/
U.S. Department of the Interior Secretary Sally Jewell
1849 C Street, N.W.
Washington, D.C. 20240
Phone:202-208-3100
Email: https://www.doi.gov/feedback
https://www.facebook.com/USInterior
Emergency Management Assistance Compact Program Director Angela Copple
PO Box 11910
Lexington, Kentucky 40578-1910
Phone: 859-244-8217
Email: [email protected]
North Dakota Department of Emergency Services
P.O. Box 5511
Bismarck, North Dakota 58506-5511
Phone: 701-328-8100