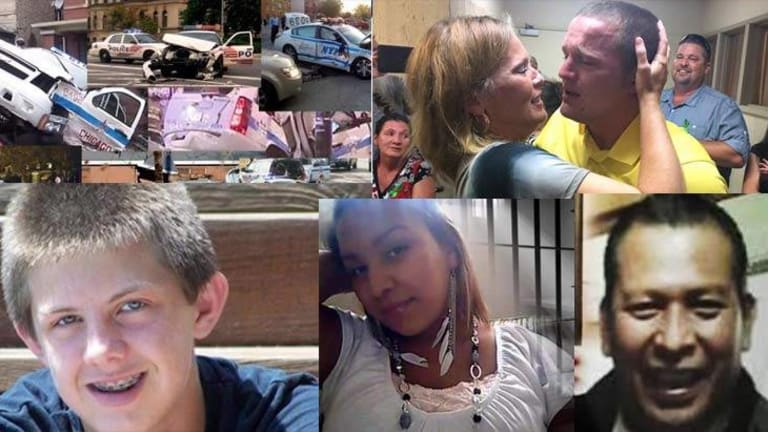 5 Things You Missed While Everyone was Paying Attention to Cecil the Lion
As American televisions were filled with images of Cecil the lion, many atrocities were committed on behalf of the U.S. police state.
As media outlets and social media around the world exploded with talk of the slain African mascot, Cecil the Lion, ironically Zimbabweans gave no cares.
According to a report this week, the tragic death of Cecil at the hands of an American dentist, went largely unnoticed by the residents of Zimbabwe.
On Thursday, Reuters reported that the information minister hadn't even heard of the shooting.
"What lion?" acting information minister Prisca Mupfumira asked in response to a request for comment about Cecil, who was at that moment topping global news bulletins and generating reams of abuse for his killer on websites in the United States and Europe.
As Zimbabweans chose to focus on other issues, hundreds of Minneapolis residents stood in protest outside of the dental practice of 55-year-old Walter Palmer, calling for him to be extradited to Zimbabwe, according to the AP.
In the meantime, however, multiple atrocities were committed on behalf of the American police state, which went largely unnoticed by U.S. citizens. Of course, the needless slaying of an animal who was fathering six cubs is terrible, but so is a police officer publicly executing a teenager over a plant that's legal in 5 states.
On Thursday, an autopsy of 19-year-old Zachary Hammond revealed that he was shot in the back by an officer. His "crime" was driving a friend to pick up a small bag of marijuana.
"This was so senseless," family attorney, Richie Richter said. "For a passenger who allegedly was in possession of marijuana, this kid got killed."
On Monday, while Americans grieved over a lion in Africa, it was discovered that yet another person had died in jail after being arrested for a traffic fine. On July 9, a Native American man, Rexdale W. Henry, 53, was arrested for failure to pay a traffic fine. Five days later, on July 14, Henry would be found dead in a Neshoba County, Mississippi jail cell. Henry was a community activist and a beloved member of his community.
Also this week, it was reported that another Native American died in jail. This time, it would be a woman named Sarah Lee Circle Bear. Circle Bear was booked into jail over an alleged DUI bond violation. Days later, after fellow inmates reported hearing her cry for help, Circle Bear would be found dead in her cell. Officers reportedly told Circle Bear to "Quit Faking" after she attempted to tell them she was in horrible agony.
Thursday, a shocking report was put out by USA Today that exposed the tremendous and deadly danger associated with police chases. Thousands of innocent bystanders have been killed in the past few decades, and tens of thousands injured. The study pointed out that the majority of these innocent lives being taken were over minor traffic offenses, such as seat belt and registration violations. 
At what point does the total number of deaths of innocent men, women, and children become too high to justify the risk, 20,000, 50,000, 100,000? If one innocent life is lost in the pursuit of a criminal, this is a travesty of justice.
It wasn't all bad news this week, however, as justice was served in Wichita, Kansas. Kyler Carricker, who'd been charged with murder despite the fact that he killed no one, and was shot by the actual murderer, was found not guilty. 
Carricker was charged under the state's felony murder rule for introducing an acquaintance to a person who sold marijuana. During the trade, the acquaintance opened fire on Carricker and the dealer in an attempt to rob them. Carricker and the dealer were both shot, but the dealer died. Instead of going after the actual criminals police and prosecutors, in an attempt to bolster their conviction rate, charged Carricker with murder.
Luckily for Carricker, he had a rational jury who refused to charge a man with murder, who had done nothing morally wrong.