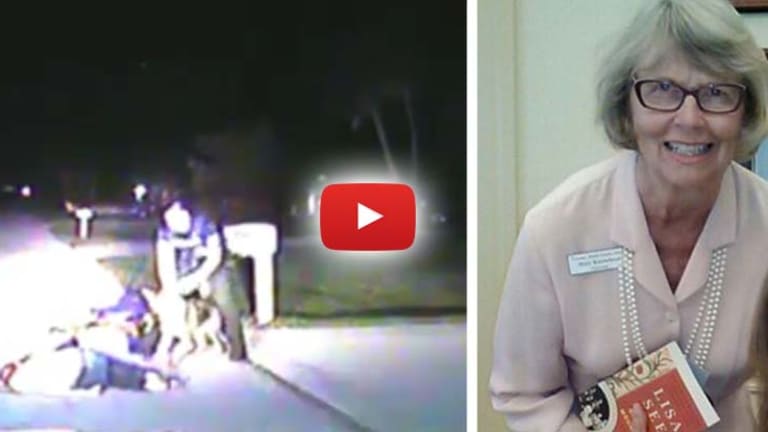 Cop Who Killed Librarian Seen on Video Forcing K9 to Maul Man for Missing Bicycle Lights
Before he killed an innocent librarian, officer Lee Coel was captured on video making his dog maul man nearly to death, he was also forced to resign.
Punta Gorda, FL -- On Tuesday, a Punta Gorda cop shot and killed a 73-year-old librarian, who was a wife and mother. Wednesday night, the department identified the officer as Lee Coel.
As the Free Thought Project has pointed out before, Coel had no business being a police officer. Earlier this year, he was captured on video forcing his K9 to maul an unarmed and surrendering man for riding his bicycle with no lights.
The horrific attack was caught on the officer's on dashcam video as Coel nearly killed a man for improper bicycle lighting.
Because the man was in a diminished mental state, he was not complying precisely and as quickly as Coel demanded, so he released his dog. For the next several minutes, the dog tore into the man as he screams in agony.
About one minute into the mauling, in between shouts of "Stop Resisting," officer Coel tells the dog, "Good boy," as it tears the man's flesh from his arm.
The officer continues to yell at the man to stop resisting as if someone can simply lay calmly as a dog tears a hole in them.
Finally, Coel stops the attack; only after the scene begins to resemble a horror movie. As other officers arrive, the man lays on the ground, covered in his own blood and bleeding out.
When other officers see how badly injured he is, they had to call in for a helicopter to medivac him to the nearest hospital.
Coel was never disciplined for the gruesome and torturous act above. However, he was sued by the victim.
Aside from using his K9 to maul people for bicycle violations, three years before gunning down a librarian, Lee Coel was accused twice of using excessive force and relieved of his duties. However, in typical police fashion, Coel was allowed to resign before investigators pinned anything on him. He had only been a cop for a year.
As the Miami Herald reports, the officer's background provides yet another twist to the death of the woman who was shot during a role-playing session in which she was a crime victim and he took the part of the "bad guy," police said. The purpose: to help citizens learn the quick decisions that police must confront on the streets.
On Tuesday, Mary Knowlton signed up to be a student in the citizen police academy hosted by the Punta Gorda Police Department, intended to show residents of the small town why and how officers do what they do. In a tragic Freudian slip, however, officer Coel showed how he likely would have handled the situation -- with deadly force.
When the officer fired, live ammunition, not blanks, hit Knowlton — several times.
The elderly wife and mother was promptly rushed to Lee Memorial Hospital, but was pronounced dead.
As for why Coel had live rounds instead of blanks, officials have no idea.
"This is a horrific event for all of us," said Punta Gorda Chief Tom Lewis during a somber news conference Wednesday. "We were unaware that there was live ammunition in the gun."
The chief explained in a press conference Wednesday that Coel was "grief stricken." However, Knowlton's blood is also on the hands of the department as they were the ones who hired him after his trouble past, and refused to fire him for letting his dog maul a man almost to death.
[author title="" image="https://tftpstagingstg.wpengine.com/wp-content/uploads/2016/03/magorist-e1456948757204.jpg"]Matt Agorist is an honorably discharged veteran of the USMC and former intelligence operator directly tasked by the NSA. This prior experience gives him unique insight into the world of government corruption and the American police state. Agorist has been an independent journalist for over a decade and has been featured on mainstream networks around the world. Follow @MattAgorist on Twitter and now on Steemit[/author]