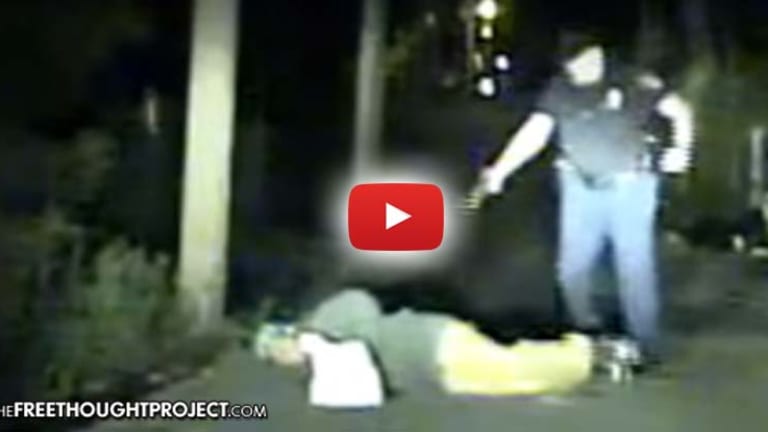 Man Cleared of Attempted Murder After Leaked Dashcam Shows Cop Shoot HIM in the Back, TWICE
After a man spent more than a year in jail for attempted murder, the charges were finally dismissed after dashcam showed the officers blatantly lied.
Birmingham, AL -- In May 2015, officer Daniel Aguirre was given a Combat Cross Medal after he said in a police report that he successfully fended off a struggle in which he and his partner were in danger. However, someone on the inside leaked Dashcam footage showing Aquirre shooting a man in the back as he lay prostrate on his hands and knees. Still, Birmingham police charged their victim, Aubrey Williams, with attempted murder.
But, last week, after spending more than a year in jail for a crime he never committed, the Jefferson County District Attorney's Office finally showed a semblance of logic and dropped the charges against Williams.
"After an extensive review of all the evidence in this case, the state is unable to meet the burden of proof beyond a reasonable doubt," according to the press release issued by the Jefferson County District Attorney's office late Friday.
"This man stayed in jail for more than a year and a half on some trumped up charges by these Birmingham police officers," Anthony said. "Not all police officers are bad, but when they make a mistake they should own up to it," he said, according to AL.com.
According to the entirely fabricated police report, Aguirre began to struggle with a man named Aubrey Williams who pulled a gun and pointed it at his partner officer Richard Haluska. When he ordered the man to drop his gun, the suspect then pointed his gun at Aguirre. Aguirre fired and struck the suspect.
Newspapers reported on it, and the local media hailed Aguirre as a hero. However, the dashcam video of the incident was released in November that contradicted Aquirre's claims. Immediately after the dashcam was released, Aguirre was stripped of his medal. However, the department still pursued murder charges against a man innocent of murder -- and neither of the cops was disciplined for lying.
On April 24, 2014, Aguirre and Haluska were in search of suspects involved in a robbery when they encountered Aubrey Williams and Devon Brown. That much of the story is true.
But the dashcam video shows what really happened after the encounter. A struggle ensued and Haluska had Brown under control when Aquirre approached Williams, who was on his hands and knees.
Aguirre then unnecessarily feared for his life and fired two rounds into a man complying with his orders, on his hands and knees.
Williams wasn't pointing the gun at anyone, and the department had to have known this, but they gave Aguirre the award anyway.
The dashcam was leaked to AL.com from a confidential source inside the department. After it had been posted on their website, the department had no choice but to issue a statement saying they are taking back the award.
"In regards to the officer involved shooting that took place on April 24, 2014, the award is rescinded until further review by the Awards Committee," said Officer Lt. Sean Edwards at 10:57 p.m. last November.
According to Anthony, Williams even told officers he was carrying the gun.
"We have been in communication with the DA's Office throughout this entire process," Edwards stated in an email to AL.com. "We do understand with Alabama being an open carry state there will be times when officers may use force without any subsequent criminal charges."
"When you look at the video and different statements given by police officers it should never have been brought," Emory stated in regards to the murder case. "There was never any evidence that Aubrey Williams pulled a gun or pointed a gun at the police officers."
Instead of an award ceremony, there should have been an investigation. A man was shot twice as he was laying on the ground, and there was video showing that he may not have been an actual threat to the officers at the time. At the very least, an inquiry by the department was warranted.....but that never happened.
Instead, a police department knowingly went along with a false narrative and perpetuated a lie and charged their victim with attempted murder.
Aguirre's attorney issued a statement to AL.com on Saturday.
"Officer Aguirre stands firm on the justification for having to use lethal force in this instance," Aguirre's attorney, Scott Morro, stated. "Officers are called upon to make split second decision with regard to their own safety and the safety of others. Ultimately those who decide to prosecute or not do so after scrutinizing much more information then what the officer on the scene has. Officer Aguirre has no control over those prosecuting decisions."
"Any suggestion by anyone that officer Aguirre is a "bad cop" is completely and utterly false and defamatory," Morro wrote.
Apparently, according to Morro, 'good cops' lie on police reports and receive medals for shooting non-threatening men in the back.
"This video provides evidence that Police Officer Daniel Aguirre shot Aubrey Williams twice despite the fact that Williams was on his hands and knees and not in a position to fire a weapon," Frank James Matthews of the Outcast Voters League said in a statement in November. "It is clear that the Birmingham Police Department attempted to prevent the release of this footage, and it seems that Officer Aguirre's actions were rewarded based on outright lies."
[author title="" image="https://tftpstagingstg.wpengine.com/wp-content/uploads/2016/03/magorist-e1456948757204.jpg"]Matt Agorist is an honorably discharged veteran of the USMC and former intelligence operator directly tasked by the NSA. This prior experience gives him unique insight into the world of government corruption and the American police state. Agorist has been an independent journalist for over a decade and has been featured on mainstream networks around the world. Follow @MattAgorist on Twitter and now on Steemit[/author]