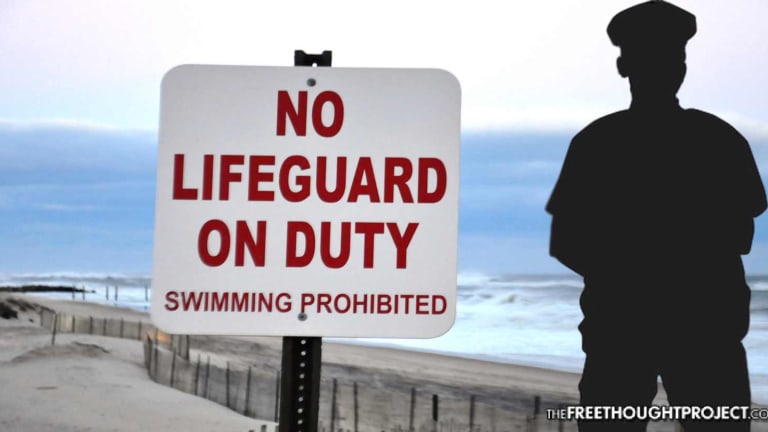 Bystanders Shocked As Police Do Nothing While 5yo Boy Drowns
A 5-year-old boy tragically drowned despite heroic efforts of bystanders, who pulled him from the water — while police and EMTs just watched from shore.
St. Paul Park, MN -- "They all just stood and watched," lamented Patrick Hedican, 28, after a harrowing incident in which he and friends, bystanders, desperately dove deep into a lake to locate and save a drowning child — while police and first responders looked on without assisting.
Submerged in the waters of Minnesota's Carver Lake too long, the 5-year-old boy, later identified as Kendrick Jordan, Jr., did not survive.
Witnesses ordinary civilians tried to save the small child's life — without any help from police or EMTs.
Hedican and a few friends were playing volleyball on the sandy shores on Saturday, when word traveled among beachgoers a child had gone missing — so they scoured the shoreline, hawkish for the vanished youth.
With the initial, brief search fruitless, Hedican and the others rushed into the water — swimming out from shore, and diving repeatedly — frantic to find the small child before time ran out.
"My buddy Chris, who is an ex-Marine, and me dove in right away. We didn't see anything. We dove three times and kept going deeper," Hedican told TwinCities.com.
Still nothing. No thrashing or disturbances on the surface. No signs of life. Then, they swam farther out — past the buoys marking the lake's designated swimming area. A crowd gathered on land called out to the spontaneous rescuers to stop and form a human chain with them for safety — but time was running out. So they persisted.
"I thought, this kid only has a few minutes to live," Hedican explained.
Deeper into the water they dove; but with minutes having elapsed, "me and my group of friends decided to dive in separate directions."
Hedican — operating almost automatically on adrenaline — ultimately dove 25 feet to the bottom of Carver Lake. Looking up from the bottom, he saw the boy floating above him — suspended, motionless, at the top of a clump of seaweed.
Nearly out of breath, Hedican — himself, a father of two small children — pushed off the lake bottom and grabbed the child around his body, pulling him up quickly. As soon as breached the surface, he maneuvered so the boy's back was to his chest and began to paddle — but they were still around 30 feet from shore.
"He was able to fit with his back on my chest, so I bear hugged him and started back to shore, kicking with my feet and using my arms to keep his head above the water," Hedican told the outlet.
"When he got closer to the shore," TwinCities.com reports, "exhaustion overcame him and he started to sink from his efforts to keep the boy's head above water. A friend swimming to shore beside him, Sierra Sewell, grabbed the boy from Hedican and put him on a flotation device. Other bystanders pulled the flotation device toward shore and carried the boy to a grassy area where paramedics were waiting to perform CPR."
But, to Hedican, something was amiss — from shallower water, with the boy now in the hands of first responders, he realized police and EMTs had not even waded into the lake to shave time in hopes of saving the child's life.
In fact, the bystander-turned-rescuer says the group of emergency personnel didn't even get their shoes wet.
Woodbury Police Department spokesperson, Michelle Okada, balked at the suggestion, duly noting Hedican's bravery, but explaining that, for police officers to "come out in the water to get them wouldn't have saved any time."
"Almost every single one of those responders: police, fire, EMS, almost every one of them have children," Okada continued, "so they appreciate the high emotions that come with those situations and it does seem like time goes slower in those situations."
Indeed, though time might have seemed to stand still for the spontaneous lake rescue squad, the minutes they spent attempting to locate Jordan made each second afterward invaluable in reviving him.
Despite bystanders' quick thinking and lack of hesitation, the minutes trapped underwater proved too much for the 5-year-old — Jordan died after being transported to Regions Hospital.
"I just want people to pray for the boy's family," the distraught and irate father opined. "I don't think I'm a hero. I just acted on what I felt. I watched people who were trained not do a thing until we brought him to them. The kid had minutes to live. Every minute counted. … At least get your knees and boots wet. Make an effort. I get out of the water and all of you are dry. He was just a baby, a five-year-old. They all just stood and watched."
Hedican wasn't alone in excoriating so-called first responders for inaction on Saturday — a number of outraged witnesses took to social media to explain what had happened — and condemn, publicly, inaction by personnel well-trained to handle such an incident.
"Everybody that was here just hopped in, clothes on, didn't matter. We just wanted that little boy to be safe," one woman wrote in now-deleted post to social media, as quoted by TwinCities.com. "Everybody EXCEPT the police And whoever said that the officer 'coordinated' the human chain is WRONG. We formed it before the police even got there. They arrived and stood at the shore for several minutes and looked LOST, like a deer in head lights, looking to every day citizens to save this little boy."
Another observer wrote starkly,
"Today I witnessed several officers and EMT's sit back and do absolutely nothing as a 5 year old boy was drowning in Carver Lake.They sat at the shores and watched as the rest of us were in that lake looking for him. After 10 minutes of us looking for him someone finally pulled the child up from the water. An innocent, lifeless little boy who was under water for over 10 minutes. And not one person with a uniform was in the water."
Still, Okada and the Woodbury Police Department insist officers — whom she said had only been on the scene for three minutes when the child was pulled from the water — and EMTs stepping in to help would have instead interfered and worsened the situation,
"Based on the time frame, the timing from when the first officer arrived, even if he was trained to do water rescue, it wouldn't have been productive for him to jump right in the water.
"Keeping that time frame in mind for an officer to jump in the water not knowing wouldn't be the best use of that time. What officers were doing as they arrived on scene were gathering information from multiple people on what was going on and deciding where to focus their efforts."
She added, "By the time they found the body it was less than a minute before CPR was started. As you can imagine it would seem like forever."
While seconds can indeed feel like minutes during a traumatic situation, beachgoers and civilian rescuers find the trained personnel culpable of not performing the full extent of their duties to save the small child — the police department's response, thus, flippant disregard for their concerns.
Officials asserted — in light of the concerted effort by witnesses — nothing more could have been done to save Kendrick Jordan, Jr.'s life.
A GoFundMe campaign — with a modest goal of just $10,000 — has been created to assist with funeral expenses.
That a young father of two small children and his volleyball buddies — not police officers and emergency medical technicians — jumped into Carver Lake to save a child, no questions asked, left many witnesses to the incident bitter.
"Where I'm standing,"Hedican maintained, "it was wrong."