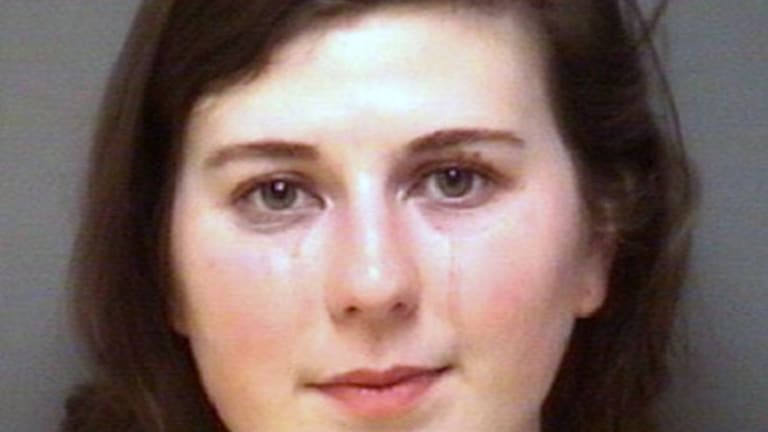 6 Cops Assaulted this College Girl for Buying Water, She Just Won $212,000 Suing Them for It
Matt Agorist
August 1, 2014
Last year, University of Virginia student Elizabeth Daly and two friends went into a grocery store to purchase some refreshments.
This innocent trip to the store ended up with Daly in jail, charged with assaulting ABC agents who were attempting to stop her for underage possession of beer; only the beer didn't exist, it was water.
Daly and friends bought a case of canned water from a Charlottesville grocery. When the group of girls walked out of the store they were accosted by plainclothes agents so they locked themselves inside her vehicle and dialed 9-1-1.
While attempting to contact the police, one agent drew his gun, and another jumped on the hood of the car, and tried busting out her windows. Not knowing that the plainclothes men with guns, who were assaulting her and her friends, were cops, she fled the scene, grazing two of the agents in the process.
Daly was subsequently arrested and spent the night in jail, charged with two felonies. The charges were later dropped and her record expunged.
Last March, attorneys for Daly filed a $40 million lawsuit against the state and seven agents. The suit alleged malicious prosecution, failure to train ABC agents appropriately, and six counts of assault and battery.
Michael Kelly, director of communications for Virginia Attorney General Mark Herring, said, "It's incredibly unfortunate that the situation that night in Charlottesville occurred at all.
"As this case proceeds, the Attorney General's Office will defend the commonwealth's interests and work to ensure a just and reasonable outcome," Kelly said.
The suit stated that Daly, of Henrico County, "does not and never has consumed alcohol or abused drugs, and/or her parents, on her behalf, have incurred significant legal, medical and other costs, and will continue to do so in the future due to the malicious, intentional, and/or grossly negligent actions of the (d)efendants." She has a tremor in her right hand, intense anxiety, post-traumatic stress disorder and other problems as a result of the April 11 incident.
During a June hearing in which a federal judge dismissed the state from Daly's $40 million lawsuit, her attorney argued the plainclothes agents jumped his client, as she tried getting inside her SUV. As a result part of the lawsuit alleged assault and battery against the officers. Attorney James Thorsen said the assault was against his client — although not physical– resulted in a "mental injury."
Thursday the state announced that it will pay Elizabeth Daly, now 21, $212,000 to settle the multi-million dollar lawsuit.
Maybe next time these overzealous agents won't be so quick assault innocent people. But then again, it was the tax-payers that assumed the liability of their irresponsible actions, so maybe they will.